Eddie Mathews (1931-2001) is an MLB Hall of Famer who played in the majors from 1952 to 1968. Mathews is remembered as an excellent fielder and power hitter, which combined him into one of the greatest third basemen ever.
Mathews was a nine time All Star and NL MVP Runner Up in 1953 and 1959. With 512 home runs, 2,315 hits, 1,453 runs batted in, and two time NL Home Run title, Mathews was excellent at bat. Concerning Mathews, Ty Cobb once remarked, "I've only known three or four perfect swings in my time. This lad has one of them."
Mathews was born in Texarkana, Texas. His family soon moved to Santa Barbara, California. He grew into the All Star player in the local high school field which is today named after him. He signed a contract to play with the Boston Braves in 1949. He was brought up to the major leagues three years later.
For the majority of his career, from 1952 to 1966, Mathews played for the Braves. He is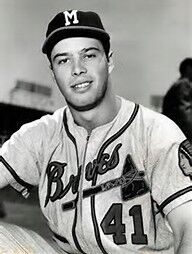 the only player to be with the Braves in their three different American cities which includes Boston, Milwaukee, and Atlanta. He finished off his career with half a season with the Houston Astros and a season and a half in Detroit.
During his career, Mathews was a sports hero in the United States. He has the honor of being the first athlete on the cover of Sports Illustrated in 1954.
Another interesting individual honor for Mathews is that he is one of the first players that defenses shifted on. Titled the "Mathews shift," the strategy left a huge gap between second and third base. While that may be more common today, the "Mathews shift" was quite odd at the time. Mathews was known for his skill in hitting that gap, but he remained so deadly that teams kept having to use the "Mathews shift."
The last unique compliment given to Mathews is that he was often compared to Mickey Mantle. While Mantle is generally considered the better player, Mathews was a near equal power hitter. Many commentators said that Mathews had one of the most graceful swings ever.
Mathews won two World Series in his career. A highlight of his playoff runs was in the 1957 World Series when Mathews hit a game winning home run into the tenth inning of Game Four.
He went on to coach the Braves in 1971, and he became manager of the Braves from 1972 to 1974 with a managerial record of 149-161. His firing was controversial. Long time teammate, friendly rival, and friend Hank Aaron called it "a blow to me."
He was inducted into the Baseball Hall of Fame in 1978 with 79.42% of the vote on the fifth ballot. Many believe that his induction into the Hall of Fame was delayed unfairly because of his dislike of the media. He was a finalist for the MLB All-Century Team. Finally, his number 41 is retired by the Braves.
Once into his retirement, Mathews said, "The one thing I'm proudest of is that every day I played, I gave the best I had." There are a few great cards for Mathews, especially given some of the sets that he is on, and we will help take you through some details on a few of them.
1952 Topps Eddie Mathews Rookie Card
The 1952 Topps is one of the most famous sets in baseball card history. There are 407 cards that measure 2 ⅝" x 3 ¾". Eddie Mathews is a major rookie on the set. The beautiful design, the introduction of Topps, and the star power of the set led to its popularity in 1952 and beyond.
At card #407 Mathews has condition issues. Mathews is the last card in the set, so his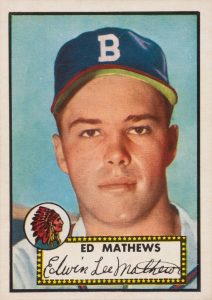 card suffers from rubber band wear. Secondly, Mathews is part of the Series Six which is notoriously short printed. There are 678 cards registered by PSA for Mathews, and less than 50 of them are above PSA 6.
Higher grade card sales are rare. A PSA 7 sold for $31,200 in September of 2020. Given the rarity of the card in high grade, as well as the popularity of trying to complete the 1952 Topps set, buyers should know that prices stay high for this card no matter the grade. Even a PSA Poor 1 reaches to over $1,500.
1953 Bowman Color Eddie Mathews
There are 160 cards in this set that measure 2 ½" x 3 ¾". This remarkable set was a sort of "all-out" response to the stunning 1952 Topps. While Bowman would fold in a couple years, they left collectors with a great penultimate set. The set has some great cards like the last Stan Musial card until 1959, but Willie Mays and Jackie Robinson were signed with Topps.
Mathews has over 750 cards registered by PSA, but there are six cards registered as Mint condition. While the Mint condition cards have been selling for around $3,000, prices quickly fall to below $1,000 at PSA 8.
1954 Topps Eddie Mathews
There are 250 cards that measure 2 ⅝" x 3 ¾". This set is notable for helping to set the standard for Topps. The major rookie card is Hank Aaron, who was Mathews' most important teammate. In the dying battle with Topps, Mickey Mantle is missing from this set.
Mathews is at card #30, and there are 1600 cards registered by PSA. There is a variation of a card with a gray back. The gray back is fairly rare, and it seems to raise the price of the card substantially (though sales are uncommon, so it is hard to pinpoint the effect on prices). While Mint condition standard cards can sell for over $2,000, a PSA 8 sells for about $500.
1956 Topps Eddie Mathews
There are 340 cards in this set which measure 2 ⅝" x 3 ¾". Topps was following the standard set in 1954, and they even used some of the same photographs from 1954-1956. Keys to the set include Hank Aaron, Ted Williams, Mickey Mantle, Bob Feller, Sandy Koufax, and Whitey Ford.
There are over 1900 Eddie Mathews with gray back cards graded by PSA. Additionally,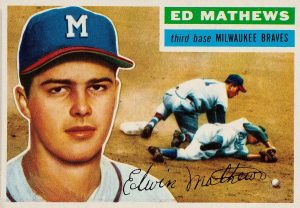 there are 155 copies of this card with a white back. This variation is consistent throughout the set.
White backs tend to sell for a bit more. For example, the average price of a gray back sold was about $2,000 in 2020, while there was one white back sale in 2020 for $3,025. Regardless, PSA 8's become much more affordable at $300.
Conclusion
After his epic card as a highly sought after rarity on the ultra famous 1952 Topps, Mathews' cards are somewhat routine but valuable. He remains on many different oddball and locally released sets, and Mathews is naturally a member of every set for Topps until his retirement in 1968.
This article covered some of the most crucial sets, but many of the cards become increasingly affordable. For example, his retirement card in 1968 (the same year that he won his second World Series) was selling for about $150 in 2020 in Mint condition.
Though his career is often underrated today, Mathews was a superstar during his time. He is somewhat less remembered except for strong baseball fans. His trading cards help to allow fans to remember one of the smoothest swings of all time.