Jerry West, (aka Jerome Alan West, The Logo, Zeke from Cabin Creek, and Mr. Clutch to name a few nicknames), was born on May 28, 1938 in West Virginia. He is known as an NBA player, coach, general manager, and executive, especially for his time spent with the Los Angeles Lakers.
Some of his playing accomplishments include NCAA Final Four Most Outstanding Player, NBA Assists leader in 1972, Scoring Champion in 1970, 10 time All NBA First Team, 2nd overall pick, 1969 Finals MVP, and NBA Champion. As an executive, West won 8 championships and two NBA Executive of the Year. Lastly, he had a respectable 145-101 coaching record.
West was considered frail and sickly as a child, which are shortcomings that he overcame in his teenage years. After growing substantially in high school, West was a sharpshooter for West Virginia University. A two time All American, West became the all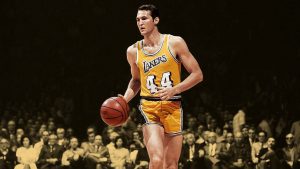 time leading scorer and rebounder for WVU.
West was picked up as the second overall pick for the 1960 NBA Draft by the Los Angeles Lakers. From much humbler origins, West quickly found a home in the bustling Los Angeles, and he was soon loved by the city, team, and organization.
The Lakers were an exceptional organization at the time, and West was an exceptional leader. He only scored less than 20 points per game during his rookie season.
However, the Boston Celtics were the dominant team at the time. West led the Lakers to nine NBA Finals, and the Lakers only won in 1972. A notable fact is that West's sole NBA Finals MVP is from 1969. He is the only player to be on a losing side and win the Finals MVP.
West retired in 1974, and his perhaps more successful career off the court began. He served as the Lakers head coach from 1976-1979, where the team did decently. After three years as a scout, West became the Lakers' General Manager in 1982, where he quickly built the Showtime Lakers which made it to and won several NBA Finals in the 1980s. Then West traded for Kobe Bryant and signed Shaq to create a new dynasty at the turn of the century.
Reportedly seeking out the challenge of a small market, young, and unestablished franchise, West found employment with the Memphis Grizzlies. Though they had no championship success, the Grizzlies did make the playoffs and improved 22 wins upon acquiring West.
West signed with the historically troubled Golden State Warriors in 2011. As a consultant, West helped to forge a new dynasty which made five straight finals and won championships in 2015, 2017, and 2018. West began consulting the Los Angeles Clippers.
On top of being inducted twice into the Hall of Fame (once as a player and once as an executive), West's enduring fame may be best represented by the NBA Logo which is West's outline. How could you pass up the basketball card of the Logo?
1961 Fleer Jerry West
This is the classic rookie card of Jerry West. Fleer is a major vintage basketball card brand, and the 1961 Fleer is one of most important sets in basketball history.
There are 66 standard sized cards in this set. Along with Jerry West's rookie card, this set is anchored by the rookie cards of Wilt Chamberlain and Oscar Robertson, along with one of the most important Bill Russell cards. Also, the set has an "In Action" card for the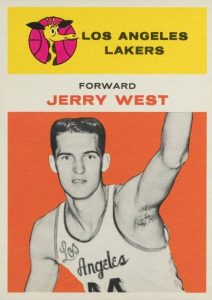 players.
Jerry West is at #43 and #66 for the action shot. His #66 is the most condition rare card on the set due to rubber band wear as the last card in the set.
The standard #43 card has over 1,000 cards graded by PSA. Three of them are Gem Mint and 28 of them are Mint. While the most recent PSA Mint 9 sale is for $15,189 in March of 2020, PSA 8's were selling for over $20,000 later on in 2020.
The #66 in action card has about 600 cards graded by PSA. Only one of them is Gem Mint and 13 are Mint. Prices are much lower for the action shot card. In 2020, the #66 card was selling for $3-4,000 in Mint condition.
1960 Kahn's Wieners
Jerry West has another card that is generally considered to be a rookie card. In fact, it was released earlier than the Fleer, but it comes from the Kahn's Wieners brand which is not well respected.
This is a rare set. There are only a dozen cards when completed, and eleven of those cards feature the Cincinnati Royals which was the home team for Kahn's. The last card features Jerry West, an LA rookie at the time.
West was shown on the next few of Kahn's Weiners sets. One package of cards was released with each set of hot dogs, and so the cards are rarely found in high grade. For the 1960 set, there are only 25 cards graded by PSA in total with a PSA 8 as highest. That PSA 8 sold for $8,711.99 in 2011 and $21,600 in 2017.
1968 Topps Test Jerry West
Outside of Kahn's Weiners in 1961, 1962, and 1963, Jerry West does not appear on a basketball card until the 1968 Topps Test. There were only 22 standard size cards featuring black and white photos of the best players. The backs have a puzzle that assemble into Wilt Chamberlain. The set is exceptionally rare, and it is exceedingly difficult to assemble all of the pieces.
Jerry West has a total of four cards registered by PSA. There is one sale registered from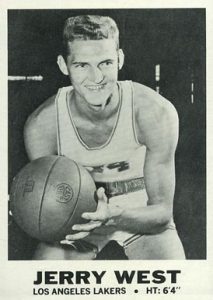 May of 2018 for $9,600. Given the right grade, this may be the most expensive Jerry West card.
1969 Topps Jerry West
The value of Jerry West cards falls off from here, but they quickly become much more accessible and affordable. West was featured on the 1970, 1971, and 1972 Topps sets, which, while not exceedingly valuable, distributed many high graded cards.
For example, the 1969 Topps has over 1000 cards graded by PSA with hundreds registered in the respectable PSA 6, 7, and 8 categories, which sell for about $100, $200, and $300, respectively.
The 1969 Topps had 99 cards that measured 2 ½" x 4 11/16". It was Topps first basketball card since 1957. This set is quite significant with the Topps debut of several important players in addition to Jerry West such as Kareem Abdul Jabbar, Wilt Chamberlain, and Oscar Robertson.
Conclusion
Jerry West continues to shape the game of basketball in his old age. After decades as a player, a few years as a coach, and many more decades as an executive, West is all around one of the most important basketball people that the sport has ever seen. Not just the logo, West represents the transition of basketball from a small league into the powerhouse that the NBA is today.