Tom Brady is undoubtedly one of the best football quarterbacks of all time. Most argue that Tom Brady is the best ever. It is not a difficult argument to make. He has appeared in nine Super Bowls, and he won six of them which is the most of any player in the history of the NFL.
He has played for the New England Patriots for nineteen seasons. At 42, he holds numerous regular and postseason records. Throw in three league MVPs, four Super Bowl MVPs, the winningest quarterback ever, and 14 Pro Bowls, Tom Brady has a resume that is too long and impressive to be stated in full here.
Tom Brady was the oldest player to win the Super Bowl at 41. In numerous interviews,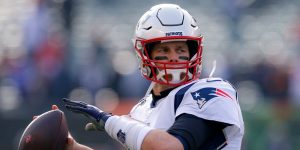 including with 60 Minutes, Brady has expressed a desire to play as long as his body will allow, and according to his reputation amongst players, coaches, and reporters, Brady takes prodigious care of his body.
Since he has already broken a number of absurdly important records, Brady's cards are at an all time high because indicators show that he is only going to expand those records. Thus, if the current consensus "greatest quarterback of all time" shows the potential to bolster his resume and widen the gap from the rest of the field, his cards are coveted.
Tom Brady cards are taking the football card hobby to a new level. We start with the most expensive Tom Brady card, which is the most expensive football card ever.
2000 Playoff Contenders #144 Autograph
This set had a limited release. Only 100 Tom Brady cards were produced. It features an autograph. The set measures 2 ½" x 3 ½" with 100 base cards, 50 RC Autographed cards, 40 NFL Europe Rookie Ticket Autographed Cards, and 10 NFL Ticket Veteran Autographed Cards. The cards show a dynamic photo on the left, and the right side has a silver-foil ticket.
Outside of Tom Brady, the Jim Kelly, Brian Urlacher, Chad Pennington, and Kurt Warner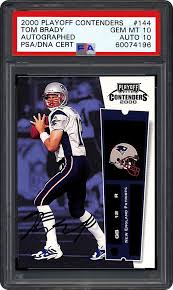 cards are prominent. Brady's card was not always the most valuable from this set. At one point, Brady's card was worth less than Peyton Manning's card. Today, Manning's card can be bought for $1 plus shipping.
In February of 2019, this Tom Brady card, numbered 41 out of 100, was auctioned off by PWCC over eBay for $401,100. The same card would have sold for $50,000 about 5 years ago and $10,000 about ten years ago. It is the most expensive football card ever sold, and it is the most expensive modern card of any sport ever sold.
Nick Fiorella was the man who purchased the card. He expects it to be worth millions in 5 to 10 years. It is one of two cards that is rated Gem Mint. Tom Brady posted on Instagram, "You know I'm cleaning out the basement today."
It is an exciting card that shows the potential of modern cards. This sale helps bump up the potential of other modern cards such as Mike Trout, Ronald Acuna, or Anthony Davis.
2000 SP Authentic
There is no autograph for this rookie card, and it is 1/1250. Yet, the card can sell for over $10,000. A major reason for this is that SP Authentic, which was under Upper Deck, was considered a premium brand at the time of release, and this was especially so for rookie cards. This card relies on brand appeal rather than rarity. Prices have been somewhat erratic, but a PSA 10 sold for $20,200 on August 21st of 2019.
The 150 card set is standard sized with 90 veteran base cards and 60 rookie cards that are short print. Every card in the set has an action shot of the player, a white border, silver foil highlights, and the SP logo. The back has the player's name, bio, team logo, stats, and a smaller photograph. Brian Urlacher and Chad Pennington join Brady as quality rookies with the addition of several Hall of Famers.
2000 SPx
The design of this card gives a high tech impression. It had a print run of 1/1350 which is larger for Tom Brady rookies. Tom Brady was not viewed as a rookie who would make an impact at the start, so he did not have many flashy cards.
2000 Ultra
This short print card shows Tom Brady in his Michigan uniform. It was printed under Fleer's Ultra brand which was Fleer's attempt at a premium brand. It was not licensed,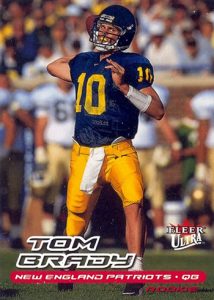 so there are no logos which hurts the value. Only 25 copies of the Platinum Medallion parallel were released. Overall, this card is an outsider, but it is a much more affordable RC of Tom Brady. It sold for $345 in August of 2019.
2000 Gold Reserve
Printed by Upper Deck, this 225 card set had standard measurements, a full color action shot, a gold aura around each player, and the aura fades into a white border. Gold foil accentuates the player's name, team name, card number, and the Upper Deck logo. The Gold Reserve lives up to its golden name.
The product was aimed at the retail market due to the nice looking gold theme. Upper Deck sets have traditionally held up well over the years, and this is shown by the vitality of this card. Auction prices for a PSA 10 have exceeded $2,000 since Brady's sixth Super Bowl win. PSA 9's vary between $600 to $800 in 2019.
2000 Leaf Limited
The Tom Brady card has 350 copies in the 2000 Leaf Limited which makes him one of the rarest cards in the set. It is one of the rarest Tom Brady rookies overall. The foil look is hailed. Another laudable aspect of this card is the excellent photo. The card sells for several thousand dollars in high grade.
2000 Pacific Revolution
The 2000 Pacific Revolution Tom Brady is another rare Tom Brady rookie that was limited to 300 copies. The rarity makes it one of the more expensive Tom Brady rookie cards. There are also zero parallels.  It is a foil card with a unique design including a larger logo, the action shot, and the gold foil surrounding Brady's name.
Tom Brady is not in his Patriots uniform. While this hurts the value of the card, it is also true for many of his rookies.
2000 Playoff Momentum
The 2000 Playoff Momentum Tom Brady cards are limited to 750 numbered copies. The etched foil background helps the card stand out in a field of rare Tom Brady rookie cards. Unlike several of his rookies, Tom Brady is featured in a Patriots uniform.
Conclusion
Tom Brady is already a legendary football player, and there is the opportunity that he adds rings, awards, and stats to his impressive resume. The resume of a retired player's career is set in stone, and the interpretation of the retired player's career is up to the whims of fans and analysts. The potential for Brady's resume to grow creates potential for his cards to accelerate.