Babe Ruth cards are some of the most important trading cards in the entire world of collectibles. He looms large in the minds of baseball fans. From his game changing home runs to treasured stories of the "called shot," Ruth has become mythologized.
Between 1914 and 1935, "The Sultan of Swat" broke open the dead ball era of MLB with sensational hitting. He annihilated records with 714 home runs and 2,213 runs batted in, while his .690 slugging percentage and 1.164 on-base plus slugging remain unbroken today. He is widely considered the greatest baseball player of all time.
"The Bambino" started his career with the Boston Red Sox. He began as a pitcher in which he won 23 games in two separate seasons. He won three World Series with the Red Sox. Ruth transitioned to the outfield in order to play more.
After breaking the single season home run record in 1919 with 29 home runs, Ruth was sold to the New York Yankees where he immediately shattered his own record with 54 home runs in 1920. Crucially, these stunning statistics came amid the stunning blackmark of the Black Sox Scandal of 1919. Many believe that the excitement of Babe Ruth saved MLB.
The transaction of Ruth from the Red Sox to the Yankees is the most famous in MLB history as the Yankees went on to win four more championships, and the Red Sox suffered the "Curse of the Bambino," which culminated in an 86 year World Series drought.
1927 was the year of the Yankees' "Murderer's Row." It is considered the greatest baseball team to ever be fielded. Ruth played next to Lou Gehrig, and they formed the most impressive home run hitting partnership in league history.
Ruth's 16 years with the Yankees inaugurated the live ball era of baseball. The game's popularity soared as MLB transitioned from a low scoring and defensive game into the flash and excitement of home runs.
Ruth had difficulty off the field. His behavior was considered uproarious, he was known as flirtatious, and he spent too much money. Because of his unruly behavior, Ruth was never given the opportunity that he cherished of managing a team.
He died at the age of 53 in 1948. 75,000 people attended his funeral service. He was a true superstar. He was far more famous than any other athlete of the time. Ruth's legend has remained strong long after his death like no other baseball player and perhaps no other athlete.
Ruth's cards have a similar hold over the trading card hobby. To have an original Ruth card, in any condition, is treasure. Many of these cards are sold infrequently. Prices are difficult to predict due to their rarity. This article will take you through several and give some basic facts.
1914 Baltimore News Babe Ruth
This is Babe Ruth's first card. There are only 10 of these Babe Ruth cards that are known to exist. Three cards are entrenched in one collection, and two are in another. The cards are rarely brought up for auction.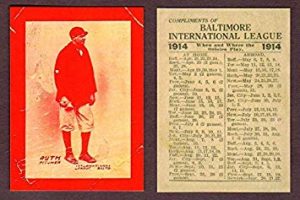 Ruth makes the set nearly impossible to complete because he was unknown in 1914. He was a minor league player at the time, and a few months later his contract would be sold to the Red Sox.
There were 11 cards in the set, and they formed a card game by Charm City Newspaper. The cards measure 2 ⅝" x 3 ⅝". They depict Baltimore players from the International League and Federal League. One version of the card has a blue tint, and the other has a red tint.
The cards have a picture of each player with his name, team, and position on the front. Every card is noted for its thick border. The backs have the home and away team schedule. The Baltimore News is also advertised on the back. The bottom has "This Card is Given to" with a space for a name on the bottom.
The most recent sales record comes from 2013 when a PSA Poor 1 card sold for $450,300. In 2007, a PSA 2 had sold for $199,500 at auction. A PSA 2 was privately sold for $575,000 in 2012.
Of the three cards registered by PSA, the highest grade is a PSA 4. The price of this card is speculated. PSA itself estimates that it is worth one million, though that could be far higher. Though a Mint condition card will never be found, it would likely be worth tens of millions.
1915/1916 M101-4 Sporting News Babe Ruth Rookie Card
The rookie card of Babe Ruth is highly valued, and it is very difficult to track down in any grade.
Ruth is shown as a member of the Red Sox in the aftermath of pitching a ball. Though his career was short as a pitcher, Ruth a 94-46 record, 17 shutouts, and an ERA of 2.28. He is considered a superb pitcher.
The set contains 200 cards measuring 1 ⅝" x 3". The card backs are either blank, or they have one of several different advertisements. The major promotion came from C.C. Spink and Son, the publishers of Sporting News. The Ruth card is the key, but Honus Wagner, Ty Cobb, and Joe Jackson are included.
The set is rare, but less so than the Baltimore News. There are ten cards of Babe Ruth registered by PSA with an additional five cards with blank backs. The highest graded card is a PSA 8.
Ruth's card has continued to rise. While a PSA 6 sold for $204,000 in 2015, a PSA 2 sold for $132,000 in 2019. The sole PSA 8 has not been up for auction, so it is estimated to be worth well over 1 million dollars.
1915/1916 M101-5 Sporting News Babe Ruth Rookie Card
The M101-5 is essentially identical to the M101-4. Ruth has the same picture and is at #151 on both. There are a few different advertisements between the two. There is little to no difference in price. The M101-5 was released a few months prior to the M101-4.
1917 Collins-McCarthy Babe Ruth
Babe Ruth is at #147 for this 200 card set that measures 2" x 3 ¼". The fronts of the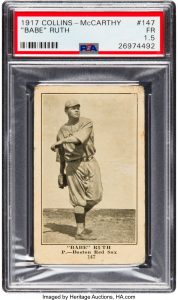 cards have the follow through of Babe Ruth throwing. It has his name, team, and position. The set is known for a number of Cooperstown inductees. It is the last major set until the 1920s.
The card has thin stock, so high grades are difficult to find. There are only 365 cards registered by PSA for the entire set, and ten of those are Ruth.
This card is not auctioned frequently. A PSA 1.5 was sold for $66,000 in 2017, and the same grade was sold for $72,000 in 2017.
1917 Boston Store Babe Ruth
This card is essentially identical to the Collins-McCarthy. As with the Sporting News cards, the main difference is the advertisements on the back. Collins-McCarthy was from the West Coast, and Boston Store was headquartered in Chicago with stores across the Midwest.
The prices are hard to compare as auctions are infrequent due to the population. An SGC 4, comparable to a PSA VG 3 or VG-EX 4, was sold for $132,000 in 2018. Meanwhile, an SGC 3.5 sold for $121,933.20 in July of 2019. We would need more sales to determine which card is more valuable.
1921 American Caramel Babe Ruth
There are 80 players in this set with numerous variations that bring the set to over 120. For example, the Great Bambino's name appears as "Babe" Ruth, Babe Ruth, and George Ruth. The George Ruth card appears to  be more expensive, and there are far fewer registered George Ruth cards.
The cards measure 2" x 3 ¼". The cards are unnumbered. It has the same image as the Collins-McCarthy and Boston Store cards. Thus, Ruth is pictured in a Red Sox uniform, though he had already moved to New York. The player's name, team, position, and league are below the picture.
There are two backs of American Caramel Company. The backs state, "This set consists of pictures of eighty of the leading / Base Ball Stars / of the American and National Leagues / Made only by / American Caramel Company /  Lancaster and York, Penna." The variation is that the first line often ends with "the", while the rarer first line ends with "eighty."
A PSA VG+ 3.5 sold for $26,660 in 2019. There are PSA 7's registered, and the price estimates reach $50,000 for the card.
1933 Goudey Babe Ruth
Babe Ruth appeared on several confectionery and tobacco cards through the 1920s and 1930s, but a great way to finish is with the 1933 Goudey. It was a well distributed set of many great players.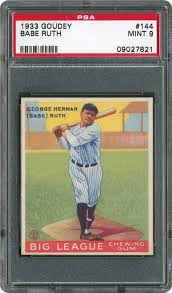 While the Great Depression was raging, Goudey's release with their Big League Gum helped to start the next era of trading cards. The thicker stock, brighter colors, and larger dimensions created a new standard for trading cards.
There were 240 cards in the set measuring 2 ⅜" x 2 ⅞". Ruth was pictured on #53, #144, #149, and #181. #141 was double printed. These four cards are the key to the Goudey set (outside of the ultra scarce Napoleon Lajoie at #240). Ruth's cards are far more common than the above. There are hundreds of graded copies for all four.
The #'s 53 and 149 are estimated to be worth about the same across grades. Those two cards are also estimated to be worth more than #'s 144 and 181. #181, where Ruth is seated, is the least valuable, even though a PSA 8 of #181 sold for $47,800 in 2016.  There are several available auction prices, including a sale of $528,000 in 2019 of a #144 for a PSA 9. It is generally believed that a #53 or #149 would sell for more in Mint condition.
Conclusion
Babe Ruth impacted baseball itself, by possibly saving the league and conclusively transitioning MLB from dead ball to live ball. Many of his cards are considered blue chip cards. A well invested Babe Ruth card has done nothing but increase in value, and it is expected to continue to do so. It's only natural that the Bambino has several of the most important cards in all of collectibles.