Everybody agrees that Derek Jeter was an excellent baseball player, but he has additional  appeal through his fame, marketability, and continued success in his post MLB days which includes his role as the CEO and part owner of the Miami Marlins.
Jeter was drafted out of high school in 1992. He made his debut soon after for the New York Yankees in 1995. The next season, Jeter was promoted to the Yankees' starting shortstop, won the Rookie of the Year Award, and performed well in the playoffs that culminated in the Yankees' 1996 World Series championship.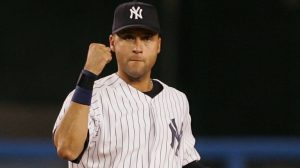 He gained a reputation for performing well under pressure, evidenced by his .321 batting average in the World Series which included five victories over his twenty year career. Accordingly, Jeter earned the nicknames "Captain Clutch" and "Mr. November."
His accolades in addition to five championships include 14 All-Star selections, World Series MVP in 2000, five Gold Glove Awards, and five Silver Slugger Awards. These were earned by a career batting average of .310, 3,465 hits, and 1,311 runs batted in.
Part of Jeter's financial and career successes off the field was his sole tenure to the Yankees and their massive fanbase from 1995 to his retirement in 2014. Jeter was the face of the franchise, and he was the Yankees' captain from 2003 until his retirement.
As Jeter was one of the most popular players in the league during his time, his cards have gone the same way. A Derek Jeter card from the 1993 Upper Deck SP set sold for $90,100 in October of 2019.
Derek Jeter is eligible to be voted on in 2020 for the MLB Hall of Fame. Many consider him a first ballot Hall of Famer. A major area of speculation is if he could be inducted in by record high approval. Regardless, if the induction does happen on the first ballot, expect a bump in popularity surrounding his cards.
There are a number of excellent cards to look at. Most of the cards listed here were released in 1993 prior to his 1995 debut, but they are considered rookie cards. Let us take you through a few of the best.
1993 SP Derek Jeter
As mentioned above, the 1993 SP Derek Jeter is the most expensive modern baseball card. This is because it is foil card. It is absurdly difficult to find in high grade. Even pulling the card out of the pack can jeopardize its condition. The dark edges do not help the condition sensitivity.
Upper Deck, the producer of the card, was making a name for itself for high quality and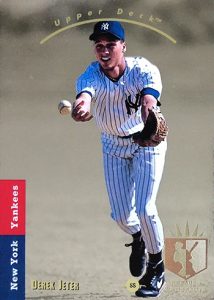 innovative cards. The set in general is a landmark for the development of baseball cards, which has only increased Jeter's card's value.
It is not a rare card. There are thousands of copies graded by PSA, but there are only a couple dozen that meet the criteria of Gem Mint.
An early investor of this card would be well rewarded. At Gem Mint grade, the card sold for considerably less before evening out at $50,000 in 2017. It quickly jumped to $99,100 in 2018, slowed to $75,000 soon after, and sold for $90,100 in October of 2019.
1993 Bowman Derek Jeter
This article brings down to the humble 1993 Bowman Derek Jeter. It sells for a few hundred in Gem Mint condition. However, Jeter is the key to the set, and Bowman has developed the reputation of "Home of the Rookie," so it is worth mentioning as a more affordable option.
1993 Stadium Club Murphy Derek Jeter
This card had a substantially smaller print run than cards commonly did for the time period. The card is difficult to find in high grade due to the dark edges, the gloss finish, and the lettering with foil.
It is a popular card, and there are over 4,000 recorded grades by PSA. The price approaches $1,000 in Gem Mint condition, but the price has been falling. A lower but respectable grade can be bought for a reasonable price. Expect to pay less than $100 for raw copies.
1993 Upper Deck Derek Jeter
Upper Deck has another fantastic rookie card for Derek Jeter. This card was in the Top Prospects subset. The colored sides will chip easily, so high grades are heavily sought. It's a solid option for a budget at $200 in high grade.
There is a special edition version of this card with a gold hologram on the back. It is rare since it was not found in traditional packs. The golden hologram card was distributed in one out of every fifteen factory sets. There was also a silver hologram distributed, but that was released in packs and the remaining fourteen factory sets. The golden hologram card costs roughly $1300.
1993 Pinnacle Derek Jeter
The 1993 Pinnacle Derek Jeter is a popular card because of its attractiveness. At the time, Pinnacle was considered a premium brand, and their work shone through with a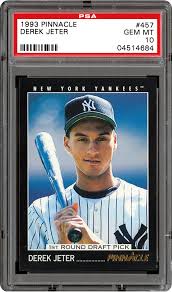 smooth and elegant look.
Chipping is common with this card due to the black borders, but there are still hundreds of Gem Mint copies out there which are worth around $500. This card is exchanged frequently.
1992 Little Sun High School Prospects Derek Jeter Auto
1992 was one of the glory years of overproduction. This card represents that as Jeter was a high school student in Kalamazoo, Michigan. There were 250 autographed cards released, and they are very expensive in Gem Mint condition. One sold for $60,000 in May of 2019. There are 28 autographed cards registered by PSA with seven at PSA 10 grade. The non autographed card can sell for thousands as well.
If anyone deserved their stats on a card as a high school student, Jeter did. He batted over .500 in his last three years of high school. He struck out only one time as a senior. Jeter was awarded with multiple high school player of the year awards. This card is considered his best draft year card.
1993 Topps Micro Derek Jeter
Measuring at 1" x 1 ⅜", the 1993 Topps Micro set is unique. It is exactly the same as the 1993 Topps cards just much smaller. Not only are they one of a kind, but they are also condition sensitive. A major concern with this card is how to store it. A traditional holder allows for the card to slip and ding.
There are 30 Gem Mint cards registered by PSA, and many more at lower grades. The Gem Mint card peaked at $2500 in 2018, and it has steadied out to about $1500 in 2019. The price drops dramatically to less than $100 for a Mint condition card.
1993 Topps Derek Jeter
Appropriately, the 1993 Topps is next. Again, it is the same card as the micro, but this card is standard sized.
There is nothing special about this card, but the Topps brand wins out. Jeter is nestled under the Draft Picks subset, specifically Series One. The card is affordable at a couple hundred dollars in top grade.
1993 Score Derek Jeter
By 1993, Score was no longer the novel new brand, and it was falling off fast. Unlike Topps or Upper Deck, Score's everlasting legacy is that of poor cards with tacky designs.
This card makes the list as a cheap true rookie of Derek Jeter. These are traded frequently, and they sell for $100 in Gem Mint condition, but they quickly fall to less than $20 by PSA 8.
Conclusion
Derek Jeter has continued to make headlines after his career through multiple avenues. One of those avenues is the popularity of his baseball cards. There are many options to invest, and not all were included in this article. Jeter has some exciting cards that are well worth an investor's time to investigate.