For the most part, hockey cards are fourth in the United States in prestige behind baseball, basketball, and football. While hockey is a popular sport, competes with the other three for fans, and has popularity abroad in Canada and Scandinavian countries, hockey cards are not as prestigious as their competitors. Of course, there are still iconic hockey cards, but the value of collecting hockey cards has only been discovered in recent years.
Hockey card share commonalities with the other major sports. They have a rich history going back to the tobacco card era, there are ups and downs throughout their history, there were major producers in the 50s through 80s with a spike in licensed producers in the early 90s, vintage cards are more valuable, and the great Wayne Gretzky has influence like Mickey Mantle or Michael Jordan on their respective hobbies.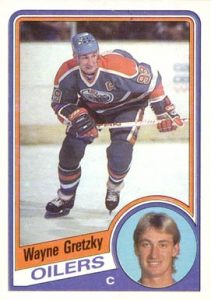 Sports cards are a major hobby and/or investment. Hockey cards can be considered legitimate diversification in regards to collecting in the other major sports. Maybe football continues to have difficulty with brain injuries, baseball loses its nostalgic appeal, and the international success of basketball hits a wall. Meanwhile, perhaps, as evidenced by recent successful expansions in the NHL, hockey continues to take off. Then, having a decent Gretzky could pay off tenfold.
Hockey cards are an exciting arena of sports cards. They have gone under the radar for decades, and people are starting to take notice. Despite the setbacks of the boom and crash of the 90s, hockey cards are moving forward with strength today.
We will give some basic facts about the history of hockey cards. Hopefully, we can help you to become better informed in the hockey card industry.
Earliest Cards
The earliest cards of hockey players come from Canada. In 1879 and 1880 there were cards depicting hockey. The name of the game was not even decided on yet which was shown by titles such as "Ice hockey," "Eishockey," and "Ice Polo."
It is a debate as to whether these can be considered trading cards. Many classify them under the designation of art. Sports cards in general tend to blur the lines, but these cards are under heavy debate.
Tobacco Era
As with the other major sports, cards found in tobacco pouches and packs mark a major era for hockey cards. The cards were distributed as a bonus for buying the tobacco brands.
Imperial Tobacco Canada launched the first tobacco hockey cards from 1910 to 1913 for the beginning of the NHL. It was a 36 card set that had an illustration of a different player on every card. The set is known as the "C" sets (C-55, C-56, and C-57) which were named by Jefferson Burdick's American Card Catalog. The C stands for Canada instead of the usual "T" for tobacco (such as the T206 Honus Wagner).
The cards were smaller with measurements of 1 ½" x 2 ½". The teams from Renfrew (outside of Vancouver), Ottawa, Quebec, and Montreal were included. There were also nice little blurbs on the back. They are swamped with talent, and many of the cards are rookie, especially the C-55 because the players had never been on a card.
Confections Enter
With the beginning of WWI, tobacco cards took a hit as did all trading cards. There are a few lesser known sets from collegiate athletes. It was not until the 1924-1925 season that another hockey set was produced with tobacco when Champ's Cigarettes produced a 40 card set.
Candy was starting to enter the industry. Maple Crispette made a 30 card set in the same year as Champ's Cigarettes.
World Wide Gum released the Ice Kings Hockey set in 1933. It was produced in Canada with two types. One had English only, and the other had French and English.
Other sets were produced by food and candy companies. This includes Paulin's Candy, Crescent, Holland Creameries, and La Patrie.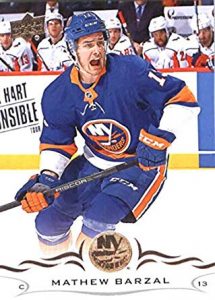 There were a variety of smaller brands throughout the history of hockey cards. There were Shirriff Desserts, York Peanut Butter, Post Cereal, and Parkhurst Products.
Parkhurst Products were a significant competitor from 1951 to 1964 (except for 1956). They were the only producer from 1951-1954. When Topps entered in 1955, Parkhurst made one last go at producing cards for all six NHL teams. The 100 card set was one of their largest, and the cards have wonderful photography for the time. It had action shots, facsimile autographs, and great rookies.
The industry was well poised to flourish, and the major brand that needs detail is O-Pee-Chee through which we can also talk about Topps. Together, the two dominated the hockey card industry for decades.
O-Pee-Chee
O-Pee-Chee was the most notable brand in the market prior to WWII for hockey cards. The largest Canadian competitor in trading cards in history, O-Pee-Chee produced five hockey sets from 1934 to 1938, as well as a variety of other cards. The 1934 set had pleasing colored backgrounds in green, red, orange, or blue with a large star in the center and smaller stars surrounding it.
The 1939-1940 and 1940-1941 O-Pee-Chee sets were a massive 5" x 7". The first of the two was black and white, and the second was sepia toned. These were probably war time cost saving measures.
The cards came in boxes with instructions to not let children flip through them. A box surfaced in 2016, so we know some of the details. There is no indication that the boxes and cards were produced by O-Pee-Chee, and there is some debate as to who receives credit.
With the onset of Canada's involvement in WWII in 1939, the company quickly stopped producing in 1941. The candy company was tasked with producing dried egg powder for the duration of the war. There were few resources for candy and cards.
O-Pee-Chee returned to hockey cards in the 1950s, and they were a major competitor to the Topps giant. After coming to an agreement with Topps in 1958, O-Pee-Chee dominated the Canadian market, and the company started creating baseball sets in 1965.
In 1967 as the NHL expanded from six to twelve teams, O-Pee-Chee and Topps began producing the hockey double. Topps would be produced first, but the O-Pee-Chee sets had more cards. O-Pee-Chee added a French translation on the back in 1970 due to Canadian legislation.
The 1994-1995 NHL lockout was devastating to O-Pee-Chee's business. They had to rework their business, and they decided to focus on the production of candy.
The company continued to produce sets until it was sold in 1996 to the Nestle Corporation. The O-Pee-Chee brand was kept alive by Topps from 1996 to 2004, and the license to print under the O-Pee-Chee name has been owned by Upper Deck since 2007. Hockey cards are still produced today.
Wayne Gretzky RC
O-Pee-Chee is a very important brand to mention in an article about hockey cards because of their early influence, and O-Pee-Chee created some of the most iconic hockey cards.
This includes, of course, the 1979 O-Pee-Chee Wayne Gretzky RC. It is an iconic card, and it is the best rookie card of the best hockey player ever. Gretzky dominates the record books with over 60 records from the sport.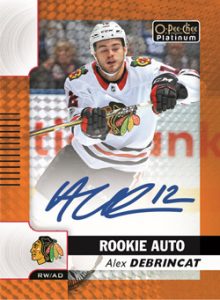 The card has held up better than the Topps version, but the blue border leads to chipping. Print defects and rough cuts make this a hard card to find at a high grade. While a rare Gem Mint is estimated to be valued at nearly half a million by PSA, a PSA 9 sold for $27,200 in July on 2019.
Meanwhile, a 1979 Topps Wayne Gretzky has an estimated value of $150,000 for a PSA 10, and a PSA 9 was sold for $10,700 in July of 2019.
Therefore, for hockey cards, O-Pee-Chee has some serious muscle.
A Variety of Brands Enter
The 1990-1991 NHL season saw the rise of Pro Set, Score, and Upper Deck. In the same year, O-Pee-Chee kept the competition at bay with a popular Premier hockey series. Pinnacle, In The Game, and Panini followed shortly.
Score changed the industry in multiple sports through their use of action shots and better card stock. Owned by Score, Pinnacle made a name for itself through premium brands.
Upper Deck influenced their competitors through high end brands and inserts. They produced some of the more expensive cards of the 1990s. They were licensed by all four leagues.
Pacific Private is known for its Private Stock Titanium set. For the 2001 set, there was a high probability of landing a patch.
Lockouts and Hockey Cards
Until the 10 day strike in April of 1992, hockey players did not fully own the rights to their likeness and image. There were tens of millions of dollars in revenue at the time for hockey cards. The NHLPA was able to earn a royalty from these cards, and they used the million to strengthen their association. The NHLPA lessened dues which encouraged more members. They also created a war chest for future lockouts.
The competition of the many brands was soon weeded out by the 1994-1995 and 2004-2005 lockouts. The 1994-1995 lockout was bolstered by the money from hockey card licensing. Company after company lost their licensing agreements, while other brands were bought out. After the second lockout, Upper Deck negotiated an exclusive agreement of $25 million over 5 years.
Topps ceased the production of hockey cards, but In The Game went on to continue producing cards without licensing. In The Game signed individual contracts for current and retired NHL players. They also negotiated licensing deals for the CHL, AHL, and Hockey Canada.
Between 2010-2013, Panini briefly had licensing, but since 2014, Upper Deck has had exclusive rights.
Conclusion
Hockey cards share a history with other sports. There were the early days of tobacco, the influences of war, the domination by one or two brands for decades, and the emergence of too much competition in the 1990s.
Hockey cards continue to do well in the modern era. The 2005-2006 Upper Deck Series One featured the Sidney Crosby Young Gun which are still heavily traded over a decade later. Upper Deck's The Cup Hockey of the same year is also a heavily traded product.
There is plenty to be hopeful for about hockey cards. They have solid vintage card history, innovative producers behind Upper Deck, and modern cards are trading well. As a hobby or as an investment, hockey cards pair nicely with the other more popular sports.