Warren Spahn (1921-2003) was one of the greatest left handed pitchers in MLB history. He played in the Major Leagues in 1942 and then 1946 to 1964 with the Boston/Milwaukee Braves, while adding one final year with the New York Mets and San Francisco Giants in 1965.
Spahn was a 17 time All Star, 8 time NL wins leader, 3 time NL ERA leader, and 4 time NL strikeout leader. Additionally, he pitched two no hitters. His best year came in 1957 when he won the Cy Young Award, captured the World Series, was named an All Star, and was the NL wins leader.
He was born in Buffalo, New York to a father who had retired from semi pro baseball. His father was determined that his son would play in MLB, and he encouraged Spahn to practice a unique pitching style. Spahn would later become famous for the exaggerated leg movement and precise pitching that his father helped him to develop.
Having once said, "Hitting is timing. Pitching is upsetting timing," Spahn was known as a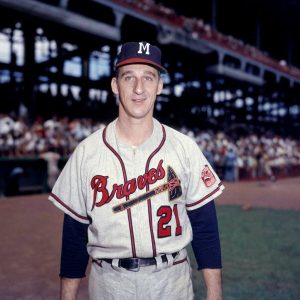 thinking man's pitcher. He tried to out strategize batters through his uniquely precise style.
Spahn signed with the Boston Braves in 1940, and he worked through the minors to the big leagues in 1942. He was soon drafted by the Army, and he was in the military until the end of World War II in 1945.
His time in the Army was not wasted. Spahn fought in several momentous European battles, including the Battle of the Bulge. He left the Army with a Bronze Star, a Purple Heart, and a presidential citation. Later in life, Spahn would credit his time with the Army with giving him the further fortitude to succeed to an impressive degree in baseball.
Returning to MLB with new maturity and outlook, Spahn excelled as a pitcher. In 13 of the next 17 seasons, he had at least 20 wins.
He was also a good hitter. He had a batting average of .333, and he hit 35 home runs over his career.
Spahn's two no hitters came within six months of each other. The first was in 1960 at the age of 39, and his second came in the next spring at the age of 40.
However, his 300th win was his favorite personal achievement. It came in a 2-1 win in August of 1961 against the Chicago Cubs. LA Times quoted him after the game, "It was really a big thrill—the thrill of my life. Winning the pennant and the World Series was the big thing from a team basis. But this had to be the biggest personally."
Finishing his career with a record of 363-245, Spahn holds the win record for left handed pitchers. He had an ERA of 3.09 and 2,583 strikeouts. He holds the record for most wins in the live ball era (post 1920).
Spahn was inducted into the Hall of Fame in 1973 on the first ballot, he was named to the MLB All Century Team, and his No. 21 was retired by the Atlanta Braves. The Warren Spahn Award is given annually for the best left handed pitcher. Here are some of the great cards of a legend.
1948 Bowman Warren Spahn Rookie Card
Bowman made a return to the baseball card market in 1948, and they helped launch the industry into a new era. There are 48 cards in this set, and they measure 2 1/16" x 2 ½". In addition to Warren Spahn, there are some major rookies on this set, such as Yogi Berra, Ralph Kiner, and Stan Musial. There are 12 short prints on the set, and none of the big time rookies are affected.
This is a fairly popular set, and Spahn's rookie card is quite common. PSA has over 1100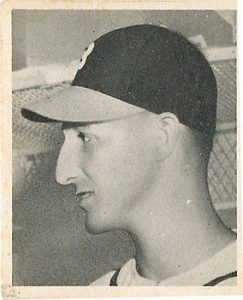 cards registered on their site alone. Ten of them are in Mint condition.
Mint condition cards have consistently gone for at least $10,000 since 2015. Depending on the auction, this card has gone as high as 16 or 17 thousand in Mint condition.
However, given the rarity of Mint condition Spahn rookie cards, prices fall off immediately to less than $2,000 for a PSA 8. $1,000 should be enough to secure you a PSA 7 graded card.
1948 Leaf Warren Spahn Rookie Card
Leaf also helped to launch the next era of baseball cards with their 1948 set. There are 98 cards in this set that measure 2 ⅜" x 2 ⅞". The numbering is somewhat confusing because it is skip numbering, so the set goes up to 168 in number but there are only 98 players.
Spahn is a key, but the set is filled with stars such as Bob Feller, Jackie Robinson, Satchel Paige, Ted Williams, Joe DiMaggio, Babe Ruth, and Stan Musial.
The 1948 Leaf is a popular set because of the great rookie cards as baseball cards made their post war return. Spahn's card is rarely found in top condition, but it is a heavily sought after rookie. PSA alone has about 800 cards registered.
A PSA Mint 9 card sold for $31,200 in November of 2018. This rookie card remains more expensive than the Bowman, as PSA 8's have sold for around $3,000 for the last few years. $1,000 should assure you a PSA 6, but prices have risen fast over the last few years.
1947 Tip-Top Bread Warren Spahn
This is a fun card to hunt down. It is not Spahn's rookie card even though it is the first card with his likeness. It is not considered a true rookie because it is a regional brand.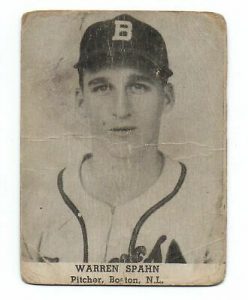 However, many collectors love these oddball cards, and there is some serious value to Spahn's card.
These cards are in horrible condition, and they are quite rare. For reference, PSA only has 10 cards registered for Spahn. Seven of them are PSA 1, and three of them are PSA 2.
The good news is that they are more affordable. In August of 2019, there was a sale of $232.50 for a PSA 1, and a sale of $750 for a PSA 2. Furthermore, a PSA 1 with the notation "MK" sod for $510 in late 2020. The MK means that in addition to being a PSA 1, the card is marked.
Conclusion
Spahn is often considered the greatest left handed pitcher to ever pitch a game. From the descriptions, stats, and stories detailed above, it is easy to see why he holds that honor. There are plenty of Spahn cards to choose from, including several from major brands like Bowman and Topps. We showed you his earliest depictions. Hopefully, you find the one that is perfect for you.