Barry Bonds (born 1964) played left field in Major League Baseball for 22 seasons. He was with the Pittsburgh Pirates from 1986 to 1992 and the San Francisco Giants from 1993 to 2007.
He finished his career as a fourteen time All Star, seven time NL MVP, eight time Gold Glove Award winner, twelve time Silver Slugger Award winner, and three time NL Hank Aaron Award winner.
His MLB statistics include a .298 batting average, 762 home runs, 2,935 hits, 1,996 runs batted in, and 514 stolen bases. He also holds several MLB records, such as 762 career home runs, 73 home runs in a season, .609 OBP in a single season, and .863 slugging percentage.
Bonds is considered to be one of the best ever. His remarkable statistics could fill many more pages.
Yet, he is at the center of the steroids issue in 90s/00s baseball. As a result, as of 2021 voting, he has not been inducted into the Hall of Fame. 2021 was his ninth year of ten years of eligibility, and the most he has received was 61.8% of the 75% needed. The fate of Bonds' legacy (as well as the value of his cards) will be debated for years to come.
Born in Riverside, California, Bonds was immersed in baseball from the beginning. His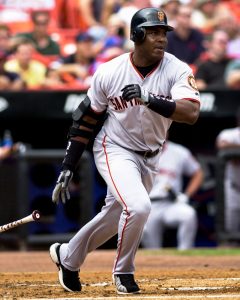 father, Bobby Bonds, played in the outfield for the San Francisco Giants, Bonds' cousin is Reggie Jackson, and his godfather is Willie Mays.
Bonds was a baseball standout from the beginning, and he was drafted by the Giants out of high school. Instead, Bonds played for Arizona State University, and he later joined the Pirates who drafted him later on.
He was always a productive hitter and great fielder, as well as a tremendous base runner. He is the only player to have over 500 home runs and stolen bases, and no other player has 400 of both.
It seemed like, for Bonds, the sky was the limit. He stunned crowds with his home runs and records. Managers and pitchers were terrified of Bonds; they would frequently walk Bonds in almost any position.
Yet, the steroid scandal continued to develop over his career. The sprawling and devastating nature of the scandal is too much to elaborate here. But, as Bonds began to break "unbreakable" records, like his 73 home runs in 2001 or his 756th career home run in 2007, the asterisks began to crop up.
Bonds was let go by the Giants following the 2007 season, and no team was willing to pick him up despite his performances. In 2015, Bonds would officially file a grievance, accusing MLB of collusion, and an arbitrator ruled against Bonds.
Bonds also was convicted of obstruction of justice from a 2003 grand jury appearance regarding steroids. He served 30 days of house arrest, 2 years of probation, and 250 hours of community service.
There are many more controversies surrounding Bonds. But, there are also dozens more of fascinating stats, thrilling stories, and tremendous baseball performance by him.
The BBWAA has declined to allow Bonds into the Hall of Fame. However, starting with 34.7% in 2014, Bonds has gradually gained more support every year to 61.8% in 2021, and he has an underdog's chance at induction in 2022.
Likewise, it remains to be seen if popular perception will have Bonds as one of the best, just a cheat, or a complex grey area.
Regardless, his cards are worth taking a look at, and this article will take you through some of the best Barry Bonds rookie cards.
1986 Topps Traded Tiffany Barry Bonds Rookie Card
The rookie card of Barry Bonds from the 1986 Topps Traded Tiffany is one of the best Bonds rookie cards available on the secondary market. In an era of overproduction, this set was limited to a 5,000 print run.
There are 132 cards in the set of standard size (2 ½" x 3 ½"), and the Bonds card sits at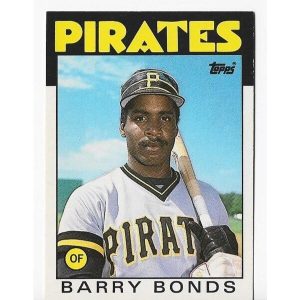 11t. While Bonds is the key to the set, other important cards include Jose Canseco and Bo Jackson.
Many of the cards on the set are worth little, so there are few of the graded. For reference, PSA has 6,431 cards from the entire set graded, and of those cards, 2,444 are Bonds cards. Over 1,000 of those cards are in Mint condition, and hundreds are in Gem Mint.
Gem Mint copies were selling for between $1,000 and $2,000 for several years, but since the Covid-19 pandemic, prices have skyrocketed to consistently selling for over $10,000. With a budget of $1,000, a collector might have to drop to a PSA 8.
1987 Donruss Opening Day Barry Bonds Rookie Card
This set has 273 cards of standard size. The set received its name because it featured players in the starting lineup from each team on opening day.
The Bonds card was originally printed with the wrong photograph, but the mistake was quickly caught. Collectors believe that less than one percent of cards available have the mistake.
The standard card with a white jersey and correct photo has over 2,600 copies registered with PSA. In Gem Mint condition, this card will sell for between $200 and $500.
The error card with a dark jersey and Johnny Ray's photograph has only over 130 cards registered. This card has become very expensive, but it is not sold frequently. In 2021, even PSA 8's were reaching $2,000.
1987 O-Pee-Chee Barry Bonds Rookie Card
The 1987 O-Pee-Chee rookie card for Barry Bonds is highly sought after. There are 396 cards of standard size, and Bonds sits at #320
PSA has over 700 cards registered, so this card is not scarce. The price has soared since the beginning of the pandemic. In the few years prior to the pandemic, a Gem Mint card would sell for between $2,000 and $3,000.
Yet, on 1.22.21, a Gem Mint copy sold for $18,823, only to be beaten a month later, which was on 2.19.21 for $23,350.
1987 Topps Tiffany Barry Bonds
Bonds shares this set with the rookie cards of Bo Jackson, Barry Larkin, and Mark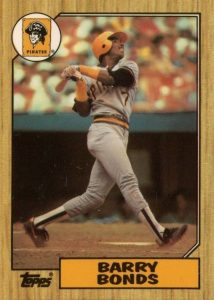 McGwire. Bonds is the ultimate key to the set.
There are 792 cards in the set, and Bonds is at #320. There were 30,000 sets produced.
3,100 Bonds copies have been registered with PSA. While Gem Mint copies can reach a few thousand dollars, Mint copies can be snagged for a few hundred.
Conclusion
There are a few more Bonds rookie cards available. Some of them are very cheap, and you may be able to find Bonds rookie in high grade for less than $100 from a quality brand like Topps. But the best cards were covered here.
The legacy of Barry Bonds is yet to be settled. Twenty years from now, will we look at Barry Bonds as one of the best ever, as the statistics show? Or, will he still be from one of the most notorious scandals in baseball's long history?
One of the great parts about baseball card collecting is that you are along for the ride, for better or worse.