Hank Aaron was born in 1934 in Mobile, Alabama. One of eight children, Aaron had to take several jobs to help support his family. In his spare time, he slipped off to play baseball at a neighborhood park. He even transferred high schools to gain access to organized baseball. Aaron taught himself to play which was shown by his cross handed batting early on.
When he graduated high school, he joined a few amateur and semi pro teams. It was around this time that Jackie Robinson was breaking the color barrier, and Aaron had hope of one day joining the Majors.
He quickly moved through various leagues and teams. After an invitation to train with the Milwaukee Braves in 1954, Aaron had his opportunity when a Braves player became injured. It was the beginning of his career.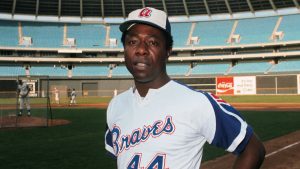 Through his 22 seasons, Aaron was selected to a record 25 All-Star games, he won three Gold Gloves, and he won the NL MVP in 1957, which was the same year that the Bruins won the World Series.
Along with several other records, Aaron has the most runs batted in (2,297). With 755 home runs he broke Babe Ruth's total home run record, which was seen as untouchable. Today, Aaron is second to Barry Bonds in that record though some question Bonds position because of performance enhancing drugs.
Despite eventually being the highest paid player in the league, reflecting the above accolades, Aaron was a humble superstar. He was far less in the public eye in his career than expected.
Part of this was his personality, part was playing for the smaller market in Milwaukee, but a major aspect of his career was the racism that followed him throughout. In fact, April 8, 1974, the day Aaron tied Ruth, was clouded by the increasing number of racist letters, including many death threats.
Aaron had a remarkably consistent career. From the age of 20 to 42 when he retired, he put up great numbers nearly every year. It is why MLB started the Hank Aaron Award in 1999 to honor the best offensive performers. This consistency is more remarkable when considering the adversity that he faced.
Resilience, consistency, and great at bats are synonymous with Hank Aaron. Here are some great cards that enshrine his career.
1954 Topps Hank Aaron Rookie Card
Hank Aaron's rookie card is a hallmark of early Topps baseball cards. The cards measure 2 ⅝" x 3 ¾". In addition to Aaron's cards, there are a few more rookie cards and stars. A major note for the set is that it helped set a standard for the developing Topps brand. Overall, it is one of the most important sets in baseball trading card history, and Hank Aaron's card is the highlight.
Aaron's rookie card is not an easy find, but below Mint condition, there are thousands of graded cards in collections. Out of the 4,203 cards registered by PSA, 24 are Mint condition, and only two cards are Gem Mint.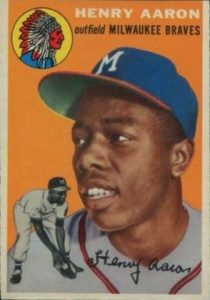 The two Gem Mint cards sold for $110,000 and $90,199 in 2004. Since then, the prices have steadily rose which culminated in one Gem Mint card selling for $357,594 in 2012. Though a Gem Mint card sale has not been recorded since, their prices have been expected to have continued to rise.
For example, a PSA 8.5 sold for $9,717 in 2013, and a card of the same grade was sold for $72,000 a few years later. The price of a PSA 9 went from $36,023 in 2013 to over $300,000 on two separate occasions in 2016.
Hank Aaron's cards have been hot ticket items for decades. Even a PSA 5 of the rookie card is projected to sell for $2,300, and it would probably sell for more. Beyond prices, the rookie card of Hank Aaron is a treasure at any grade.
1954 Johnston Cookies Hank Aaron
Johnston Cookie released a 48 card set in 1954 of the Milwaukee Braves. The set measures at 2" x 3 ⅞". Hank Aaron was brought into the set late after Bobby Thompson was injured. There are fewer Aaron cards, and a scarcity of Thompson cards. It is not the official rookie card of Hank Aaron because it was a locally distributed set.
There are not many of these cards available due to the local distribution. There are a couple hundred of cards registered by PSA with 14 of those at a PSA 9.
Since the card is less common, prices are scattered. A PSA Mint 9 Hank Aaron sold for $7,800 in the fall of 2018. A PSA 4 was offered for $1380 and $1,560 by two different dealers in late 2019.
1955 Bowman Hank Aaron
Hank Aaron did not appear on the 1954 Bowman set, which makes his rookie card cut and dry. Bowman was purchased by Topps in 1955, so this was Bowman's last year of production, making this Hank Aaron's only card on a major brand that is not Topps. As the Aaron rookie card continues to rise in value, this card is a worthwhile consolation because it's Aaron's first card on another nationally distributed brand.
The television design of the 1955 Bowman has created a popular legacy. The borders are woodgrain, and they are easily susceptible to chipping. As a result, there are no Gem Mints known, there are four PSA 9's registered,  and even PSA 8's are numbered at less than 100 on PSA's registry.
Due to the scarcity of higher graded cards, lower grades sell for more. For example, a PSA 5 can be purchased for about $250.  Meanwhile, the highest found price for a 1955 Bowman Hank Aaron was $26,798 for a PSA Mint 9 in 2016.
1955 Topps Hank Aaron
Aaron's card is one of the most sought after cards on the 1955 Topps. The set has 206 cards, which makes it the smallest Topps baseball set.  It shares a design from the past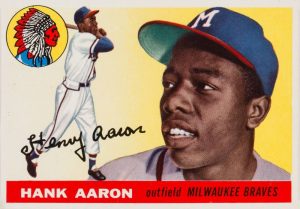 year with two photos of each player on the front. One photograph is of the player's face, and the other picture is typically an action shot.
Though it is Aaron's second card for Topps, the prices are high. The value of a PSA 9 has increased the last few years from $10,680 in 2015 to $26,520 in 2017.
1959 Topps Hank Aaron
This is another important Topps set in which Hank Aaron's card plays a vital role. There were 572 cards in the set. The design remains popular because of the colors, portrait style photographs, facsimile photograph, and slightly tilted text.  The backs are standard with basic facts, stats, and an interesting cartoon.
Aaron appears on four cards in the set. Respectively, the cards feature his All Star selection, his home runs, one card titled  "Fence Busters" where he is next to Eddie Mathews, and his base card.
The first three special cards sell for a few hundred in Mint condition. The All Star card is the most expensive at $465 in Mint condition. The base card is the most expensive. The Population 1 Gem Mint card  sold for $26,976 in 2018.
The 1959 Topps Hank Aaron card is well designed on an innovative early Topps. While a Gem Mint card is out of most people's budgets, a respectable Near Mint PSA 7 was being offered for $400 to $600 online from reputable sellers in late 2019.
Conclusion
Hank Aaron had a great career, and his baseball cards are important to the trading card hobby. Aaron was epic at the plate, but more importantly he persevered through the difficulties of being an early black player in Major League Baseball. His cards represent historical events in America's pastime and society.