Welcome to Oakhurst Cards!
Oakhurst Cards focuses on high end, vintage baseball cards. We are located in the United States and deal in a variety of different types of cards, from high grade PSA 1950's singles to raw, tobacco cards. We are always buying and commit to making every deal as smooth and efficient as possible.
We are most interested in singles from any years that are pre-1970, though we do consider high grade, certain issues from the 1970's as well. In addition, while our core attention is on baseball, we do have an interest in all other sports from these time periods as well. Even if we do not carry a large selection of non-baseball singles for sale, we are still interested in acquiring key cards across all sports.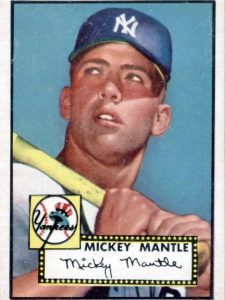 For many, the modern baseball card first rose to popularity in the early 1950's, but there are actually decades of sets and cards that were released prior to this.
Whether from companies that are still around today (in one form or another) like Leaf or from tobacco manufacturers in the early 1900's, baseball cards have been around for almost as long as the game itself. The very first cards were issued before 1900, and we have an interest in all of these unique issues.
Valuing Your Cards
Perhaps the hardest thing to do, especially for someone who is new to the world of baseball cards, and especially vintage baseball cards, is to accurately value what they have. There are many different considerations that need to be made before you can realistically determine what your cards are worth.
First, you will need to determine that your cards are truly authentic. There are a number of different ways that this can be accomplishes, with varying levels of accuracy, speed and costs involved. Some cards are more prone to being non-authentic than others, and some sets are harder to identify real from fake than others. Nevertheless, determining that your card is indeed "real" is step one in determining the most accurate value possible.
Next you will need to determine the condition of your card and its comparable counterparts. If you are inexperienced in baseball cards, you may have a tough time accurately ascertaining the correct condition of a card. As is the case with determining authenticity, you have a number of options available to you when grading your cards. Again, identifying a realistic grade is a process with options of varied time, accuracy and cost, as is the recurring theme with baseball cards as a whole.
From here you need to decide both what you feel the fair market value of your cards is, as well as what price you would be comfortable selling your card(s) at. If a card similar to yours tends to sell in the $1,000 range, you may decide that you are comfortable taking any amount over $700, or maybe you simply want a quick sale and would take a bit less. While you must consider who you are selling it to, as well as the time and costs involved in re-sale, ultimately the price you are willing to accept for any given vintage baseball card is up to you.
Selling to Oakhurst Cards
While we can break down the process into many parts, each transaction is ultimately unique from the next. You may need assistance in both identifying which cards you have as well as their condition and in turn, their fair market value. You may already know exactly which cards you have and what you would like to sell them for. Or, you may be somewhere in between these two situations. Whatever the case may be, we will make the process of selling your vintage baseball cards as simple and seamless as possible.
Send us a message or give us a call for a quick response. We will go over the broad details of the particular items that you are looking to sell and then create a plan from there. A deal may be made on the initial call, or we may negotiate and/or discuss your items over several discussions. No matter your case, we are happy to help each step of the way in both assuring you receive a fair deal and an efficient transaction.
Our guide aims to serve as a free resource to vintage baseball cards. You will be able to easily determine the brand and year of your cards, which is the first step towards finding out what you really have in your possession. If you have any questions on guide topics or any element of vintage cards that are not covered, we encourage you to contact us. Whether you are looking to buy, sell, or simply browsing, we are more than happy to make the process as enjoyable as possible.
Thank you for visiting,
Oakhurst Cards