NL MVP, World Series Champ (1955), NL batting champion, and Hall of Fame Inductee, Jackie Robinson is truly an all time great. Not only was his number 42 retired by the Dodgers, but the number 42 was retired by all MLB teams.
Jackie Robinson is best known as the player who broke the color barrier. Until Robinson, black players had been stuck in the Negro leagues since the 1880s.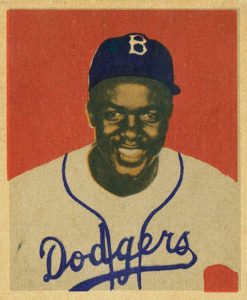 His talents were incredible, but he is known equally for his poise. Robinson used nonviolence as a practical talent. It is well known that his example influenced the nonviolent culture of the Civil Rights Movement.
His accomplishments and awards outside of baseball continued on. Today, Jackie Robinson Day takes place in the MLB every April 15 since the 2004 season.
Given his above mentioned resume, as well as historical importance, Jack Robinson cards are greatly desired.
One of the earliest cards is the Bond Bread Jackie Robinson cards from 1947. The most iconic features a portrait of Robinson with a determined look There were also promotional cards in a set of 13. Each one features Robinson in a different design. The cards were distributed with bread. They are hard to come by, and high grades are difficult to find.
Perhaps the best known card of Robinson is, naturally,  his accepted rookie. The 1948 Leaf Jackie Robinson #79 was the first Robinson card to be released in packs. An interesting tidbit is that many believe the cards were released in 1949, though the copyright cites 1948. People call it different ways, and it causes some light controversy in the hobby.
The set is littered with Hall of Famers such as Joe DiMaggio, Bob Feller, Satchel Paige, and Babe Ruth. Though the Robinson card is not the most valuable from this set (Paige), a PSA 6 can still reach $10,000 at auction. Robinson's picture is interesting with his blue hat playing off a bright yellow background.
In 1949 Jackie Robinson was named the National League's MVP, which adds plenty of value to the 1949 Bowman. The card is known for the poor quality of the print and cuts. Jackie is shown with a bright smile. His Dodgers uniform is shown in white and blue against the red background.
It is a more attractive card than the Leaf. A PSA 9 of the 1949 Bowman is estimated at $45,000, although one sold in auction in 2017 for $102,000. The value of this card fluctuates because some consider this the "true" rookie of Robinson since the release of the Leaf card is still under debate.
I mentioned attractiveness, and Bowman topped themselves in 1950. The 1950 Bowman #22 Jackie Robinson is, again, a much better looking card. Jackie juts out with his bat perched from the follow through of a practice swing as the stands sit empty in the background.
It is not as expensive as the other cards, and higher quality grades are rare. There are only 12 PSA 9's registered by the company. Those graded cards can go as high as $20,000 a piece.
Topps Jackie Robinson Cards
The rest of the show features Topps who came in swinging into the baseball card game in 1952. For Robinson cards, a couple early cards are valuable, and then Topps are the ones people want.
The major card from his career comes as the 1952 Topps #312. This is debatably the most desirable set of all time with Mickey Mantle next door at #311, and Robinson is a huge find for it. As a result, a PSA 9 catches a $70,000 price tag.
Robinson would be a valued member of this set regardless of his performance, but he actually blew the league away that year. He hit .308 with 19 HR's, 104 runs, and 24 stolen bases. Above all else, he only had 291 strike outs at 5,000 at bats in addition to a .440 OBP.
The card itself looks pretty good. It has a nice portrait with a bold red background. The feature of Robinson's script beneath the words is a complimentary touch.
As a side note, the 1952 Berk Ross Jackie Robinson is an understandably overlooked card. It is truly good looking with Robinson in a jumping action shot as he reaches for the catch. It's unnumbered and comes from a minor manufacturer, so a PSA 5 is about $250. This is a great sleeper card. Same year, same Robinson statistics, better picture. It's just not at '52 Topps.
In 1953 it was a nice compliment for Robinson to be put as #1 on the 1953 Topps. Today, it is truly an honor for Topps to have gotten him on the #1 slot for a set.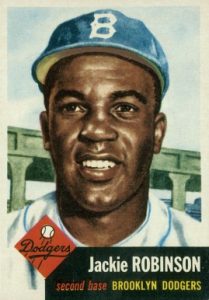 The 1953 Topps Jackie Robinson #1 shows a quite lovely portrait of Robinson with his Dodgers hat and an attractive background. This was the era of competition between Topps and Bowman, and Topps upped their game for this set.
It was a double print, and there is some serious chipping along the bottom edge on most cards. Still, Robinson at #1 is going to attract some serious buyers, and the card is still heavily sought after. While very few high quality cards are on the market, a PSA 9 went for $42,000 in 2016.
The last few cards are Topps 1954, 1955, and 1956. They are at the tail end of his career. They have similar value, scarcity, and condition. They have similar design in which there is a portrait of Robinson on one side and an action shot on the other (throwing, batting, and sliding into home, respectively). The 1955 and 1956 Topps even use the same portrait.
A PSA 9 for all three cards goes for about $10,000-$15,000, with the '56 being the most valuable. All of the cards are memorable, notable, and truly beautiful in their own right, but we can put them together here.
We have to remember that collectors were robbed of many years of Jackie. So were fans and baseball historians. People can only wonder today the kinds of numbers he could have put up. Especially at 2nd base!
Instead of ending on the depressing "what could have been", I will leave you with the absurdly rare 1967 Topps Venezuelan Jackie Robinson #184. Produced in Venezuela with Spanish text, the set had 50 retired players on it. PSA 7 goes for two grand.