Satchel Paige, born as Leroy Robert Paige on July 7, 1906 in Mobile Alabama, is one of the best pitchers in baseball history, despite not pitching in MLB until he was 42, when the ban against African Americans in MLB was lifted in 1948. His pitching skills are fondly remembered for a combination of significant power and his genius of diversified deliveries.
Much of Paige's early history is uncertain. For example, it is not known for sure that he was born in 1906. During his playing days, many believed that it was as early as 1899. He received his nickname of Satchel when he worked as a railroad porter as a young man. It is known that Paige played for local schools and leagues, and he joined the Chattanooga Black Lookouts of the Negro leagues in 1926.
Paige moved around various teams in the Negro Southern Association and the Negro National League. During the winters when leagues took a break, Paige played in Mexico and the Dominican Republic. He was the ultimate iron man.
Statistics about Paige are difficult to nail down, which adds to his mystique. It is estimated that he would travel up to 30,000 miles per year, and he may have played 2,500 games or more in total. It is estimated that he won 2,000 of them. There are too many possible statistics to list, such as his starting 29 games in one month or the claim that he won 104 of 105 games in 1934. Even if you take the low end of the estimates, Paige had enduring durability with a great win record.
The legends and stories surrounding Paige abound. Players and spectators reported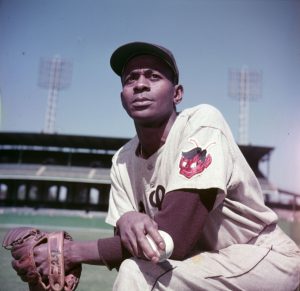 numerous stunts and antics, such as sending the infield players to the dugout in confidence of his pitching. Or, one time Paige reportedly loaded the bases on purpose before pitching to the renowned Josh Gibson (whom he struck out). On the other hand, some stories are well evidenced. For example, Paige struck out Rogers Hornsby five times in one game during an exhibition match.
Paige was signed by the Cleveland Indians in 1948 when the ban lifted. Though his exact age is uncertain, Paige had to be well past his prime. He remained a valuable addition to the World Series champions that year. He was a good contributor as a relief pitcher for the St. Louis Browns until 1953 when he retired. Interestingly enough, he pitched three scoreless innings in 1965 for Kansas City. Regardless of his uncertain birthdate, he is the oldest person to pitch in an MLB game.
Since Paige played in many unrecorded games, fans are left with stories and legends. While his career is filled with many unverified facts, there is a great deal of anecdotes that verify his greatness, such as Joe DiMaggio naming Paige, "the best and fastest pitcher I've ever faced." Paige's all time great status is undisputed, but fans can never be certain just how good he was.
The uncertainties behind Paige's career makes for great baseball cards. The cards help to represent an almost mystical player. Unfortunately, the only major cards are those from his MLB days, and there are a limited number of cards produced of Paige for major brands. This article will summarize the best ones.
1948 Leaf Satchel Paige Rookie Card
Satchel Paige has to be the oldest player with a rookie card in all of sports. He is at least 42 for his rookie card, and maybe has old as 49. That has to be a record, or at least close to it. Paige is depicted grinning in his Cleveland uniform with a yellow background. His birth name "Leroy Paige" captions the photo with a red background.
There are 98 cards in the set, and they measure 2 ⅜" x 2 ⅞". Legends like Bob Feller, Joe DiMaggio, Babe Ruth, and many more accompany Paige on the set.
The cards sold well. One reason is that it is the first major post WWII set. Additionally,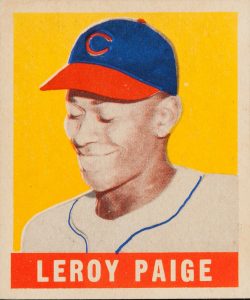 Leaf printed the cards with skip numbering. While there are 98 cards in the set, the set is numbered to 162. Collectors bought extra packs trying to find the missing numbers that were never produced.
There are only 140 Satchel Paige cards registered by PSA. The highest registered grade is a PSA 8, of which there are only 5. There were no records of a better graded card from other services. Some analysts refer to this card as the hardest post war card to collect. Not only is it rare, but collectors also do not want to give it up.
The most recent sale of a PSA 8 was for $432,000 in November of 2018. PSA 7's remain high at $75,000 in a 2019 sale. Since the cards are not common, a PSA 1 sold for $7,300 in 2018 and $6,600 in 2019.
1949 Bowman Satchel Paige
Paige remained in the Cleveland Indians' uniform, and he looks to the side in this card with a blue/green background. His name is displayed as Leroy "Satchel" Paige.
There were 240 cards in the set that measure at 2 1/16" x 2 ½". For the set, there are over twice as many graded cards. For Paige, the number of cards registered by PSA jumps to 775, including eight PSA Mint 9 cards.
Naturally, the price drops heavily for his second year card. A mint condition copy sold for $33,600 in April of 2018, though a different Mint condition card sold for $84,000 in 2017. To buy a Satchel Paige from the 1949 Bowman for around $1,000, a collector would have to drop to a PSA 4.
1953 Topps Satchel Paige
Paige was out of MLB in 1950. It is unclear as to why he was not on the Topps or Bowman sets in 1951 or 1952, as Paige was in MLB. The most likely explanation is that Paige was older, and he was a relief pitcher for Kansas City in 1951 and 1952. Regardless, Paige debuted with Topps in 1953 for his final full season.
This is a great card for a collector looking for a more affordable Paige. It comes from a major brand, it is well designed, and there are more available for purchase than the other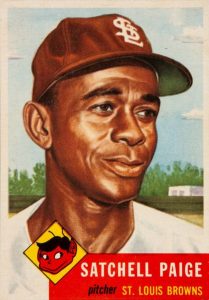 two major Paige cards.
Paige's card is aesthetically appealing. The one noteworthy factor outside of good looks is that the card misspells his name as "Satchell Paige" with two "L's". The set has 274 cards with measurements of 2 ⅝" x 3 ¾".
While PSA 9's were selling for $11,000-13,000 for a few years, one card jumped to $28,800 in 2019. Prices quickly fall at a PSA 7, and there were several recorded sales of that grade in 2017 which averaged around $1,400-$2,000. This card can be bought for less than $500 for a PSA 5 or lower.
Conclusion
Paige is undoubtedly one of the best pitchers to ever play baseball. Given his longevity and skill on the mound, he might have been the undisputed best had he been allowed into MLB with its better record keeping. As nobody will ever know the extent of his prowess for certain, his cards help to encapsulate the legend of Satchel Paige.