Rookie cards are defined as the first time a player is on a card from a major brand in a professional uniform. The most valuable cards are often the rookie cards.
Every sport has different complications of what is the "true" rookie. Then, between multiple brands, there is the question of what is the best rookie. With football, the confusion can come from a plethora of brands with varying levels of rarity, cards can come with an autograph, some players are in their college uniforms, and then there are unlicensed sets which do not feature logos.
PSA has a good working definition of rookie cards: "A players first year of cards, whether or not it is his rookie season. Players may have one or dozens of rookie cards, depending on how highly touted he was as a youngster and in which year his rookie card was issued."
It can be a confusing and sometimes complex issue. Which is the true rookie card, and which is the best rookie card? We hope to alleviate any misgivings with a straightforward article on some of the best rookie cards in the football card hobby.
1965 Topps Joe Namath
The 1965 Topps Joe Namath rookie card needs to be listed first because it is the most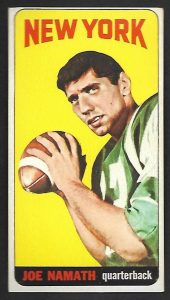 iconic card of the football card hobby. Though it is not the most valuable, it can sell for $250,000 at a PSA 9.
Joe Namath is a football legend. He is known for his guarantee that the New York Jets would beat the Baltimore Colts prior to Super Bowl III. The Jets were seventeen point underdogs, and they were fully expected to be clobbered. The Jets won 16-7, Namath was named MVP, and the AFL captured its first Super Bowl.
When this picture was taken, Namath was recovering from a knee injury in the hospital. The Jets publicist showed up with a ball, shoulder pads, and jersey. Namath limped to the wall with crutches, and he leaned up against the wall as the photo was taken.
There are two distinct aspects to the card. First, it has a larger size at 2 ½" x 4 11/16". The size creates issues for the quality of the cards' condition from poor handling and centering. Secondly, there is the butterfly variation. Some of the cards have a print mark on the Namath's left hand. It does not affect the value.
1957 Topps Bart Starr
Bart Starr has popular cards overall because of his early dominance of the NFL in which he was the MVP of the first two Super Bowls with an NFL MVP and four NFL championships. Naturally, his rookie card is the big pickup.
The card has standard measurements. The front of the card is a horizontal layout with two pictures. One is a portrait, and the other shows Starr throwing the ball.
Starr is higher in the set at #119 out of 150. It is harder to find in high grade because of poor centering and print defects. Johnny Unitas and Paul Hornung rookie cards join Starr as the keys to the set.
2005 Exquisite Collection Aaron Rodgers (Autograph)
The 2005 Exquisite Collection Aaron Rodgers with an autograph has 199 copies. Take the rarity, a Super Bowl MVP, a two time league MVP, the potential for a quarterback to have a long career, and there is some excitement around this card even though it is so modern.
The design is criticized by fans for being gawky with the strange arrangement between the photograph, the jersey insert, and the autograph, but collectors move past it.
As Rodgers grows closer to retirement, his card has steadily risen over the last few years. A Gem Mint copy is estimated to be worth $5,000. While this is one of the less valuable cards on this list, modern rookies were included in this list to show the actual appeal to investors.
1935 Chicle Bronko Nagurski
The 1935 Chicle Bronko Nagurski RC is the most expensive card in football cards. Nagurski is a legend. He was known for running straight through players in a football era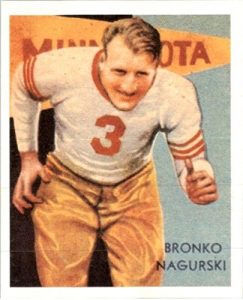 where runners dominated the game. Of course, Nagurski was an original NFL Hall of Fame inductee.
This card is generally considered his rookie card because it was his first professional card from a major brand. Nagurski started his professional football career in 1930 with the Chicago Bears.
Nagurski's RC is valuable for a few reasons. First, it is a great pre war football card. Football was not nearly as strong as baseball in the pre war era, so the 1935 Chicle set is coveted as a premier vintage football set. The set itself is hard to find in high grade, and the Nagurski rookie is harder as it numbered #34 out 36.
Another reason for the card's value is Nagurski's reputation. Players wore little padding at the time, and Nagurski was known as a freight train. He was a superb defensive linemen in an era where players played both sides of the ball.
The guy was just tough. After retiring from football in 1937 (outside of a brief stint in 1943), Nagurski wrestled professionally for over two decades. He won the World Heavyweight Wrestling Championship multiple times.
This card is rare. It is infrequently up for auction. PSA estimates that PSA 9 is worth $750,000. There is only one PSA 9 registered on their website. Since higher grades are so difficult to find, the price quickly drops to $75,000 at a PSA 8.
2000 Playoff Contenders Ticket Tom Brady (Autograph)
This is the big card in modern cards of any sport because it is the most expensive card in modern cards. As Tom Brady's career has flourished, the card has increased from $10,000 in 2008, to $50,000 five years later, to a massive $400,100 in February of 2019.
Sports cards are fickle. Jim Kelly, Brian Urlacher, Chad Pennington, Kurt Warner, and Peyton Manning cards from this set have competed with the Brady card in the past. The Peyton Manning card was more expensive at one point. Now, the shipping is more expensive than the Peyton Manning card for an ungraded copy on eBay.
There were only 100 Tom Brady cards produced with the autograph. The set is standard sized with 100 base cards, 50 RC Auto cards, 10 NFL Ticket Veteran Autographed cards, and 40 NFL Europe Rookie Ticket Autographed cards. It's a great set, and Brady is the highlight.
1948 Leaf Sid Luckman
The 1948 Leaf set is the most important 1940s set along with the 1948 Bowman. The Sid Luckman rookie card is the highlight. He is the first card in the set.
Luckman had a great career with the Chicago Bears with whom he won four NFL titles. The Bears were dominant in the 1940s, and Luckman was the leader.
The card measures 2 ⅜" x  2 ⅞". The main variation on the card is the white background and yellow background. The centering, print defects, and the printing process overall make the Sid Luckman rookie card and the entire 1948 Leaf a very tough set. The highest grade registered on PSA's website is one PSA 8. A PSA 8 sold for $71,835 in 2009.
1998 Playoff Contenders Rookie Ticket Hines Ward (Autograph)
One of the best receivers of all time for the Steelers franchise, Hines Ward makes the appearance as a rare non quarterback on this list. Four time Pro Bowl selection and Super Bowl XL MVP, Ward's rookie card is bolstered by the Pittsburgh Steelers fanbase.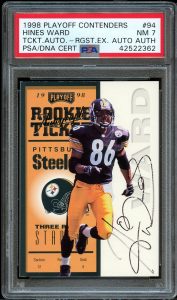 There were only 500 cards released for this RC, so the rarity helps.
This is the least valuable card mentioned here. It goes for about one hundred dollars in gem mint condition. He is worth mentioning to show that less-than-legend players can be traded for good money.
1952 Bowman Large Jim Lansford
The 1952 Bowman Large is a famous set today for its unique design. However, the Large cards are known for their difficulty to find in high grade. Jim Lansford is a key to the set, but he is last at #144 which makes his card especially challenging because of the short print and the difficulty of his cards' printing position.
1998 Playoff Contenders Rookie Ticket Peyton Manning (Autograph)
Peyton Manning is an all time great for leading two different teams to Super Bowl victories, earning 14 Pro Bowl selections, and a Super Bowl MVP. His rookie cards are the great football finds of the 1990s.
There are several inserts in the 1998 Playoff Contenders, but only this one mentioned has an autograph. Of the Peyton Manning rookie cards, this is the only one that has in autograph. This autographed card sells for over $50,000 in gem mint condition. It is limited to only 200 copies.
1998 Playoff Contenders Rookie Ticket Randy Moss (Autograph)
Randy Moss is one of the best receivers of all time. During his career, he set records for receivers while going to seven Pro Bowls. His autographed card is limited to 300, and it sells for over $10,000 in gem mint condition.
1957 Topps Johnny Unitas
As mentioned in the Bart Starr section, the Johnny Unitas rookie card is another key to famous 1957 Topps football set. The upside to finding this card is that it was part of a double printed second series, so the cards are common. The difficulty is finding the card in high grade with common problems from print snow and centering.
1986 Topps Jerry Rice and Steve Young
The 1986 Topps is a controversial football set. The cards are surrounded with green marked by white stripes to imitate a football field. It is absolutely a unique design, but investors cannot seem to conclude as to whether this uniqueness is valuable.
The Jerry Rice card is the most popular card in this set for good reason. Since Steve Young was placed #374 out of the 396 card set, his cards are rarer and thus more valuable in a higher grade.
1958 Topps Jim Brown
Jim Brown is undoubtedly an all time great. Some even say that he is the best. His rookie card is one that needs to be mentioned. Here is another card where conditions are a serious issue The dark background around the oval picture led to scuffing, the edges chip, and there are a variety of print defects.
Three time MVP Jim Brown continues to hold the record for the league with 5.2 yards per carry with at least 1,000 carries. A PSA 9 sold for over $300,000 in 2016 and 2017.
2000 SP Authentic Tom Brady
Tom Brady is worth a second mention on this list for how important his rookie cards are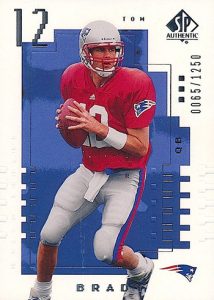 to modern trading. 1250 of these cards were distributed, so they are not extraordinarily rare. Plus, there is no autograph. Regardless, high grade 2000 SP Authentic Tom Brady cards can sell for over $10,000. SP Authentic was released by Upper Deck whose cards have held up very well, and the brand is a huge part of this card.
1981 Topps Joe Montana
Last but not least is Joe Montana's rookie card from Topps. Montana has continued to be respected for years after his retirement. He was not known as the most talented, but critics hail his excellent football IQ and leadership.
Joe Montana truly caries the 1981 Topps football set. This rookie card is the big one from the 1980s. Montana's career has only grown in esteem, and this card has skyrocketed in the last two decades. Even though there are thousands of decently graded cards and higher on the market, a PSA 10 was sold for $9,367 in July of 2019. A PSA 9 went for about $500 in the same time frame.
Conclusion
Rookie cards are important to every sport. For football, there are a few extra valuable modern cards, a limited number of excellent pre war cards, and then plenty of awesome cards from around the early Super Bowl Era.