Fleer was once a major producer of bubble gum. Founded in 1885, the company continues to be famous for Dubble Bubble. After decades of legal battles with Topps, Fleer broke open the Topps monopoly and entered the trading card market.
At the height of the baseball card boom in 1992, Fleer was sold to Marvel for $340 million. After a couple of bankruptcies, Fleer was purchased for $6 million in 2005. The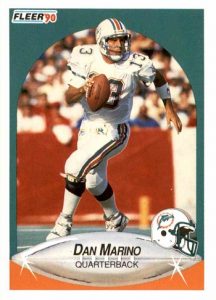 former giant no longer produces cards. Yet, they left behind a legacy in many great sets throughout sports. This includes excellent football sets.
Between 1960-1963, Fleer acquired the rights to the American Football League, and the company produced four notable sets. Fleer continued to produce sets after the legal battles with Topps, and they produced sets into the 2000s.
This article will take you through some of the noteworthy sets in the hope of giving you a view of Fleer's contributions to football cards.
1960 Fleer
1960 marked the first year of the American Football League, and Fleer bolstered the league's debut with an exclusive set. Unfortunately, this was Fleer's first football set, and quality conditions are poor. Everything from poor centering to strange coloring abounds in the set. Very few of the sets on PSA's Set Registry rate high at all.
There are 132 cards in the set with 125 players and seven of the eight head coaches for the AFL. The Denver Broncos coach is the only one missing. Coaches would not return to a football set until 1989. The coaches are the highlight of the set to some with members such as Sid Gillman and Sammy Baugh.
Players are shown in their college or NFL uniforms since the league was not in season until after the cards were printed. Also, Fleer had no game photos to use, so they used action shots.
Most of the cards are affordable, but the rookie cards of Jim Woodward, Paul Lowe, Dan McGrew, Dick Jamieson, and Sid Gillman will sell for a few hundred a piece or more in Mint condition. Jim Woodward never actually played in a professional football game as he was cut after the cards were produced, so his card has an oddity value.
1961 Fleer
1961 Fleer Football has 220 cards released in two series with #1-132 having NFL players and #133-220 having AFL players. Topps also released a major set that year with the NFL and AFL. Fleer cards are scarcer today. The cards of some players, such as Jim Brown, are more expensive under the Fleer brand.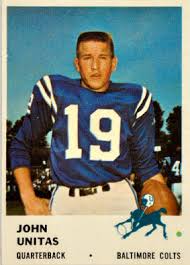 This Fleer set is noted for producing major cards from players of both leagues. The full list of noteworthy players is extensive, and it includes Stan Jones, Doug Atkins, Jim Brown, Bobby Mitchell, Frank Fuller, Lenny Moore, and Raymond Berry.
Mint condition cards can sell between one hundred and a few hundred dollars. Cards such as Jim Brown will naturally be closer to a thousand. Major rookie cards include Jim Otto, Don Maynard, John Brodie, and Don Meredith.
Most cards show the players on the sideline before games. They may be in a warm up jacket with the fans in the background. The backs have vital statistics and a bio.
An interesting mistake (that does not affect value) is that the Green Bay Packers cards have a logo with Wisconsin shown backwards.
1962 Fleer
Fleer was the only producer of AFL cards in 1962, while Topps went back to the NFL. Fleer dropped down to 88 cards for the season, but some believe it was in part to improve the quality of the cards. Every player is grouped by team, and teams are arranged alphabetically by city.
The photography for the set has been well received. Players are shown in posed action shots or portraits.
A key to the set is George Blanda who is known for his career that spanned for decades. He was a fine quarterback, leading the NFL in passing yards and touchdowns in 1961, and he spent several more years as a kicker before retiring in his late 40s. His 1962 Fleer card is famous for the opening of his description, "Age wears well on the Youngwood, Pa. product."
Conditioning is tough for these cards due to poor centering. Only 1.2% of submitted cards have received a Gem Mint status, with another 11% at Mint. 5,756 cards have been submitted for grading at PSA.
Major rookies include Gino Cappelletti and Billy Shaw.
1963 Fleer
The last year of Fleer's production of the AFL was another nice 88 card set. There were some major rookies such as Nick Buoniconti, Charles Long, Lend Dawson, and Lance Alworth. The Checklist has the highest value on the set. A PSA 9 Checklist sold  for $3,968 in 2006 and $2,747 in 2009.
A major variation of the set is that cards divisible by four in the checklist may have a red stripe at the bottom of the card back. Charles Long and Bob Dougherty are short prints.
1976-1988 Fleer Team Action
Fleer Team Action was a sticker set from 1976 to 1988. The standard sized cards featured teams rather than players (though the cards that show a star are more valuable). The cards would have titles like "Goal Line Stand," "The Running Guards," or,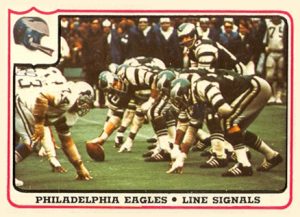 "The Contain Man."
Through the 66 card sets, odd numbered cards had the offensive plays, while even numbered cards had the defensive plays. The cards are stickers in which the fronts can be peeled off. The backs state, "For us as Sticker — Bend & Peel."
Unpeeled cards continue to be bought and sold. Some can be sold for hundreds of dollars in high grade. They are worth mentioning because these stickers, though they are not cards, were in important part of the collectible world for a time when Topps was dominant.
1990 Fleer
Fleer's return to football sets was a 400 card release. They show an action shot of players with the name and position on a football shaped banner on the bottom. The team is represented by a team helmet. The back of the card has statistics.
10% of the set is Hall of Famers, so there are a few major players such as Jerry Rice, Bo Jackson, Joe Montana, Deion Sanders, Troy Aikman, Barry Sanders, John Elway, and Dan Marino. However, given the market from the time period, expect to pay no more than $25 even for a PSA 10 of any of these cards.
There is also a subset of 25 All-Pro players that has two photos: an action shot and a posed full body photograph.
There was a brief frenzy to find a Joe Montana error card where the touchdowns and yards columns were swapped. Prices reached $100 for an error card in the early 90s, and then the price plummeted. The card be bought raw for about $4 today.
The list ends there as we enter the junk wax pack period. If you were to look through eBay, completed sets in decent condition can be bought for less than $20. There are a few rookie cards here or there that break $20 in pristine condition, but they are few and far between.
Conclusion
Fleer football cards will be remembered for its production of cards for AFL players. There are some great cards in those early 60s sets.
Although the company was instrumental in its legal dealings for opening the hobby and revolutionizing it towards the modern age, Fleer's later cards are largely forgotten. Though the best rookie cards from 90s Fleer football are cheap, they can still hold nostalgia for many collectors when packs did not cost hundreds of dollars.