Kobe Bryant was a career long Los Angeles Laker, and he was a major part of three NBA Championships (2000, 2001, 2002) and the undisputed leader of two (2009, 2010).
After being drafted straight out of high school with the 13th pick of the 1st round in 1996, Bryant was traded by the Charlotte Hornets to the Los Angeles Lakers. In his second season, he became the youngest All-Star in league history.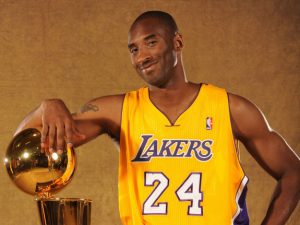 Shaquille O'Neal joined the Lakers in free agency, and the two formed a dominating duo with an uneasy relationship. Bryant was only 23 at the end of the Laker threepeat in 2002. Since Shaq was in his prime, he was debatably the more important player. The relationship ended in total dissatisfaction with each other, and Shaq was traded in 2004.
Kobe was able to cement his legacy while free from Shaq's shadow. Kobe went on to win the scoring title twice (2006, 2007), the MVP (2008) award once, and two championships along with two Finals MVP's.
The Lakers remained competitive after 2010, but they exited in the second round of the playoffs two years in a row. In 2013 Kobe ruptured his Achilles tendon. He missed significant playing time, and he never truly returned to form for long. He retired in 2016. 
While those awards and championships describe a lock for the Hall of Fame, they miss the essence of Kobe. Nicknamed "The Black Mamba," Kobe is famous for the "Mamba Mentality." Essentially, Kobe is known for his killer instinct, his passion for the game, his work ethic, his ability to take over games, and his ambition.
His basketball skill was a testament to this. His business acumen, from being the spokesperson for Panini America to winning an Academy Award for a short film, has spoken to his Mamba Mentality after retirement as well.
Kobe's career has made for exciting basketball cards. He had a great start, several rings, and many memorable feats, including his 60 point retirement game. Given the era with several brand and sub brands, there are several valuable Kobe Bryant cards to sort through.
1996 Topps Chrome Refractor Kobe Bryant Rookie Card
This is one of the best rookie cards of Kobe Bryant. It was a popular set upon retail release, and it has continued to be so. Not only are there multiple valuable rookie cards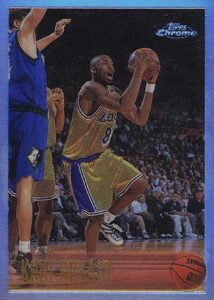 on the set, but the design of the card is iconic Kobe. It is also a condition sensitive card, specifically in terms of centering.
While the base card will sell for over $1,000 in Gem Mint condition, the refractor card sold for $14,000 in 2017.
1996 Finest Kobe Bryant Rookie Card
Finest Basketball was a Topps premium brand in the 90s, and they had a late release in 1996. Despite the late release, this Finest brand set has held up well over the years.
They released rookie cards of Kobe Bryant in their Series 1 Apprentices subset and Series 2 Heir subset. Additionally, both cards have refractor parallels.
The base card, the Series 1 Apprentices card, sell for around $100 in PSA Gem Mint 10 condition, while its refractor goes for about $1,500. The Heir card is worth considerably more at $400, while an Heir card with the Gold Atomic Refractor sold for $3,000 in 2016 at auction.
The design on the Gold Atomic Refractor is worth checking out. Kobe is shown in a dynamic pose where he appears to be pulling off a reverse dunk.
As a final note, the cards from this set came with a protective film because the fronts of the cards are sensitive. According to Beckett Grading Services, it does not affect the value whether the film is there.
1996 Skybox E-X2000 Kobe Bryant Rookie Card
Skybox released fewer cards for this set, which has helped its value increase over time. The set was noted for excellent designs. There is a base card and a "Credentials" parallel. This set is also known as very difficult to find in high grade.
High grade cards for multiple players, such as Kobe Bryant, Michael Jordan, and Allen Iverson will sell for thousands. Kobe Bryant's base card is tough to find at a PSA 10. One sold for $2,649 in 2017, and it is expected to have increased in value. One copy was offered at $7,000 on eBay in late 2019.
The cost quickly drops one grade lower. PSA estimates a PSA 9 Kobe base card to sell for $125. Those cards were being offered for $150-$200 online.
The Credentials parallel of Kobe increases in price. However, those prices are hard to ascertain as the card is not frequently auctioned due to lower production from Skybox. PSA estimates that a Gem Mint card is worth $6,500, a Mint at $2,750, and a NM-MT at $1,800. There is a small sample size of offered cards across the web, and prices vary wildly.
Finally, the last card is the Star Date 2000 Kobe Bryant. It sells for much less: about 100 in top grade.
1996 Bowman's Best Kobe Bryant Rookie Card
This was a highly sought after brand at the time, though the brand mostly focused on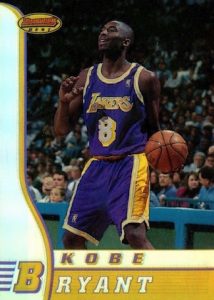 baseball. Outside of the base card, which is not worth much, there are two refractor cards that are valuable. At a PSA 10, the refractor is worth about $600, and the Atomic Refractor is worth about $1,300.
Kobe is show palming the ball as if he were about to call a play. With a smiling look on his face and the crowd in the background, it is a well designed card.
1996 Skybox Premium Kobe Bryant Rookie Card
For this premium brand, Kobe has a card at #55 and #203 with a "Rubies" parallel for both. The Rubies cards come with ruby-colored foil, and they are scarcer. The base cards are not worth very much, but the Rubies sell for $1500 for card #55 and $650 for card #203.
1996 Flair Showcase Basketball
The Flair Showcase sets from the 1990s have held up well. They are commended for their design and production value.
The Flair Showcase comes in 3 "Rows". Row 2 is the most common and is titled as "Style", Rows 1 is scarcer and titled as "Grace," and Row 0 is the most valuable/rare and titled as "Showcase". Each Row has a unique design.
Finally, each row came with a parallel titled "Legacy Collection." These parallels were limited to 150 cards. The differences between the parallels and the base cards is that the Legacy Collection cards have teal foil text on the fronts and the black and white styling on the backs.
While the base cards are worth a few hundred dollars apiece, the Legacy cards are worth a few thousand apiece at a PSA 10. The Legacy cards are worth a thousand dollars or more a couple grades lower.
Conclusion
Kobe's cards had a nice spike during his retirement. While his cards should hold significant value given his career, it will be interesting to see how the market perceives his legacy as time goes on. While there is room for the value of his cards to grow or fall off, Kobe's career before and after basketball has spoken for itself.