Known for his deadly crossover and an unmatched first step, Allen Iverson brought style throughout his fourteen years of prolific scoring in the NBA. Nicknamed "The Answer", Iverson was the idol of a generation of basketball players. In 2017, LeBron James remarked, "Michael Jordan inspired me, and I looked up to him, but he was out of this world. A.I. (Allen Iverson) was really the god."
Iverson had a notably difficult childhood. He was brought up by a single mother who was a teenager when she had him. Iverson survived difficult living situations and a crime ridden community.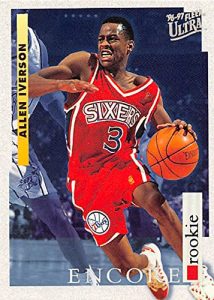 Iverson was able to find solace in sports. He excelled in football and basketball, leading his high school to state championships in both as a junior. His bright sports future was almost derailed after an incident in a bowling alley. He spent four months in prison, and he was only released after the Virginian Governor granted him conditional clemency.
Iverson wanted to pursue football, but he followed his mother's advice to play basketball instead. After two excellent years at Georgetown University, which included an Elite Eight appearance, he was picked first in the 1996 NBA Draft by Philadelphia.
Though he was short for the NBA, hardly reaching 6 feet, his quickness and fearlessness made him one of the most dynamic players in the league. At the same time, he was criticized for his turnovers, shooting percentages, and lack of passing.
Iverson was the most polarizing player of his time. By some, he was criticized as the ultimate example of the failures of the NBA: selfish play, lack of fundamentals, and all flash but no substance. His hero ball style while sporting cornrows and tattoos made him hated by some. Many others idolized him as they saw the same style in his game and appearance as representing 21st century attitude.
Throughout all of this, Iverson was the four time scoring champion, the three time steals champion, and All-NBA seven times. Though he never won an NBA Finals, Iverson averaged 30 points per game over 71 playoff games.
Upon retirement, Iverson's jersey was retired by Philadelphia, and he was soon inducted into the Hall of Fame.
Iverson had an impact on the culture of the NBA that resonates today. Many of his cards are coveted by fans.
1996 Topps Chrome Allen Iverson Rookie Card
The 1996 Topps Chrome is an all around treasured set, and Allen Iverson's card adds to that value. The card is well designed, but it does suffer from centering issues.
The base card will sell for a couple hundred, but the refractor is Iverson's most expensive card. It sells for $2,500 or more at a PSA Gem Mint 10. A BGS 10 sold for $8,600.
1996 E-X2000 Allen Iverson Rookie Card
There were fewer cards than normal for the era released for this set. It has helped keep the value strong over the years. While the set is remembered for its excellent designs, it has condition sensitivity.
The base card comes with a "Credentials" parallel. While there are 1,000 registered base cards, there are only 97 of the Credentials registered with only 3 in Gem Mint condition. The base card sells for $300 in top grade. The Allen Iverson Credentials card is one of his most expensive, selling for over a thousand dollars.
1996 Finest Allen Iverson Rookie Card
Iverson's base cards in this set are not worth much, but the refractor parallels can sell for hundreds of dollars in top condition. Iverson has a card at #69, #240, and #280 with a refractor with both. There were plenty of cards produced, and there are over twenty five thousand registered cards by PSA. Thus, they should not be too hard to track down.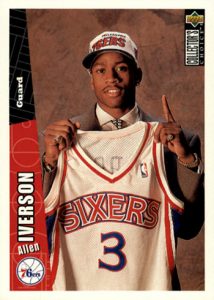 Each card could be broken down further into cards with or without coating. In a way, it doubles Iverson's cards on the set to 12. However, research has shown that the coating makes little to no difference. Beckett Grading Services specifically stipulated that it has no effect on prices.
Finest Basketball was a premium brand for Topps at the time. Though the 1996 set came out late, the 1996 set has remained strong due to Iverson, Kobe Bryant's rookie card, Ray Allen's rookie card, and a popular Michael Jordan.
1996 Fleer Allen Iverson Rookie Card
Iverson is at #235 in this set. He is underneath the "Thrill Seekers" subheading. Since Iverson is known for his dashing play, the accreditation to the subset is fitting. The card sells for $300 in Gem Mint condition, but it can go for closer to $500.
The card design is thrilling in and of itself. Iverson is shown in Sixers gear as he rises to the rim. The card has a blurry look to it. On the down side, the card design has made it condition sensitive. The only notable part of the back is that it calls Philadelphia fans "hopping happy" to draft Iverson.
1996 Topps Allen Iverson Rookie Card
This is the least valuable card in this article. Topps Basketball has tended to do poorly in the modern era outside of a hit here or there. Topps success came from its Chrome and Finest brands. In Gem Mint condition, this card will sell for less than $200.
The Topps Allen Iverson Rookie Card is found in Series 2 packs. It also has 20 other rookies. Iverson is under the "Draft Redemption" subset. There are 2,000 copies of this card registered with 800 of them in Gem Mint condition.
1996 Bowman's Best Allen Iverson Rookie Card
Bowman Best released a base card and a Bowman's Best Picks card of Allen Iverson. Each card came with two refractors. One of the refractors was regular, and the other was an "Atomic Refractor." The Atomic Refractor for both cards is the most expensive, selling for $300 in Gem Mint grade.
Conclusion
To this day, Allen Iverson remains controversial because of his style of play and off-court issues. As the NBA moves closer to analytics and efficiency, many scoff at Iverson's field goal percentage. Yet, when the clock is below two minutes and the game is within five points, who would say no to Allen Iverson taking over the game? Memorable and continuingly polarizing players make for great cards.