Bill Russell was a five time MVP, twelve time All-Star, and eleven time NBA Champion during his thirteen year career which was solely with the Boston Celtics from 1956 to 1969. During those many awards and victories, Russell was the key piece to the ultimate dynasty while playing the center position for the Celtics.
Furthermore, Russell has an Olympic gold medal and two NCAA Championships under his belt, and he is one of seven players to have won all three titles.
Russell was known for his defensive abilities. He scored over fourteen thousand points in his career, but he is remembered for locking down the opposing center with his shot blocking skills which partially derived from his 7ft 4in wingspan.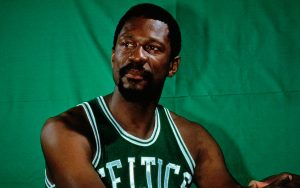 Additionally, Russell was a rebounding machine. He remains second today in total rebounds (21,620) and rebounds per game (22.45). He is second to his greatest adversary Wilt Chamberlain in both categories.
He never won a Finals MVP despite the many Finals victories. It was only offered in his last season in 1969, and the Lakers Jerry West won as the only losing player to win the award. Since Russell would have had the record for most Finals MVP's, had the award been available, the NBA renamed the award in 2009 to the Bill Russell NBA Finals Most Valuable Player Award.
Bill Russell was born in 1934 in Louisiana. He had a tough childhood. He was sickly as a child with a few illnesses. Also, his father moved the family from Louisiana to California, and his mother passed away when he was twelve. Russell came though his difficulties with resilience.
Russell showed incredible strength by way of his efforts towards sports and schoolwork. As an adult, Russell was an outspoken supporter of the Civil Rights Movement as a prominent member of the national spotlight. He experienced significant racism from his own fans in Boston as well as his travel across the States.
Somehow, Russell was able to work through all of this and perform on a nightly basis. While he was undoubtedly a defensive stalwart, a rebounding maniac, and the ultimate NBA Champion, Russell is remembered best as a great team player.
Don Nelson, a Celtics teammate, perfectly described Russell's part to the 11 championship dynasty, "There are two types of superstars. One makes himself look good at the expense of the other guys on the floor. But there's another type who makes the players around him look better than they are, and that's the type Russell was."
There were few basketball cards produced during Bill Russell's era. Still, there are a few great Bill Russell cards including the 1957 Topps, 1961 Fleer, and 1968 Topps Test.
1957 Topps Bill Russell Rookie Card
1957 Topps is an awesome set. As a rare early basketball set from a major brand, there are several rookie cards of Hall of Fame players. There are 80 cards of the standard size.
There are some serious condition issues with this set including Russell's rookie card. The issues revolve around centering, poor photography, and surface "snow." Nearly half the cards are far scarcer than the other half. This includes Russell's card. It is because of the layout during printing.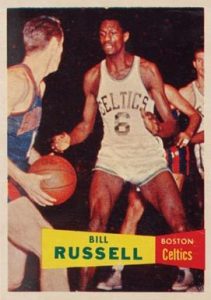 Russell's card is at #77. It has a decent picture of him in defensive position. There is a thin white border. Russell's name has green text with a yellow background, and his team is in yellow text with a red background. The backs of the cards have a brief biography, a few statistics, and basic facts like age, weight, and height.
Prices are high and rising for this card. At the lowest grades, it will reach $1,000. The highest registered cards are three cards at a PSA 9. Those are estimated to be worth $90,000 or more. The values of PSA 8's have been rising fast from $20,315 in 2015 to $35,863 soon after.
Overall, it's the only recognized rookie of the most prolific NBA champion on a great set surrounded by Hall of Fame rookie cards.
1961 Fleer Bill Russell
Again, there are several Hall of Fame players with their rookie cards such as Jerry West and Wilt Chamberlain. Bill Russell remains strong in this set, despite the competition.
The card simply shows a picture of Russell's head with a blue background. Above him is his name and position, and further above is the Celtics name and logo with a green background. The back of the card is straightforward with basic facts, a brief bio, and statistics for his career and the 1960-1961 season specifically. There is a rare variation with the wrong back.
This is a more affordable alternative to his rookie card. A PSA 4 or lower can be purchased for around $100 dollars, unlike the rookie card. This card does not soar too dramatically into the higher grades. For a PSA 8, prices were at about $1800 in late 2019. A Mint condition card is estimated by PSA to be worth $3,500.
There is also the less expensive "In Action" card. As advertised, it shows Bill Russell leaping in the air with a ball. A PSA 9 is estimated to be worth $1,250.
1968 Topps Test Bill Russell
The 1968 Topps Test, released prior to Russell's last season, was found to be a successful test run, and Topps produced basketball cards until 1981. Since it was a test, there were only 22 cards in the set. The cards were also black and white to save on costs. Fifteen of the twenty two cards feature Hall of Famers.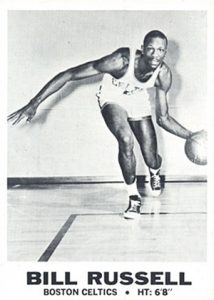 Russell has a dynamic photograph on his card. He is shown bent, dribbling, and driving forward. The backs of the cards have a puzzle that show Wilt Chamberlain when collected.
This is an exceptionally uncommon set. There are only 8 Bill Russell cards registered by PSA. For the entire 22 card set, there are 135 cards registered in total. Thus, it is very difficult to assemble. There are only 4 completed sets on PSA's registry.
Prices are hard to determine because these cards are rarely sold. In 2012, a completed set was sold for $32,838. One company registered a sale of Dave DeBusschere, Jerry Lucas, and Bill Russell for $4,521.60 in September of 2017. The cards were reportedly PSA 7's. Russell's card would have been the lion's share of that cost. PSA estimates that a PSA 8 of Russell would sell for $15,000.
Conclusion
There are several cards that have been produced after Russell's retirement, and memory/legacy cards continue to be produced. Some of them are worth hundreds of dollars. The three described are the major cards for Bill Russell as they were produced by prominent brands while he was playing.
Russell left a legacy of championships. Since 2009, he has made an appearance at every NBA Finals to pass on his trophy for the Finals MVP. His cards may be limited, but they are exciting and engaging finds.