Sandy Koufax is remembered as one of the greatest  pitchers in the history of MLB. He was the youngest player to be inducted into the Baseball Hall of Fame.
Koufax was born as Sanford Braun in 1935 in Brooklyn, New York. He was given the last name of Koufax when his mother remarried. While in high school, Koufax was a basketball standout, and he barely played baseball. As a freshman at the University of Cincinnati, he soared as a pitcher. He was such a natural that he signed with the Brooklyn Dodgers after one year at Cincinnati.
Joining the Dodgers in 1955, Koufax had incredible promise, but he was untrained. While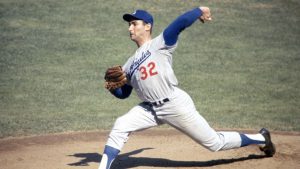 he struck out 14 batters in his second appearance, he was unable to crack the rotation due to his lack of consistency. It took several years for him to reach his full potential since he started so late.
From 1961 to 1966, Koufax peaked. He was the NL MVP in 1963, he made All Star honors six years in a row, he won the Cy Young Award in 1963, 1965, and 1966 with unanimous voting each time, and he won the pitching Triple Crown for pitchers in those same years. He also had four no-hitters and one perfect game.
Koufax developed substantial arthritis pains in his left elbow. In his final two seasons from 1965 to 1966, Koufax was taking copious medications to deal with his chronic pain. After several consecutive dominating seasons, Koufax retired at his peak in 1966 at 30 years old.
Koufax was devout towards his Jewish faith. He faced anti-Semitism throughout his career. Koufax remained loyal to his faith. For example, Game 1 of the 1965 World Series fell on the holy day Yom Kippur. Koufax refused to play in adherence to his beliefs. The decision garnered criticism, but Koufax also earned deep respect from Jewish people and those of different faiths across the country. Koufax went on to pitch excellent winning games in Games 5 and 7.
A great stat about Koufax is that he is one of five Hall of Fame pitchers with more strikeouts than innings pitched. His legacy is a combination of superb ability, courage of faith, and a "What if?" surrounding his injury-shortened career. Koufax has several great cards, almost entirely from Topps, during a fantastic era of card collecting in the 50s and 60s. This article will take you through a few of the best.
1955 Sandy Koufax Rookie Card
Koufax's rookie card is a key to the 1955 Topps. The set has a busy design, and it is the first Topps set of a horizontal format. His portrait sits to the left, and his full body is on the right where he leans on his knee. The Dodgers logo is on the right, his name position, and team caption the photo, and there is a facsimile autograph. There are 206 cards in the set, and they measure 2 ⅝ x 3 ¾".
Joining Koufax on the set are players like Willie Mays, Ted Williams, Hank Aaron, and a plethora of other baseball talent from the era. Bob Feller, Whitey Ford, and most notably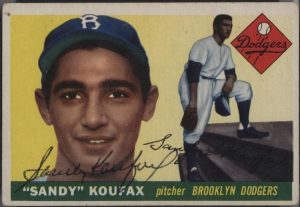 Mickey Mantle are missing from the set due to contracts with Bowman.
Koufax rookie cards are available. For example, PSA has 6,721 cards registered. There are a few Gem Mint copies floating around, and a couple dozen Mint copies. If a collector dropped to a PSA 5 or lower, there are a great deal of copies on the secondary market with thousands of each grade registered by PSA.
Though the card is not rare, there are condition issues. This includes difficulty with centering, and print defects, but the card remains exceptionally popular.
There was no available information on the price of the Koufax rookie in Gem Mint grade. Mint condition cards have an interesting pricing history. In 2009, a PSA 9 card sold for $16,885, and it shot up over multiple sales to a peak of $215,100 in 2016. Over six sales between 2017 and 2018, the price dropped to $88,380. Sellers may be wary of auctions, and I did not find a registered sale of a PSA 9 in 2019. For a copy around $1,000, collectors would need to buy a PSA 6 or lower.
1956 Topps Sandy Koufax
The set has 340 cards that measure 2 ⅝" x 3 ¾". Topps used a similar design with the horizontal layout again in 1956. If a player was in both sets, Topps produced duplicated images for most players. Koufax has unique pictures. As with the 1955 Topps, there are two photos. One is a new portrait of Koufax, and the full body photo shows him in a pitching follow through. There is another facsimile autograph.
The backs of the cards are either white or gray for the set. The white backs are more common, and they have over 3,600 cards registered by PSA, while the gray backs have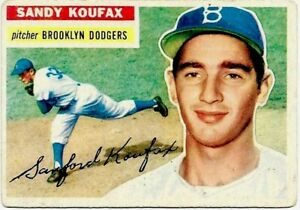 about 1,000.
The gray backs are more expensive. A PSA 9 gray back Koufax sold for $6,600 in 2017, while white backs $4,000 to $6,000 in the same year. For about $1,000, collectors can acquire a PSA 8. However, there are two outlying sales of gray backs for $1,800 in 2019 for PSA 8's.
1957 Topps Sandy Koufax
This was the first year of full color photography for Topps, which was four years after the now defeated Bowman. The next few cards of Koufax by Topps would be a portrait card. Koufax has his Dodgers cap on, and the card is captioned by his name, team, and position.
There were 407 cards in the set of standard size, and this is the beginning of 2 ½" x 3 ½" as the hobby standard.
There are more than 2,500 Koufax cards registered by PSA, and eleven of those are Mint. Mint cards increase in value from the year prior due to increased rarity and the importance of the 1957 Topps. Prices have fallen somewhat from $22,000 in 2015 to $17,980 in 2019. Prices drop quickly for this card, and PSA 8's sold for anywhere between $1,200 to $2,500 in 2019.
Conclusion
Although Koufax had a shortened career, Topps put him on several more cards that remain valuable today. This article went over some of the best, but it did not cover all of them.
Koufax had one of the most dominant pitching peaks in MLB history. Typically, the best remembered pitchers came into MLB well prepared and had impressive longevity in their career. Koufax is an outlier with an uncertain beginning, one of the most dominant peaks ever, and an early retirement. The unusual career path creates an interesting legacy which is reflected by his baseball cards.