Willie Mays spent most of his 22 seasons in MLB with the Giants (New York then San Francisco), while ending his career with the New York Mets. He is a consensus all time great. He won the National League MVP twice, he played in 24 All-Star games, and he hit 660 home runs over his career.
Many say that Mays is the greatest all around player ever because in addition to his hitting skills and power he was a superb defenseman and base runner. His prowess is more exceptional in that he predated the widespread use of performance enhancing drugs.
Born in 1931 in Alabama, Mays' parents were athletes themselves. His mother was a competitive sprinter, and his father was a semi pro ball player. The Giants signed Mays in 1950 after he spent time in industrial and Negro leagues. Mays was sent to the minors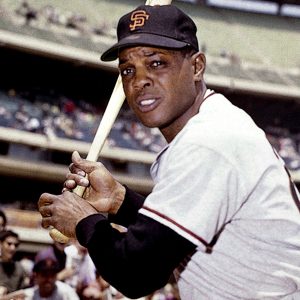 by the Giants, and he endured a racist and segregated game. He joined MLB in 1951.
Mays had a slow start, but he ended the season as the Rookie of the Year for the National League. He was drafted into the Korean War in 1952, and he returned to baseball in 1954. That year he made "The Catch," a dramatic catch on a deep center drive, in Game 1 of the World Series. The Giants won the championship that year.
His career continued to soar. Mays reputation developed as the "Say Hey Kid." African American children across the country idolized Mays for his baseball dominance and his cheery disposition.
Mays joins the ranks of other greats in several categories. He was a multiple home run leader, stolen base leader, and Gold Glove winner, which culminated in his Hall of Fame induction and inclusion in the MLB All-Century Team. This article will help detail some of the cards that commemorate his career.
1951 Bowman Willie Mays Rookie Card
The 1951 Bowman set is treasured, and the Willie Mays rookie card is a major key to it. Mays is depicted with a determined look in his stance with his bat.
The card measures at 2 1/16" x 3 ⅛" with 324 cards in the set. The set includes legends like Yogi Berra, Ted Williams, and Mickey Mantle. The set was coveted from its release, so there are thousands of graded copies available. There are only 8 Mint condition cards of Mays, and zero Gem Mint cards.
Mint cards are infrequently publicly auctioned. The highest price was $93,412.50 in 2007, but PSA estimates that the price has risen to half a million dollars if it were auctioned today. It is a highly speculative estimate given the infrequent auctions, but the high estimate is well warranted. For a more affordable price, collectors would have to drop to a PSA 5 to buy a Mays card for less than $5,000.
1952 Topps Willie Mays
The 1952 Topps is one of the most important sets in the entire trading card hobby, and Willie Mays functions as a key once again. Mays is shown in Giants uniform captioned by his name and handwriting.
The set measures 2 ⅝" x 3 ¾" with 407 cards in the set. There are 9 Mint condition cards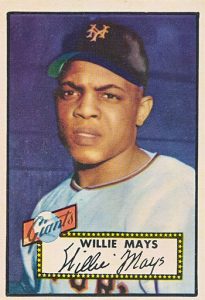 on PSA registries and 1 Gem Mint card. There are a few more of Mays than the Series 6 that was short printed (or minimally distributed), which included the coveted Mickey Mantle.
Mint condition Willie Mays cards peaked at $478,000 in 2016, and they have gradually fallen to $245,000 in 2017. I could find no data on any Gem Mint cards at auction, but the price would likely be extraordinary. Prices begin to fall below $5,000 by a PSA 6.
1953 Topps Willie Mays
It's ironic that the joyful Mays is shown with another serious look on his face in the 1953 Topps. There were 274 cards measuring at 2 ⅝" x 3 ¾" Cards #221-280 had limited distributed, and Mays' card at #244 was short printed. There are still over 1500 cards registered by PSA for Mays, but that is about half as many as other major players like Satchel Paige. While Mint condition cards will sell for over $100,000, PSA 1's can be bought for a few hundred dollars.
1952 Bowman Willie Mays
This is one of the toughest cards to find for Willie Mays. The 1952 Bowman cards are worth about half of the 1952 Topps, but it is a major set. Willie Mays is at #218, so his cards are easier to find that cards #1-217. There are over 1,000 cards registered by PSA, and again, it is about half of that of a comparable major player like Mickey Mantle.
Mays' cards sell for $50,000 in Mint condition (outside of the 2016 bubble where the cards sold for $90,000), and at the reasonable grade of PSA 5, cards sold for between $500 and $1,300 in 2019.
1954 Bowman Willie Mays
In 1954 card producers began to show Mays with a bright smile on his face. He had a lot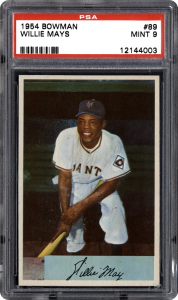 to smile about in 1954 with "The Catch" that helped lead to the World Series victories.
Mays is #89 on this 224 cards set that measured 2 ½" x 3 ¾". There are plenty of cards on the secondary market with nearly 2,000 on PSA's registry. PSA 9's sold for $15,000 in 2019, while PSA 7's sold for about $1,000.
1954 Topps Willie Mays
The Willie Mays card for the 1954 Topps is a beautiful card. Mays' smiling headshot is on one side, and his follow through swing is on the right. It's an iconic card from an iconic set that helped set the standard for Topps as well as other sports cards.
Despite the status, Willie Mays card is not overly expensive. It costs $19,000 in Mint condition, and in 2019 it sold for between $850 and $1,326 at a PSA 7.
Conclusion
Spanning the 50s, 60s, and 70s, Mays career is encapsulated by many awesome cards. The ones in this article are the most important pieces, but there are other Topps cards, as well as some lesser brands that were not covered. Mays is a major part of baseball card collecting, and this article does not do him justice.
Willie Mays is best remembered for his all around play. There was hardly anything that Mays could not do while playing baseball. Part of what makes his cards special is the Say Hey Kid legacy of a great player who competed with true joy.