Branch Rickey, inducted into the Hall of Fame as an Executive, once said, "Cobb lived off the field as though he wished to live forever. He lived on the field as though it was his last day." Ty Cobb is remembered as one of the fiercest competitors of all time. For decades, some have argued that he is the greatest all around player.
Cobb was born in rural Georgia in 1886. His father was demanding, and his expectations fueled Cobb's fire. Responding to a question about the origin of his competitiveness, Cobb remarked, "I did it for my father. He never got to see me play… but I knew he was watching me, and I never let him down."
He moved through various semiprofessional teams before the Detroit Tigers picked him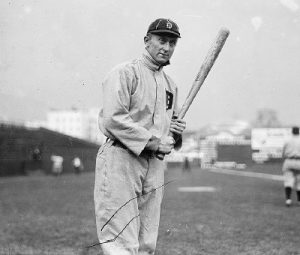 up in 1905. Cobb would go on to have 22 seasons in Detroit with two more in Philadelphia at the end of his career.
Cobb set 90 MLB records by the end of his career. To this day, several records have held. This includes Cobb's .366 batting average and eleven batting titles. Some significant records that stood for decades include career hits of 4,189 (bested in 1985), career runs of 2,245 (bested in 2001), and most stolen bases of 892 (bested in 1974).
While nobody denies Cobb's playing abilities, discussion over his off-field behavior has been controversial since his retirement in 1928. The narrative has gone through many phases, including accusing Cobb of extreme violence and racism.
However, the narrative today has found that most of these stories are overblown. Today, biographers and publications generally agree that Ty Cobb was not the racist lunatic that has become an accepted fact by baseball fans. While Cobb did not shy from a fight, many stories have been exaggerated. In fact, it is well recorded that he openly welcomed African Americans to MLB.
Ty Cobb certainly brought character to baseball. While his legacy remains a polarizing topic, many think of him as a tremendous player from the dead ball era. Ty Cobb's cards are very important to early baseball, and this article hopes to introduce a few.
1909-11 T206 Ty Cobb
The T206 is one of the most valuable sets ever produced. Home to the valuable Cy Young cards and the most expensive card with Honus Wagner, Ty Cobb's cards play a crucial role.
There are over 5,200 unique cards in this set if taken into account the many combinations between the players, the different backs, and other variations.
For Ty Cobb, there is the Green Portrait, Red Portrait, Bat off the Shoulder, and Bat on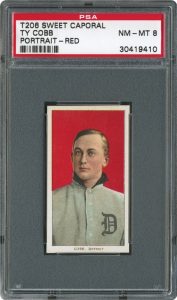 the Shoulder. Additionally, the logos on the backside have differences in rarity. Thus, the prices are extremely difficult to specify here.
For example, a Red Portrait card is the most common of the four. A Red Portrait, graded PSA NM-MT 8, sold for $67,200 in 2018.
However, there is a back that states, "Ty Cobb King of the Smoking Tobacco World." This is a very rare back, and one card with that back sold for $415,000 at a PSA VG 3.
There were 15 known cards with this advertisement in 2016. That was until "The Lucky 7 Find" in which seven of these cards were found when relatives cleaned out a deceased family member's belongings. In 2018, an eighth card was added. One of these cards, graded at a PSA 4.5, was sold at auction in October 2019. Though the final price is unknown, PSA estimates the value to have surpassed $1,000,000.
The Green Portrait cards are the least common. These cards are infrequently graded high because centering is such a tough issue. One PSA 8 sold for $155,350 in 2016, and a mere two years later a Green Portrait card went for $360,000 in 2018.
A rare grade of PSA Mint 9 was awarded to a Cobb Bat Off Shoulder card, and it sold for $488,425 in 2016. It is the only one of Ty Cobb's four different cards to receive a Mint grade. A Bat On Shoulder sold for $66,000 in 2017 at a grade of PSA 8.
Generally speaking, at the same quality, the Green Portrait is typically the most expensive, the price is cut in half for the Red Portrait, and the Bat On/Off cards are the least expensive and about the same price.
Again, these price estimates depend on the advertisement on the back, and it is difficult to track down which card sold had which distinct back. In total, there are 16 different backs on the set. The most common backs are the Sweet Caporal and Piedmont.
1902-1911 M116 Sporting Life Ty Cobb
"Sporting Life," an early 20th century magazine, sent out this set of over 300 cards between 1902-1911. The exact number of cards in the set is unknown, and new cards are discovered intermittently. Ty Cobb's bust is shown with full red in his cheeks. His name, team, and league are below on the white border. The cards were released in 24 series through 12 cards at a time by mail.
There are two versions of Cobb: the Blue and the Pastel. The Blue version is rarer, and it is estimated to be worth $35,000 in Mint condition, while the Pastel is estimated to be worth $20,000 in Mint condition.
1911 T205 Ty Cobb
This gold bordered set was issued by the American Tobacco Company. There were 209 cards in the set, and they measured at 1 7/16" x 2 ⅝".  Ty Cobb is one of many Hall of Famers on the set. His face is pictured in the middle of a red diamond surrounded by triangles of green. His name, team, and league are on the bottom.
Cobb's card is a key to the set. Even at the lowest grade it will sell for hundreds. The estimated value of a PSA 8 surpasses $100,000.
1914 Cracker Jack Ty Cobb
The 1914 and 1915 Cracker Jack sets remain popular today. In the 1914 set, there were 144 cards that measure 2 ¼" x 3". There were stars from the American, National, and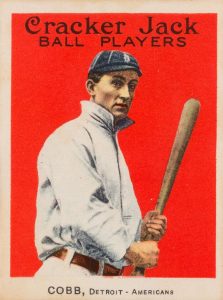 Federal leagues.
The set was printed on exceptionally thin stock. Furthermore, they were packaged with the Cracker Jacks product. Of the over 4,000 cards graded by PSA, only two were designated as Mint. Over half the cards from the set are graded as PSA 3 or lower.
For Cobb, there are five cards at a PSA 8, of which the price has steadily risen. In 2016 a PSA 8 sold for $105,606, and that jumped to $144,000 in 2018. Meanwhile, a PSA Poor 1 sold for $13,200 in 2019.
1915 Cracker Jack Ty Cobb
While the 1915 Cracker Jack has similar condition issues to the 1914 set, it may be even more popular today in comparison to the 1914 set. Cracker Jack reused the illustrations from the previous year, while the added 32 players received unique illustrations in the 176 card set.
The way to tell the sets apart is to check the backs because the fronts are mostly identical. On Ty Cobb's back, the words are printed upside down on the 1915 set.
The population report is better for Ty Cobb's cards in the 1915 Cracker Jack. There are three PSA Mint 9 condition cards registered, and 10 at a PSA 8. Given the improved popularity of the set, as well as the availability of higher graded cards, a Ty Cobb PSA Mint 9 sold for $540,000 in 2019.
Conclusion
Ty Cobb has a legacy that will be a continued source of debate. His cards are cemented into a few of the greatest vintage sets, and as time goes on, the way his legacy is interpreted will have effects on his cards.