John Constantine Unitas, fondly remembered as Johnny Unitas or Johnny U, was born in 1933 in Pittsburgh, Pennsylvania. He showed early promise in high school as a football quarterback, and he was named All Catholic. Due to his size of 145 pounds, he missed out on an athletic scholarship to his dream school of Notre Dame.
He found his way to the University of Louisville, and Unitas soon grew to 6ft 1in and 190 pounds. Unitas's college career was underwhelming. Many attribute this to the subpar teams surrounding him at Louisville. As a result, Unitas was barely consider+ed to be a prospect for the NFL. He was fortunate to be selected at all, and he was chosen in the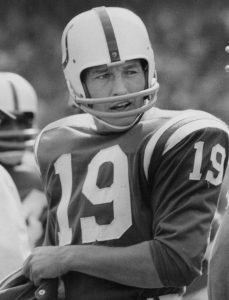 ninth round by the Pittsburgh Steelers. Then, he was soon cut without having even dressed for an NFL game.
Unitas was undeterred. He worked construction jobs, and in his spare time, he played for semiprofessional teams in Pittsburgh. He was p
id $6 per game. Unitas was soon picked up by the Baltimore Colts in 1956.
When the Colts' starter broke his leg early in the season, Unitas became the starter, and the rest is history. By the close of his second year (his first full NFL season), Unitas led the NFL in passing yards and touchdowns. Almost overnight, Unitas became a media star because of his stunning success in the face of setbacks.
"The Golden Arm" went on to win the MVP in 1959, 1964, and 1967, he was selected to 10 Pro-Bowls, and he led the Colts to three NFL Championships in 1958, 1959, and 1968, along with one Super Bowl in 1971. He is considered the first modern quarterback because of his passing arm, media stardom, and strong popularity with fans across the country.
The highlight of his career was the 1958 NFL Championship game. The game was filled with drama, and the Colts, led by Unitas, won in overtime 23-17 against the New York Giants. The game was nationally televised, and it helped spread the popularity of football. The 1958 NFL Championship has been named the "Greatest Game Ever Played." It is considered one of the most important events in the success of football in America.
Unitas's story leads to cherished cards. He is a prime example of the American ideals of persistence and hard work that lead to success. Summarized here are some of his best cards.
1957 Topps Johnny Unitas Rookie Card
There are 194 cards in this set, and they measure 2 ½" x 3 ½". On one side of the front of the card, Unitas is shown with a grin against an orange backdrop with his name as the caption, and the other side shows him throwing against a lime green background with "Back-Colts" as the caption.
There are many Unitas copies available. Nearly 3,000 are registered by PSA. Though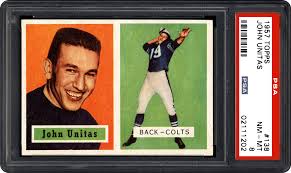 none are graded as Gem Mint, there are a limited number of Mint cards that are occasionally auctioned.
Unitas's rookie card is auctioned with decent frequency, but higher grades are less frequently auctioned. The most recent sale of a PSA 9 was $92,062.50 in 2018, but the card was regularly selling for $150,000 in 2016 at the same grade. PSA 8's and lower are regularly sold. With $1,000, a collector may be able to find a PSA 7 copy.
1958 Topps Johnny Unitas
This was a big year for Unitas as he established himself as the best quarterback in the league in 1958. He is pictured in an oval portrait in throwing position. The picture is framed by bright orange. The backs show statistics along with a trivia question.
There were 132 cards in the set of standard sizing. There are fewer graded cards for this set than the previous year. Unitas has about 1000 cards registered by PSA. There are only eight PSA 9 cards registered. Mint condition cards have sold for about $8,000 since 2012.
1959 Topps Johnny Unitas
Unitas is shown smiling in his uniform in front of a yellow background. His name, position, and team are shown on the bottom. His name is in intermittent red and blue letters.
There were 176 cards that came in two 88 card series. They are of standard sizing. Topps featured the new star Unitas as card #1.
There are 905 Unitas cards from the set registered by PSA. The most recent sale of a Mint card is $18,600 in 2018, but the buyer may have paid too much. Many decent copies of PSA 5's were sold in 2019, and they cost between $50-$75.
1960 Topps Johnny Unitas
Johnny Unitas, the star quarterback of the league, was featured at #1 again for the 1960 Topps. In his picture, he stares into the camera, decked out in his Colts uniforms. Trees litter the background, and a football shaped caption has his name, position, and team.
There were 132 cards in the set of standard size. Other major players include Jim Brown, Bart Starr, and Frank Gifford.
There is only one card of Unitas graded as Mint out of a total of 791 registered by PSA. Lower grades are easy to find, but PSA 8's or 9's may take some searching. The most recent sale of a PSA 9 is from 2014 for $14,407.47. PSA 8's sold for $1,000 in 2019, but the more commonly found lower grades are inexpensive. A PSA 5 can be bought for $40.
1961 Topps Johnny Unitas
Unitas remained at the #1 slot for the 1961 Topps Football. There are fewer cards registered by PSA for this Unitas card, but there are 15 PSA 9's and over one hundred PSA 8's. PSA 9's have been selling for $3,000 or more for the last few years.
1962 Topps Johnny Unitas
The 1962 Topps had a unique design with three boxes. One is a posed picture of Unitas in uniform; the second is an in-game action shot; and the last box has his name, position, and team. Unitas remained at #1 for this set as well.
There are 583 Unitas cards registered by PSA, and none of them are Mint. To be clear, that does not mean that top copies are unavailable since other grading services may have them registered. But, at the very least, they are uncommon.
Given the dearth of PSA 9 copies, PSA 8 sold for between four and five thousand over the last few years.
1963 Topps Johnny Unitas
This was the last Topps set until 1968. The less respected Fleer and Philadelphia Gum filled in.
Unitas remained at #1 in this 170 card set of standard size. Mint condition cards are uncommon, and the last found sale was from 2017 for $27,799. Prices fall off quickly at a PSA 8, and sales are more common. In 2018, PSA 8's were selling for anywhere between $550 to $1000.
Conclusion
In addition to the cards mentioned, there are a few more later cards from Topps, one from Fleer, a few from Philadelphia Gum, and later memorabilia from the 90s and later that commemorate his career. However, the early Topps are by far the most coveted cards.
Unitas was a significant part of gridiron football's rise in the 1950s and 1960s. Not only did he pave the way as the modern quarterback ideal, but he did so as a relatable figure who had to earn everything in his life. His cards represent a player of historical importance regarding the rise of the most popular sport in America.