Bart Starr was born in 1934 in Montgomery, Alabama. His childhood was difficult because his family struggled after the early death of his brother Bubba. People recalled Starr as an introvert and nearly stoic.
During his sophomore year of high school, he tried out for the football team, but he soon quit after two weeks. After his father posed the options of football or working on the family garden, Starr returned to football. He became the starting quarterback as a junior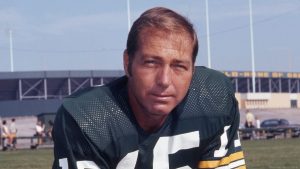 after the starter broke his leg. Starr showed immediate promise. He led his team to an undefeated season, and he was named All American as a senior.
Starr went to the University of Alabama on a full scholarship which was one of many offers. As a junior, he suffered a severe back injury which would bother him for the rest of his career, and he hardly played during his senior year. As a result, Starr was selected deep in the 1956 NFL Draft in Round 17 by the Green Bay Packers.
After receiving very little playing time in his first few seasons, Vince Lombardi, the Packers' head coach, named him the starter in 1959. Starr soon showed his strength, and he led the Packers to the NFL Championship game in his second season, but they lost to the Eagles. After back to back NFL Championships, Starr was named MVP in 1966.
The Packers won three NFL titles from 1965-1967, as well as Super Bowl I and II. Bart Starr was the Super Bowl MVP in the first two contests. Starr was a true leader on the field. At the time, it was common for the quarterback to call plays, and he had the trust of everyone who played with him. He later humbly remarked, "I was just one part of a great team."
Starr retired in 1972, and he became the Packers' QB coach. He was promoted to head coach in 1974. He spent nine years at the position, and for five of those, he was also the general manager. The Packers had a disappointing record under Starr at 52-76-2. Years later he said, "I hadn't trained to be a coach. That takes great training. Being an assistant under a Coach Lombardi or a Tom Landry or whoever, that prepares you… I hadn't received that training. It showed."
Despite his subpar managerial record, Starr is one of the most important figures in NFL history as the MVP of Super Bowl I and II. He helps represent a different type of player: grittier, ambitious, and in love with the game. His cards help to showcase the player who is a great representation of the early days of a growing game.
1957 Topps Bart Starr Rookie Card
There are two panels on each card for the 1957 Topps. Bart Starr's portrait is shown on one side with a sky blue background with his name as the caption, and on the other side, Starr is shown in throwing motion with an orange background with his name and position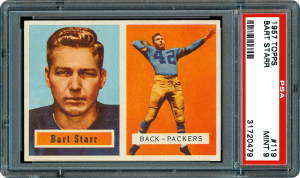 as the caption.
There were 154 cards of standard size in the set. It is noted for its rookie cards and Hall of Fame members. There are several rarer cards, but Starr's card is well registered with 1500 on PSA's registry. While there are only three Mint condition cards, there are hundreds at each lower grade.
One Mint condition card sold for $288,000 in 2017. Since the PSA 9's are so rare, the price falls dramatically. There are many public sales of PSA 8's, and in 2019, they sold for between $6,100 and $8,200.
1958 Topps Bart Starr
Starr is featured at #66 with a football in hand in an oval shaped pictured. The border is lime green. The back has a trivia question and statistics. There are 132 cards of standard size in the set, and Starr is overshadowed by the rookie card of Jim Brown.
There are fewer registered cards, but these cards are much cheaper than the rookie. There is one Gem Mint 10 registered by PSA, and it rose from $9,000 in 2012 to $22,000 in 2018. This card becomes very reasonable quickly, and PSA 8's were commonly traded in 2019 for around $300 to $500.
1959 Topps Bart Starr
Starr is pictured at #23 with his arm cocked in throwing motion. There is a pink background, and his picture is captioned by his name (with letters switching between blue and red colors), position, and team. The backs have statistics and a scratch off quiz. There are 176 cards in the set, and they were issued in two 88 card series.
Despite the use of a scratch off quiz (which usually leads to marred cards), there are two Gem Mint 10's registered by PSA, as well as 26 PSA 9's, out of 966 cards. Gem Mint cards sold for $11,677.20 in 2018 and $18,112.80 in 2016. While PSA 9's sell for around $1,000, PSA 8's sold for $250 regularly in 2019.
1960 Topps Bart Starr
The 1960 Topps is a simple layout. Starr's card features a closer show of his portrait. He is shown in Packers' uniform, and there is a white border. The back has statistics and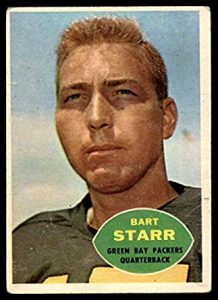 career totals. The set had 132 cards of standard size.
There are about 900 of these cards registered, including 1 Gem Mint and 21 Mint condition cards. The Gem Mint card is highly valued, and it sold for $17,655 in 2019. PSA Mint 9 cards sell for around $1,000, and PSA 8's are more affordable in which they sold for less than $150 in 2019.
1961 Fleer Bart Starr
The 1961 Fleer also has a simple design. Starr's portrait takes up most of the card, and the bottom is filled with his name, position, team, and a Wisconsin logo. Since Fleer was not as popular as Topps, there are far fewer of these cards available today than Starr's other cards. There are over 300 registered by PSA.
The one Gem Mint 10 sold for $9,000 in 2017. PSA 9's typically sell for less than $1,000, and PSA 8's sold for between $130 and $190 in 2018 and 2019.
Conclusion
There are several more Starr cards available from Topps and Philadelphia Gum. The ones described above are the most valuable and sought after. Though this list stops at 1961, there are cheaper cards available that were released every year between 1961 and 1971.
Starr will never be forgotten because he was the MVP of the first two Super Bowls, and he was a large part of the historical NFL dynasty that was the 1960s Green Bay Packers. Furthermore, the value of his cards guarantee that he will be a remembered figure for years to come.