Of his nine seasons in the NFL, Jim Brown led the league in rushing for eight seasons, was selected to the Pro Bowl each season, was named MVP three times, and he led the Cleveland Browns to an NFL championship in 1964 while setting several records along the way. He is considered one of the greatest NFL players.
An astonishing athlete, Brown excelled at Syracuse University in football, basketball, track and field, and lacrosse. It is said that his best sport may have been lacrosse, and he is an inductee of the U.S. Lacrosse National Hall of Fame.
Brown is remembered as a punishing ball carrier at 6 feet 2 inches and 232 pounds. He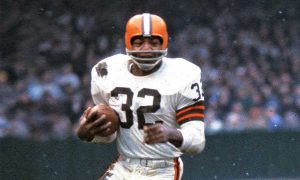 had the ability to both run past and through the opposition. It is reflected by setting several records such as yards in a game, yards in a season, and touchdowns. One of the best stats to relate his rushing dominance is 5.2 yards per carry over a heavy usage of nine seasons.
Unexpectedly, Jim Brown retired at 30. Many say that he was at his peak upon retirement. He took up a career as an actor, and he appeared in dozens of films through the 60s, 70s, 80s, 90s, and into the 21st century. He gained recognition in nonprofit work, including rehabilitation for gang members as well as providing assistance for black owned businesses.
Brown is a key to several important vintage football sets. He was playing the NFL prior to the AFL-NFL merger. He helped to define and represent an era when football was starting to take off as the most popular sport in America. Brown has some of the most important cards of vintage football, and this article will go over several of them, starting with his rookie card.
1958 Topps Jim Brown RC
Jim Brown's rookie card is one of the most important vintage football cards. Jim Brown started his first season as Rookie of the Year and MVP. His card is equally impressive today.
Brown is pictured in the middle of a sprint against a landscape background. The picture is encased in an oval border. The backs have statistics and a trivia question.
The card is marred by chipping, centering issues, and general print defects. There are no known Gem Mint cards, and only five Mint condition cards registered by PSA.
Brown's rookie card has generally risen in price for years. The price of a PSA 8 rose from $4,733 in 2013 to sales of $15,535, $10,406, and $31,070 in different auctions for PSA 8's. While a PSA 9 sold for $29,257 in 2010, PSA 9's sold for $358,500 in 2016 and $336,000 in 2017.
1959 Topps Jim Brown
Brown has an awesome pose in this card. He stands in his Cleveland Browns jersey with the ball grasped to his side. The look on his face is something else: determined, stoic,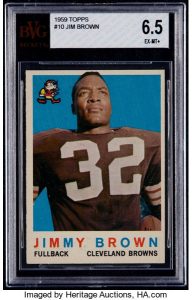 ready for action. The Browns logo is the upper left, and the card displays his name as "Jimmy Brown". Most of his cards list him as such, and late cards referred to him as Jim. The position and team are on the bottom. The card has an attractive sky blue background with a white border. The backs of the cards have career totals, statistics, and a quiz.
There are a few more high-graded cards available for this card. It also offers a nice compromise to the pricey rookie card. The card will seek a hefty sum, however, as a PSA 9 sold for $2,629 in 2016 and a PSA 10 sold for $33,600 in 2017.
1960 Topps
There are 132 cards in this standard size set. Jim Brown's portrait shot covers the front of the card. A football with a light blue background encases his name, position, and team. Stats are printed on the back.
There are condition issues for this card, and high grade cards are less frequent. There are centering issues, and the green borders on the backs have tended to crack. On PSA's registry, there are no Gem Mint cards registered and 21 Mint condition cards.
In Mint condition, the card sold for $3,346 in 2016. Prices drop to a few hundred at a PSA 8.
1961 Fleer Jim Brown
Fleer's sole production of a Jim Brown card is decent. It shows Brown in his uniform with a stadium in the background. The team name, mascot, and Brown's position and name caption the bottom.
Of the 220 cards in the set, many of the cards are fairly cheap, and Brown has one of the more expensive cards. Mint condition cards are estimated to be worth around $1,000.
1961 Topps Jim Brown
Topps was staying consistent with their designs for football at the time. Brown is poised with the ball in his hand against a light blue background and white border. His name, team, and position are on the bottom. The backs feature stats.
Conditions are similar to other cards. There is a Pop 1 Gem Mint card, 22 Mint cards,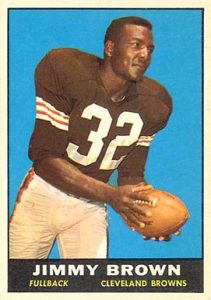 and hundreds at lower grades. Brown's card is worth about $1,000 in Mint condition.
There is an additional "In Action" card of Brown. It is worth about half of what the base card is worth.
1962 Topps Jim Brown
The main image looks nearly identical to the 1961 Topps. In the top left is an additional blocked off picture of Brown. In the bottom left is his name, position, and team.
A PSA 8 sold for $3,585 in 2015, and a PSA 9 is estimated by PSA to  sell for $7,500, though it would likely sell for more
1966 Philadelphia Jim Brown
This is the last card issued of Jim Brown while he was still playing.  The picture is a closeup of Brown in his uniform. The NFL logo is on the card next to Brown's name, position, and team.
This card is difficult to find in high grade. There are zero Gem Mint cards on PSA's registry and only 9 Mint cards.
While the cost of a PSA 8 is a few hundred dollars, the condition issues causes the price to jump to over $10,000. A PSA 9 sold for $12,731, and the price fell slightly to $11,641 in 2019.
Conclusion
There are a few more cards from Philadelphia, and this article does not cover the 1963 Topps. However, the best, most sought after, and valuable cards were covered here.
Jim Brown is a major part of pre merger football. He helped promote the league as a competitive and exciting sport. Coincidingly, Brown is a big part of vintage football cards. His cards are some of the most treasured artifacts in the football trading card hobby.