Christy Mathewson (1880-1925) was one of the all time great Major League Baseball pitchers. He played for the New York Giants for 17 seasons.
Mathewson had a win-loss record of 373-188, 2.13 ERA, and 2,502 strikeouts. Some of his major accomplishments include two no hitters, two time Triple Crown winner, four time NL wins leader, five time NL ERA leader, and five time NL strikeout leader.
Born in Factoryville, Pennsylvania, his first experience with semi pro baseball came when he was 14. The coach of the local team asked him to pitch, and he led the local team to victory over their rivals.
Mathewson went to Keystone Academy for high school, and he soon moved on to college where he played football, basketball, and baseball. He was an exceptional football player, but he was an even better baseball player.
As he began his professional career, he would be known as one of the few "college men." Mathewson brought a sense of dignity to pro baseball which was known for heavy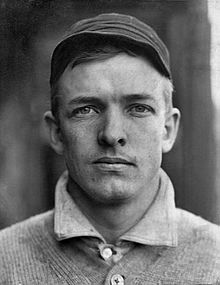 drinking, womanizing, and gambling. He helped to generally improve the perception of ball players. At 19 Mathewson signed with Taunton, a minor league team of the New England League, and he continued to attend college.
After moving to Norfolk of the Virginia-North Carolina League, he had a 20-2 record for the season, and the New York Giants rushed to snag his contract. Mathewson debuted for the Giants in July of 1900.
He started in three games from July to September, bombed and lost all three, and enraged the Giants management, who demanded their money back from Norfolk. Mathewson was returned to Norfolk, picked up by the Cincinnati Reds, and then ironically, traded back to the Giants. He soon excelled, and he ranked 6th in the NL with ERA and wins in his first season.
Meanwhile, Mathewson had turned pro in football in 1898, and he played football for the Pittsburgh Stars of the inaugural National Football League. He quit in 1902 during his rise as a standout pitcher.
Mathewson would become one of the steadiest producing pitchers in MLB. He won 20 or more games in the next 13 seasons. His finest performance came in the 1905 World Series where he pitched three shutouts with 18 strikeouts. His best season came in 1908 with the Triple Crown with 259 strikeouts, 1.43 ERA, and 37 wins of which 11 were shutouts.
After his play began to quickly decline, Mathewson was traded to the Reds for a final season. He stayed on as the Reds manager from 1916 to 1918 with a managerial record of .482.
Mathewson may have passed away in 1925, only a few years after retirement, but he had a busy life, including service in World War I and coaching for the Giants. Unfortunately, he contracted tuberculosis after accidentally damaging his lungs by ingesting chemical weapons during a training exercise for the War.
Mathewson was honored as one of the first five players inducted into the Baseball Hall of Fame, along with the likes of Babe Ruth, Ty Cobb, Honus Wagner, and Walter Johnson. Thus, Mathewson is one of the most important players of the pre War era, and he is a key piece on several major sets.
1909-11 T206 White Border Christy Mathewson (Portrait, White Cap, Dark Cap)
This set hardly needs an introduction. The T206 may be the most famous baseball card set in existence, especially for the pre war era. Designed, produced, and distributed by the American Tobacco Company, there are 524 cards in this set, and they measure 1 7/16" x 2 ⅝".
Part of what makes the set so famous is that many major players have multiple cards,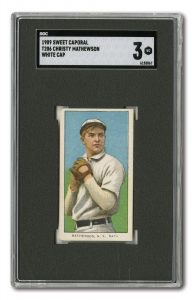 variations, or different backs. Christy Mathewson is no different. He has three cards which are commonly referred to as "Portrait", "White Cap", and "Dark Cap."
There are several hundred Portrait cards registered by PSA. Very few are in higher grades. A PSA 8.5 sold for $85,200 in 2016. A Mint condition card could sell for hundreds of thousands today. You would have to drop down to a PSA 4 to buy his card for $1,000.
The White Cap card has a similar population to the Portrait card. There are about 650 White Cap cards registered by PSA. There was a sale for $264,000 in 2018 for a PSA Mint 9, which illustrates the value of Mathewson cards.
The Dark Cap cards are the most populous and least rare of the three Christy Mathewson cards. PSA has well over 1,000 graded. The most expensive card sold of a Dark Cap was for $52,580 for a PSA 8.5 in 2015. $1,000 should be able to get you a PSA 4.
1911 T205 Gold Border Christy Mathewson
This set function as an update for the T206. The American Tobacco Company released this set with 206 cards that measured 1 7/16" x 2 ⅝". Mathewson remains a key to the set, along with Ty Cobb, Walter Johnson, and Cy Young, as well as several others.
There are over 600 Mathewson cards registered by PSA. While most of the cards are in lower grades, there are several top graded cards out there.
The most expensive registered sale found was for $36,716 in 2011 for a PSA 8. With $1,000 you could probably get a PSA 3, but prices have been on the rise the last few years.
1915 American Caramel Christy Mathewson
The 1915 American Caramel is similar to the American Caramel's previous sets. There are 48 unnumbered cards in the set, and they measure at 1 ½" x 2 ¾". Mathewson is a key to the set along with Chief Bender, Ty Cobb, Eddie Collins, Sam Crawford, Hugh Jennings, Nap Lajoie, Eddie Plank, Joe Tinker, Honus Wagner, and several others, given the importance of the vintage set.
The backs have the following text, "This card is one of forty-eight leading Baseball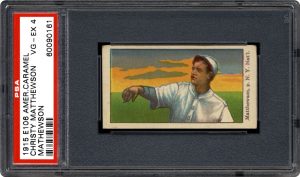 Players in the National, American and Federal Leagues. One card given with every piece of Baseball Caramel manufactured by American Caramel Co. — York, PA (Under the Famous Brand of the P.C.W)"
This set is scarce, and Mathewson's card is no different. There are only 14 cards registered by PSA, and they are all in low grade.
As a result of the scarcity, it is difficult to nail down the prices. While top grades are estimated to be expensive, the most recent sale is for $1,920 in 2017 for a PSA 3.
Conclusion
Mathewson is one of the most highly regarded pitchers in the history of baseball. Nothing says that more strongly than his induction into the first year of the Hall of Fame.
As a result, he is often a key to every pre War set that he appears on. He is highly sought after and coveted in cardboard form. This status will not change anytime soon.