Eddie Plank is one of the best early pitchers. He played in MLB from 1901 to 1917. Today he ranks third in career wins for a left handed pitcher with 326 wins. He remains first all time in career shutouts with 69 among left handed pitchers.
Plank was raised in Gettysburg, Pennsylvania as four of seven children. Plank did not grow up playing baseball, and he was invited to try out for Gettysburg College while in boarding school. He showed promise, and he signed with the Richmond Colts of the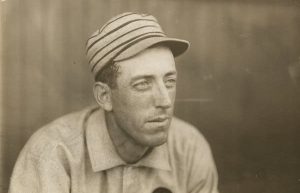 minor Virginia League.
The Virginia League folded before Plank pitched at all, but he impressed enough in practice that he was referred to Connie Mack, manager of the Philadelphia Athletics, who signed Plank.
The Athletics played in five World Series while Plank was there from 1901-1914. They won three in 1910, 1911, and 1913. Although Plank had an exceptional 1.32 ERA, he had a record of 2-5 in the multiple World Series. He played in St. Louis for his last three seasons.
Plank was known as a highly consistent pitcher. Over his career, he had a 2.35 ERA, 2,246 strikeouts, and a 326-194 record. He had a great sidearm curveball, and he pitched with finesse. His former teammate Eddie Collins recalled of Plank, "Not the fastest. Not the trickiest, and not the possessor of most stuff, but just the greatest."
He retired in 1917, but he continued to play for the minor league team Steelton in Pennsylvania for one year. Plank took to business for the remaining years of his life, and he died in 1926 from a stroke. Plank was inducted into the Hall of Fame in 1946.
There are several excellent cards of Eddie Plank, despite the fact that cards from his early career are nonexistent. This article will take you through them, starting with his appearance on one of the most famous sets in all of trading cards.
1909-1911 T206 Eddie Plank
Measuring at 1 7/16" x 2 ⅝", the T206 is the classic tobacco card and one of the Big Three baseball sets. Eddie Plank is a very important part of this set. The set had 524 different players, including 390 major league players and 134 minor league players. There are also a multitude of backs, which is believed to be 16 in total.
Though no match for the Honus Wagner, Plank's card is viewed as very rare, and it is the second most sought after card from the set due to scarcity. There are only 69 cards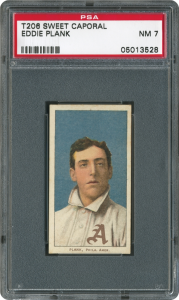 registered by PSA. The highest graded card is a PSA 8.
While there are no available records of a PSA 7 or 8, PSA estimates that a PSA 7 is worth $525,000 and that the PSA 8 copy would sell for $850,000. Auction prices for this card are erratic because they are sold infrequently. A PSA 5 sold for $114,000 in 2017 which is the highest found sale. Even if a collector were to drop to a PSA 1, the most recent sale was $41,000 in 2018.
This Plank card is sharply overshadowed by Wagner. At the second most valuable card in the set, it will make headlines if the highest graded copy is ever sold.
1909 Philadelphia Caramel Eddie Plank
Plank's cards shrink in value and importance after the T206, but there are a few more valuable cards on the market.
The Philadelphia Caramel show a white border, colored background, and upper body photograph of each player. They measure 1 ½" x 2 ⅝".
The rarity continues for this card. There are only 93 registered by PSA. Most of them are lower grades, and the highest graded card is a PSA 7.
That PSA 7 sold for $5,520 in 2019. To buy this card for less than $1,000, collectors could find a copy at a PSA 3. PSA 1's are much more reasonable than the T206, and they sell for around a few hundred, though prices are uncertain due to the infrequency of sales.
1910 Standard Caramel Eddie Plank
This is another famous pre war set that Plank is an important member of. There are 30 cards on the set, and they measure 1 ½"  2 ¾". There are only 55 cards of Plank registered by PSA, but there are two PSA 8's. The most recent sale of a PSA 8 was for $10,899.60 in 2008, and prices have likely increased. Extrapolating from the sales of PSA 4's and 6's, a PSA 5 could most likely be bought for around $1,000, but the two most recent sales come from 2009 and 2012.
1914 Cracker Jack Eddie Plank
This set has a stone faced portrait of Eddie Plank in his uniform with a red background and white border. His name and team function as the caption, and "Cracker Jack Ball Players" headlines the card. The backs have a brief bio and information about the set.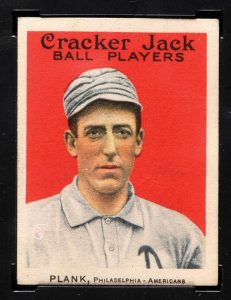 The quality conditions of the cards are difficult. The stock was thin and paper like, and the cards were distributed with the caramel soaked product. There are only 38 cards registered by PSA. A PSA 7 was sold for $7,900 in 2018. Since they are rare cards, PSA 1's sold for between $372 and $900 since 2018.
1915 American Caramel Eddie Plank
There are 48 cards in this unnumbered set, and the measure 1 ½" x 2 ¾". The cards are colorized with images of players from the National, American, and Federal League. The name, position, and team caption each set.
There are a measly 12 cards registered by PSA for this set. Thus, information on auctions is scarce. There was a PSA 5 that sold for $3,510.90 in 2008, and in 2016 and 2017, PSA 1's sold for $375 and $501.90 respectively.
Conclusion
Plank is best remembered for his high level of consistency. He was not stunning, nor was he flashy. Plank won games by performing at a high level over and over again. Though there are fewer sets and fewer cards available, collectors are fortunate that some great representations of Plank exist.