Cy Young won 511 games over his career. It is one of the most unbreakable records in all of sports as only one other player has reached 400 in MLB history. Young came from humble beginnings and worked to stay effective over decades.
He was born in Ohio in 1867, and he lived until 1955. Young was raised on a farm. He showed proclivity to baseball at a young age, and he began playing in semiprofessional leagues at 17. He soon rose to the minor league team out of Canton, Ohio.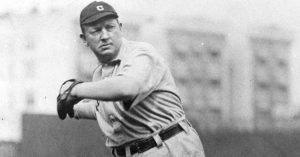 His given name was Denton True Young, and in Canton he was given the name Cyclone, which was shortened to Cy. After half a season in the minors, Cyclone Young moved up to the Cleveland Spiders of the National League. By his third season in the big leagues, Young had adjusted by leading the National League with 36 wins, 9 shutouts, and an ERA of 1.93.
His career continued to shine as he moved to the St. Louis Perfectos in 1899, and then he joined the new American League with the Boston Americans in 1901. He led the league in ERA, wins, and strikeouts in 1901. Boston won the first World Series with Cy Young in 1903. He had the first perfect game ever on May 5, 1904.
Young's durability, consistency, and adaptability was remarkable. He has the records for games started at 815, 749 complete games, and 7,356 innings pitched. Those records will most likely never be usurped. He was consistent over his long 21 season career into an older age with the most victories by any player at the ages of 34, 35, 36, 37, 40, and 41. He threw a no hitter at 41, and that record lasted for 82 years until Nolan Ryan in 1991. Lastly, Young is noted for adapting his playing style from power into finesse and control as he grew older.
In 1956, one year after Young passed, MLB started the Cy Young Award which honors the best player in each league for every season.
His cards are some of the most important pre war cards in existence. He is a key to many crucial sets of baseball. This article will go over several of them.
1893 Just So Tobacco Cy Young
This is the first card of Cy Young, and it is insanely rare. The cards display players from the Cleveland Spiders. It is believed that there are 16 cards in the set, but there could very well be more that are lost. The cards measure 2 ½" x 3 ⅞". Cy Young appears on the card as D.T. Young for his given name Denton True Young.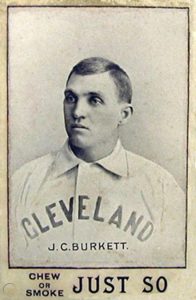 The fronts of the cards feature the players in their uniforms with their names on the bottom. The pictures are captioned by the advertisement, "Chew or Smoke Just So." The backs are blank.
Prices for this card are impossible to determine. There is only one copy known, and it has never been up for auction. Given that it's a 1/1 pre war rookie card of Cy Young, speculations can easily surpass $1 million for this card.
Furthermore, there are at most three copies in existence of any other card, and since no card from the set rarely goes up for auction, it makes price even more difficult to estimate.
1903 E107 Breisch-Williams Cy Young
The Breisch Williams set features the first card of several players, and it is also a rare set. There are 159 cards in the set, and they measure 1 ⅜" x 2 ⅝".
Breisch-Williams was a confectionary company outside of Oxford, Pennsylvania. The cards had a promotion or contest because there are cards that are stamped as redeemed. Stamped cards are more valuable than non-stamped cards.
A portrait of Young is on the front. The backs have three options: blank, a Breisch-Williams ad, or the text, "One of one hundred and fifty prominent baseball players."
Cy Young has only three registered cards on this set. The highest grade is a PSA 3.  In October of 2017, a PSA 2 sold for $45,000.
1909-1911 E90-1 American Caramel Cy Young
There are 120 cards in the set, measuring 1 ½" x 2 ¾". The cards show a colored and artistic version of the player. The name, position, and team are shown on the bottom. There are advertisements on the back for American Caramel.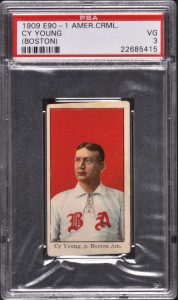 Cy Young appears in two cards. He is in a Boston uniform originally, but then he was traded to Cleveland mid production. The Cleveland version is scarcer, evidenced by 94 graded Boston cards and 21 graded Cleveland cards on PSA's registry. With each grade the Cleveland version is 10-20% more expensive, and the disparity between the two increases with each grade.
The Boston version has a rich red background, and Cy Young looks to the side in his Boston uniform. The Cleveland version shows Young's profile against a deep orange backdrop.
For an idea on prices, a PSA 7 Boston card sold for $22,705 in 2015, and a PSA 5 Cleveland card sold for $7,162 in 2017.
1909-1911 T206 Cy Young
Naturally, the T206 gets mentioned in a list of Cy Young cards. Young appears on multiple cards. Two are action photos: the glove card and the bare hand card. Both cards show him in throwing motion with either the glove or a bare hand showing. The third card is colorized photograph of Cy Young in his Cleveland uniform.
The action cards are worth about the same, and the portrait is nearly double the value. A bare hand PSA 9 sold for $143,400 in 2016, while a glove card is valued at about the same at a PSA 9. Meanwhile, a PSA 9 of the Portrait card is estimated to be worth upwards of $200,000. Since the cards jump rather dramatically between grades, lower graded cards can be purchased for under $1000.
1910-1911 T3 Turkey Red Cabinet Cy Young
Produced by the American Tobacco Company, the Turkey Red Cabinet cards are beautiful. Cy Young's card shows him on the follow through. He is standing on the mound with the green field and lit-up sky as a background. His name and team caption the photo.
There are 126 cards in the set. Card #51-76 are boxers, and the other 100 are baseball. They measure 5 ¾" x 8".
There are five backs. Most of them contain one of three checklists with details on turning in the cards for promotions. Scarcer is the Turkey Red Cigarettes. One back has the checklist without details on the promotion, and it is called the No Offer backs. Those are the scarcest. Given his position in the first series in the set, Young only has checklist backs.
Young's card is difficult to find in high grade. If a Mint condition card were found, it would sell for hundreds of thousands. The highest realized auction price found was $7,522 in 2017 for a PSA 5.
Conclusion
Cy Young is a crucial part of many rare and important sets. Given that many of his records will never be touched as the sport has changed, Young will stand the test of time as one of the best pitchers ever. He deserves to have awards named after him.