Al Kaline (1934-2020) played right fielder in Major League Baseball for 22 seasons with the Detroit Lions from 1953 through 1974.
He finished his career with a .297 batting average, 3,007 hits, 399 home runs, and 1,583 runs batted in. Kaline was named to the All-Star teams a whopping 18 times, and he was a ten time Gold Glove Award winner.
Born in Baltimore, Maryland, Al Kaline was surrounded by baseball. Several of his relatives had made a few dollars playing semi professional baseball, but none of them had ever graduated high school. His family and extended family were poor, but they taught him how to throw a fastball, changeup, and curveball before he reached ten years old.
Kaline was a standout during youth baseball, and he was All-State Maryland for all four years of high school. He was an awful student, but the teachers loved him. Everybody figured that he was destined to make it big in baseball, so teachers just passed him.
Kaline skipped the minor leagues all together, and at 18 years old he was given a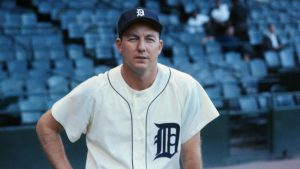 $35,000 ($334,000 in 2020 dollars) signing bonus by the Detroit Lions.
He was the archetype of what scouts wanted in 1953. The Detroit scout who found him said, "To me, he was the prospect that a scout creates in his mind and then prays that someone will come along to fit the pattern."
Kaline made his first appearance on June 25, 1953, only shortly after graduating high school. By 1955, Kaline was finding his groove in the major leagues, and he was batting .340, which made him the youngest player in MLB to win the AL batting title. Even Ty Cobb was a few days older when he won a title in 1907.
Additionally, Kaline finished 2nd to Yogi Berra in the AL MVP voting. For the next several years, Kaline would consistently wow the crowds, bat over .300, and he was a regular All-Star.
However, he suffered a broken collarbone in 1962, and while he seemed to recover in 1963, he began to suffer from significant pain in his left foot. A sportswriter described Kaline's deformed foot, and he summarized, "It is hard to believe, but for all of his career with the Tiger while he has been called the perfect player, Kaline has bordered on being a cripple.
After different treatments, including injections and corrective shoes, Kaline was doing well by 1965, but a broken hand followed in 1967, only to be met by a broken arm in 1968. Yet, Kaline was undeterred.
The Detroit Tigers faced the St. Louis Cardinals in the 1968 World Series, and Cardinals took a quick lead in the series at 3-1. The Cardinals led in the seventh inning 3-2 when Kaline stepped up to the plate. Bases loaded, the game on the line, Kaline drove in two runs. The Tigers won the game, dominated in Game 6, and during the win in Game 7 Kaline had two hits, two runs, and three RBIs. Overall, in seven games and his only World Series appearance, Kaline batted .379 with two home runs and eight RBIs.
Kaline continued to produce for the rest of his career. After his 3,000th hit, Kaline announced his retirement. The 3000th hit was on September 24, 1974, and his last game was October 3, 1974.
He is best remembered as an all around player. Billy Martin said, "(Al) does it all— hitting, fielding, running, throwing— and he does it with that extra touch of brilliancy that mark him as a super ballplayer. Al fits in anywhere, at any position in the lineup and any spot in the batting order."
Al Kaline was inducted into the Hall of Fame in 1980 on 88.3% of the first ballot. In addition, his no. 6 jersey was retired by the Detroit Tigers. Below are some details on a few of his best cards.
1954 Topps Al Kaline Rookie Card
Kaline sits at card #201 in the 1954 Topps which has 250 cards that measure at 2 ⅝" x 3 ¾". The 1954 Topps is an important early set which helped to standardize the Topps design style. In addition to Kaline's rookie card, there are rookie cards of Hank Aaron, Ernie Banks, and Tom Lasorda, as well as the returning card of Ted Williams who had come back from the Korean War.
This set is well preserved from the time period. For reference, PSA has well over 150,000 cards registered for this set, and 3,000 of those cards are Kaline.
The rookie card of Al Kaline from a set like the 1954 Topps is a great card at any grade. A Gem Mint card sold for $192,000 in February 2021, and Mint cards have sold for well over $15,000 since 2011. With a budget of $1,000 for a card like this, a collector would have to drop to at least a PSA 5.
1955 Topps Al Kaline
The 1955 Topps has 206 cards, and each card measures 2 ⅝" x 3 ¾". It is the smallest set in Topps history, numerically. Roberto Clemente and Sandy Koufax are the major rookies to the set. Kaline sits at card #4.
PSA has over 170,000 cards registered for the set, and well over 2,500 of those cards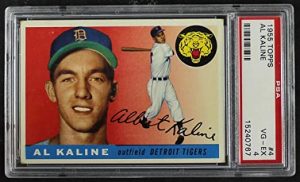 are Kaline cards. Gem Mints are nonexistent for Kaline cards, and only sixteen cards are in Mint condition.
For his sophomore year, a Mint copy has regularly surpassed $5,000 since 2017, and with a budget of $1,000, a PSA 8 is plausible, but prices rose sharply during the Covid-19 pandemic.
1955 Bowman Al Kaline
The 1955 Bowman has 320 cards, and Kaline is at card number 23. Each card measures 2 ½" x 3 ¾". This set is the last year of Bowman baseball, and the Kaline card is the only major card of Kaline that is not a Topps.
There are just under 90,000 cards from this set registered with PSA. Kaline's card has about 1500 copies registered, so there are still a good number of cards floating around.
Though this is the less popular of the 1955 Kaline baseball cards, a Mint copy will still sell for over $1,700. A PSA 8 has sold for a few hundred in 2020 and 2021.
1956 Topps Al Kaline
There are 340 cards in this set, and each card measures 2 ⅝" x 3 ¾". Kaline's card is at #20. An important fact about this set is that Bob Feller and Mickey Mantle returned to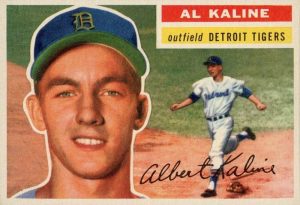 Topps after the fall of Bowman.
There are over 2500 Kaline cards registered with PSA. About 600 of those cards are gray backs, and the rest are white backs.
Prices begin to fall as you move further into his career. Mint condition cards will cost about $2,000, regardless of if the back is white or grey.
Conclusion
His cards continue to decrease and value as his career progresses, so there are several more affordable cards from his later career. This set went over the most important cards.
Al Kaline is one of the greatest all around players to ever play in the Major League. His multiple abilities made him a major piece of several great Detroit Tigers teams, including the 1968 World Series winners.
Collectors are fortunate that he played when some great cards were produced. While we did not cover all of the cards produced over his lengthy career, above are some of the best Al Kaline cards.