Ernie Banks (1931-2015) played for the Chicago Cubs of Major League Baseball from 1953 to 1971. A surefire induction into the Hall of Fame, Banks is considered one of the best players of the 20th century, and he was named to the MLB All-Century Team in 1999. He is one of the best Chicago Cubs ever, and his number 14 is retired by the team.
Nicknamed Mr. Cub and Mr. Sunshine, Banks was a superb shortstop and first baseman. He finished his career with 2,583 hits, 512 home runs, 1,636 runs batted in, and a .274 batting average. He was a 14 time All Star, two time NL MVP, a Golden Glove winner, two time NL home run leader, and two time NL RBI leader.
Banks was born in 1931 in Dallas, Texas as the second of twelve children. His father played baseball for a local semi pro team, and the father was a major source encouragement behind Banks as a baseball player. Banks was much more interested in swimming, basketball, and football, all of which he excelled at, so his father went out of his way to bribe Banks with dimes and nickels to play catch.
When Banks graduated from high school in 1950, he ended with letters in basketball, football, and track. The school did not even have a baseball team. Instead, Banks played for a local semi pro team. While sources conflict on who discovered Banks, Banks was soon spotted in his semi pro league.
Yet, in 1951 Banks was drafted into the U.S. Army for the Korean War where he spent time in Germany. During this time, Banks played basketball for the Harlem Globetrotters part time. Banks was discharged from the army in 1953, and he quickly made his way back to the baseball world.
Banks was soon signed by the Chicago Cubs late in 1953. He was able to play 10 games that season after making his MLB debut on September 17, 1953. Banks was one of several former Negro league semi pro players to skip the minors.
Banks was the first African American player to ever suit up for the Cubs. He was reportedly influenced by the quiet strength of Jackie Robinson, so while Banks became more vocal into the turbulent 60s, he was noted for his quiet presence. Banks later said, "I kept my mouth shut but tried to make a difference. My whole life, I've just wanted to make people better."
Notably, Banks formed the first all African American double play combination when the Cubs acquired the African American Gene Baker in 1954.
Known as a power hitter, Banks also formed a reputation as an agile defenseman in which he set a record in 1959 for the fielding percentage of a shortstop. As a result of injuries, Banks was moved to first base in 1962.
Outside of the awards and accolades, including the Lou Gehrig Memorial Award in 1968 and the Presidential Medal of Freedom in 2013, and excluding his influence as an exceptional early member of an African American in MLB, Banks is greatly remembered for his genuine love of baseball. Reporters, players, and fans will fondly remember his trademark yell of, "let's play two!" Luckily for baseball fans today, Banks played when some great sets were released, and his cards do a good job of commemorating his career.
1954 Topps Ernie Banks Rookie Card
The 1954 Topps features the recognized Ernie Banks rookie card. This is by far the most important Ernie Banks card. Banks is featured at #94, and the rookie cards of Hank Aaron and Al Kaline join him on the set, while Ted Williams functions at the #1 slot.
This is a well preserved set, and there are over three thousand cards of Ernie Banks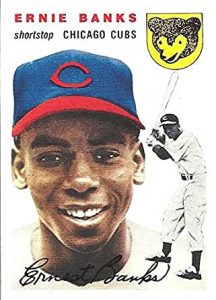 registered by PSA. There are plenty of Ernie Banks rookie cards floating around. PSA even has a couple Gem Mint cards registered, and over a dozen Mint condition cards are on file.
Gem Mint cards are valued at well into six figures, while Mint condition cards have sold for around $80,000. If you want a card for around $1,000, you will have to drop to a PSA 4.
1955 Bowman Ernie Banks
Bowman neglected to include Banks in 1954, so this is his debut on the brand. The 1955 set had 320 cards that measured 2 ½" x 3 ¾". This was the last baseball set for Bowman. The television set style of the cards are well remembered.
There are 900 cards registered by PSA with many of them being in higher grades. Mint condition cards are valuable, and they are worth several thousand at auction. Since they are sold officially less often, it is hard to break down their exact worth. However, $1,000 should guarantee you a PSA 7; there have been several sales the last few years, and PSA 7's sold for near, but under, $1,000.
1956 Topps Ernie Banks
Topps ran their first set with little to no competition on the baseball card market. Their set had 340 cards that measure 2 ⅝" x 3 ¾". The design was similar to the last couple years, with the portrait and in action photo. Topps even used some of the same photos from 1954-1956.
For this set, each card has a white back variation and a gray back variation. While the gray backs generally have fewer cards, the rarity is not strong enough to affect the price.
Keys to the set include Ted Williams, Jackie Robinson, Hank Aaron, Roberto Clemente, Sandy Koufax, Willie Mays, and Ernie Banks.
The set is well preserved. PSA alone has over three hundred thousand cards for the set, and they have over 3,000 Banks cards. While Mint condition cards are rare and can fetch several thousand dollars, $1,000 can grab you a PSA 8 no problem.
1957 Topps Ernie Banks
The 1957 Topps had 407 cards of standard size. This was the first year that Topps used 2 ½" x 3 ½", the industry standard size for trading cards. Topps was beginning to grow
comfortable after the competition with Bowman.
Ernie Banks is one of many stars on this set, and the set is well preserved. PSA has nearly 3,000 cards preserved for Ernie Banks alone. As we progress in his career, his cards start to become more affordable. While Mint condition cards are in the thousands, a PSA 8 can be bought for hundreds.
Conclusion
There are a few more fun cards from unimportant and local sets that went unmentioned, and Topps continued to produce Banks cards until he retired. The best cards have been mentioned here. His Topps cards will always be valuable, especially in high grade, because, in part, they represent a great baseball career. However, Banks cards are a part of a greater history as they represent a genuine force in the fight for equality during the US Civil Rights movement of the 1950s and 1960s.