Lou Gehrig was born in 1903 as Henry Louis Gehrig to German immigrant parents in Manhattan. Nicknamed "The Iron Horse," he was known for his reliability and hitting power which was shown through his 2,130 consecutive games played. That record remained unbroken for 56 years.
Gehrig signed to the New York Yankees in 1923, and he remained with the team until 1939. He is one of the best known players from the best team of a golden age of baseball.
Gehrig won two AL MVP's, six World Series, and a Triple Crown once, which consists of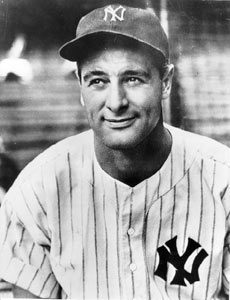 leading the league in batting average, runs batted in, and home runs. Over his career, he had a .340 batting average, .632 slugging average, 493 home runs, and 1,995 RBI.
Fans were stunned in 1939 when the Iron Horse voluntarily took himself out of a game. It was soon revealed that the most durable player was sidelined by an incurable illness, ALS, which is today commonly referred to as Lou Gehrig's disease. He was forced to retire by the illness.
Gehrig has the honor to be the first player to have had his jersey retired by any team. He was voted the greatest first baseman of all time in 1969 by the Baseball Writers Association of America. Furthermore, Yankee Stadium has a monument to him, and the Lou Gehrig Memorial Award honors MLB players with integrity.
His legacy was cemented in 1939 by a speech he gave at Yankee stadium. Facing a shortened life, Gehrig opened with, "Fans, for the past two weeks you have been reading about the bad break I got. Yet I consider myself the luckiest man on the face of the earth." He listed and described the blessings of his life from his cherished family to his joy of playing for the Yankees. He ended with, "So I close in saying that I may have had a tough break, but I have an awful lot to live for."
Gehrig died two years later. Though he was a great player, he is best remembered for his exemplary character. This article will summarize some of his best cards that help to immortalize him.
1925 Exhibits Lou Gehrig Rookie Card
The 1925 Exhibits set features Lou Gehrig's rookie card. There are 128 cards in the set, and they measure 3 ⅜" x 5 ⅜".  The unnumbered cards feature a full photograph of Gehrig with a small text box in the bottom left corner. The backs are blank.
There are only 23 Gehrig cards registered by PSA. The highest grade is for two PSA 6's which are valued at well over $100,000. The most recent sale found was $45,000 for PSA Good 2 Gehrig card in 2019.
1933 Goudey Lou Gehrig
The 1933 Goudey remains one of the most sought after sets today. The set featured colorful illustrations which helped spring baseball cards into the modern era. There are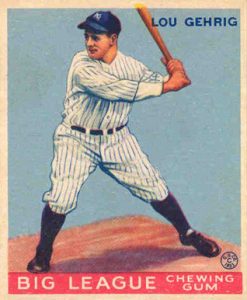 240 cards in the set, and they measure 2 ⅜" x 2 ⅞".
Gehrig is featured on #92 and #160 in this set. The #160 is scarcer and more valuable today. The cards have nearly identical designs with the only major differences being the shade of blue on the background and the shade of white on the border.
Considering Lou Gehrig's career and the importance of the 1933 Goudey, it is natural that the cards are extremely expensive. In 2019, a #160 sold for $576,000 in PSA Mint 9 condition. A PSA Mint 9 #92 is estimated to approach $200,000 at auction.
1933 DeLong Lou Gehrig
The 1933 DeLong is one of the rarest sets from the 1930s. It is very difficult to track down. DeLong was a competitor of Goudey. Both companies released baseball card sets with bubble gum in 1933. DeLong's set was less well received, and this set was their only release.
There were only 24 cards, measuring 2" x 3". Gehrig's card shows him with a bat in a black and white photo. The background is a colorful baseball stadium.
This set has a reputation for condition issues. Centering is the most common problem. Additionally, toning along the edges has created difficulties.
Given the limited availability, the Lou Gehrig card does not come up for auction often, so prices are harder to determine. In 2015 a PSA 8 sold for $45,410, while in 2019 a PSA 5 sold for $7,332.
1934 Goudey Lou Gehrig
Goudey returned in 1934 with a high quality set with 96 cards and similar traits to the 1933 Goudey. Gehrig appears on two cards at #37 and #61. He was the only player with more than one card.
On the bottom of each card is a blue banner with Gehrig's bust and the text "Lou Gehrig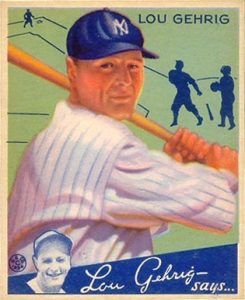 says… On the back is a description of each player. The descriptions are within quotation marks, implying that it is a Gehrig quote. Outside of some higher numbered cards, every card in this set comes with a piece of Lou Gehrig.
The #37 card features a bright smile from Gehrig against a background of yellow and outlines a diamond with players. This is the more expensive of the two cards. A PSA 8 sold for $43,020 in 2016.
The #61 card has a separate photo. Gehrig is shown with a bat, and the background is green. A PSA 8 sold for $28,680 in 2016.
1932 U.S. Caramel Lou Gehrig
The 1932 U.S. Caramel set has 32 cards of a variety of athletes. The card pictures athletes against a red background with a white border as well as the athletes' names on the top. The cards' distribution was limited to mostly Boston, collectors could redeem a completed set for a baseball and a glove, and young collectors reportedly did not like the set. Thus the cards are scarce today.
Gehrig is second only to Babe Ruth in price for the 1932 U.S. Caramel. Even a PSA 1 of Gehrig will sell for over $1,000. A PSA 8, the highest grade registered of 86 registered cards, is estimated to sell for $35,000 by PSA.
Conclusion
Lou Gehrig cards are some of the most prized cards in the hobby. If his cards are not most valued in any set, it is because he is behind some other great like Babe Ruth, Ty Cobb, or Honus Wagner. Having a Lou Gehrig card is having a piece of history. The cards represent, figuratively and literally, the shining smile of "The Luckiest Man Alive."