Wilt Chamberlain (1936-1999) was beyond a doubt one of the greatest American athletes ever. More so, he was just an exceptional athlete. He stood at 7 ft 1 in, weighing 250 in the beginning of his NBA career and 300 later on.
Chamberlain still holds the single season highest points per game averages. This includes the whopping 50.4 points per game in 1962, and he holds the next 3 best seasons. His 100 points per game will most likely never be broken unless the NBA significantly changes rules to do so. His record for rebounds in one game is 55! Lastly, his personal favorite stat was that he never fouled out of a game.
Retiring with 31,419 points scored, Chamberlain held the record until Kareem Abdul Jabbar surpassed him in 1984. Chamberlain also retired with 30.1 points per game scored (a record broken by Michael Jordan) and 22.9 rebounds per game.
Though he is not often considered the greatest, Chamberlain stands as one of the best all time. Still, many consider him to be one of the most athletically gifted American men of the 20th century.
Before playing in the NBA, Chamberlain made a name for himself in high school. Hundreds of schools were after him to play for their college back when scouting was much smaller. He settled on the University of Kansas where he played basketball for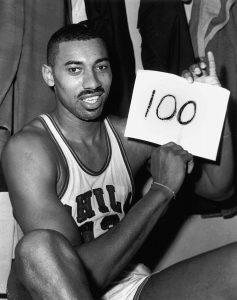 three years where he astounded the field. He was unable to bring a championship to Kansas.
He decided to forgo his senior year, and he signed with the Harlem Globetrotters because he was not allowed to go to the NBA for another year. Later in life, Chamberlain said that entertaining the families with the Globetrotters was immensely satisfying, and he often joined the Globetrotters during the NBA offseason for many more years.
He is most famous for his time in the NBA with the Philadelphia Warriors from 1959-65, San Francisco Warriors in 1962 (the team briefly moved), the Philadelphia 76ers from 1965-68, and the Los Angeles Lakers from 1968-73.
His rookie year foreshadowed his legacy. Chamberlain would not just win Rookie of the Year, but he also grabbed Most Valuable Player! Furthermore, he was an All Star, All NBA, All Star Game MVP, Scoring Champion, and Rebounding Champion. He was incredible right from the start.
Chamberlain helped the young NBA gain popularity through his exceptional feats of athleticism. He had a notable rivalry with Bill Russell and the dominant Celtics. League historians cite Chamberlain and his rivalry with Russell as helping the league gain more of a foothold. This epic rivalry may have been Chamberlain's greatest contribution to the NBA.
Upon retirement Chamberlain published, Wilt: Just Like Any Other 7-Foot Black Millionaire Who Lives Next Door. He remained a well known public figure where he appeared on talk shows and briefly in movies such as Conan the Destroyer with Arnold Schwarzenegger.
His No. 13 jersey was retired by the Golden State Warriors, the Philadelphia 76ers, the Los Angeles Lakers, the Kansas Jayhawks, and the Harlem Globetrotters. A couple of his cards do his legacy justice as well.
1961 Fleer Wilt Chamberlain
The 1961 Fleer was the first national set in a few years, so it holds the rookie cards of several notable figures. These include Jerry West, Oscar Robertson, Elgin Baylor, and, of course, Wilt Chamberlain.
There are 66 standard size cards in this set. Cards #1-44 are standard cards, and the remaining 22 cards are "In Action" cards. Many notable players, including Chamberlain, are featured twice in this set. Though, the "In Action" cards are not nearly as valuable. Chamberlain's standard card is at #8, and his "In Action" card is at #47.
For the population report, Chamberlain had the kind of rookie year in 1960 that any card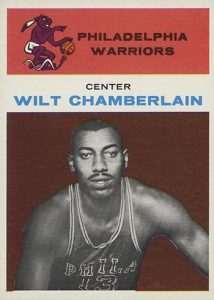 of his released in 1961 was going to be cherished. There are over 1000 of his valuable rookie cards registered by PSA, and over 700 of his "In Action" cards are around too.
The "In Action" versions are considered second rate cards. In 2020, they have been selling for about $7,000 in Mint condition.
On the other hand, the #8 standard card is one of the most highly sought after rookie cards in existence. The most recent sale of a PSA Mint 9 condition card was for $85,100 in September of 2020. For this card, to get below $10,000, you would have to drop to a PSA 6.
1968 Topps Test Wilt Chamberlain
Topps' test of 22 standard size cards are exceedingly rare today. The black and white cards feature a puzzle on the back that show Wilt Chamberlain when assembled. The card is rare, condition sensitive, and very few cards in good condition exist.
For Wilt, there are only 11 cards registered by PSA, and given the infrequence in which they are sold, the prices of these cards are difficult to pinpoint. One estimate has a PSA 8 of Chamberlain as valued at $15,000.
1969 Topps Wilt Chamberlain
This is the first Topps basketball set since 1957, and it is the Topps debut of Wilt Chamberlain who was playing for the Los Angeles Lakers at the time. There are 99 cars that measure at 2 ½" x 4 11/16" in this set. Wilt Chamberlain is featured at #1. There are a number of major rookie cards, given the infrequency of basketball sets at the time. Some of these rookies include Walt Frazier, Kareem Abdul Jabbar, and Elvin Hayes.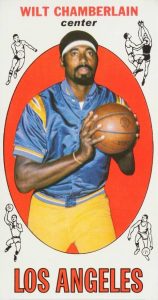 Over 1400 Chamberlain cards are registered by PSA as he was a highly treasured prize for collectors. Though it is not as valuable as his rookie, this is still his Topps debut. The most recent sale of a Mint condition card is for $9,500 in May of 2018. Prices have most likely increased. If you go to a PSA 7, you can see that prices rose from about $675 at the beginning of the year to $1,000-$2,000 by the end of 2020.
Conclusion
Topps featured Chamberlain in 1970, 1971, 1972, and 1973. While those cards remain sought after, the biggest cards were described here. Chamberlain cards become more affordable later on in his career.
Wilt Chamberlain is not only one of the great NBA players, but he is also a fantastic athlete. The stories and mythologies abound for this impressive man. Hopefully, we find that his cards can do him justice.