Michael Jordan is the greatest basketball player of all time by the current consensus. After a great high school and college career, Jordan took the league by storm. He was popular in away arenas, and he immediately turned the Bulls into playoff contenders.
After overcoming the Piston's roadblock, the Bulls had a three-peat from 1991-1993. He suddenly retired for a year and a half, and Jordan famously notified the press of his return with two words: "I'm back." He returned for another three-peat (1996-1998), and then he had his second retirement. Jordan played two more seasons as a Washington Wizard, where he played exceptionally well for a 38 and 39 year old by averaging 20 points per game.
Between this outline, there are innumerable stories and accolades. First, the accolades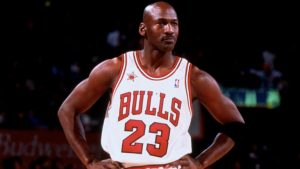 include 10 time scoring champion, 6 time Finals MVP, 5 time MVP, Defensive Player of the Year in 1988, and 9 time all defense.
There are too many Michael Jordan stories to tell. He has grown mythical in the years since his retirement.
For one of many stories, the Vancouver Grizzlies were beating the Chicago Bulls heading into the fourth quarter. Darrick Martin of the Grizzlies ran by the Bulls' bench and addressed Jordan, "I told you we were gonna beat you tonight." Jordan proceeded to check in for the last six minutes of the game. He approached Martin and said, "Little man, I told you not to trash-talk me." Jordan dropped 19 points in half a quarter to win the game. Michael Jordan is more than the greatest ever; he is a legend.
Michael Jordan cards break a few rules. Specifically, he has many non rookie cards that are very valuable. Given the market at the time, the options for Jordan rookies are weaker than a more recent player like LeBron James. Jordan began his career in 1984, and the most valuable card on this list is from 1997. Of course, first up is the accepted rookie card.
1986 Fleer Michael Jordan RC
This is Michael Jordan's accepted rookie card. Nobody had produced official NBA cards until Fleer stepped in for 1986-1987 season. Basketball popularity was low, and Topps had dropped basketball cards in 1982.
This Fleer set is popular because there are several great players where this is the official rookie. The 1986-1987 NBA season was Jordan's third year. Other notable rookies include Charles Barkley, Patrick Ewing, Clyde Drexler, Karl Malone, Dominique Wilkins, and Hakeem Olajuwon. Jordan is the key to the set.
The 1986 Fleer Michael Jordan rookie card is also one of the most important cards in the basketball trading card hobby, as well as for modern sports cards. It is not the most expensive quality because there are thousands of high grade cards on the market. A Gem Mint condition card will fetch $30,000.
There are many unopened boxes and packs from this era because one box cost $10 in 1986. Each box contained 36 packs with 12 cards each. One box sold for $85,000 in 2017. In addition to the rookie cards of several Hall of Famers, a box includes stickers worth thousands of dollars.
The multi-colored borders need to be handled with care because they can chip easily.
Finally, this is the most counterfeited card in basketball cards. There are plenty of tips on how to spot a fake such as color and clarity. We encourage you to buy from a trusted source for this card.
1984 Star Michael Jordan XRC
This card is notoriously hard to determine legitimacy. PSA had such a hard time determining the counterfeit status that they refused to grade them. The cards were produced with sub quality products, and some estimate that there were three counterfeits for every legitimate 1984 Star before grading services were even founded. Due to the demand and interest for this card, BGS has graded several hundred since 2008. First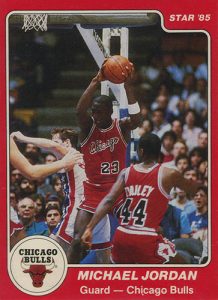 and foremost, be very careful buying this card.
Though the 1984 Star Michael Jordan has never been considered a true rookie, the market has been shifting in its favor. There are thousands of the 1986 Fleer graded, and only hundreds of the 1984 Star have received a grade.
One reason that the Star is rejected as a rookie is because they were not distributed nationwide. Star had a plethora of problems as the only major distributor in the mid 1980s for the NBA. Low runs, horrible distribution, under producing teams, these are just a few of the reasons why Star is not considered a major producer. The card has the XRC status because of this.
There are very few highly graded cards which increases the rarity. A BGS 9.5 sold for $52,000 in 2015.
The former NFL guard of the Philadelphia Eagles, Evan Mathis, is known for selling the Mickey Mantle #311 for 2.8 million, and he sold the Tom Brady rookie for $400,000. Both were record setting sales. Mathis put the 1984 Star online for 1 million in 2017. Obviously, that is overvalued, and it is unclear what the point was. It is, however, emblematic of growing interest in this card.
The 1984 Star set is intriguing. There is serious interest, and it may one day be called the true rookie. This would also include other serious rookies such as Charles Barkley, Patrick Ewing, and Isaiah Thomas who have their rookies in the 1986 Fleer.
1997 Upper Deck Michael Jordan
Upper Deck produced 23 of these cards. Due to in part the rarity, the card sold close to $100,000 in 2018. It also sold high because of its significance to the hobby. This Upper Deck card featured a piece of the jersey that Jordan wore in the 1992 NBA All-Star game, an on card autograph, and a handwritten serial number. The specialty, flair, and quality of the card was unusual for the time.
1993 Fleer Ultra Michael Jordan Scoring Kings
The best part of this card is the shocking design of lightning bolts flowing around an action shot of Jordan. It is a foil card, so high grade cards are hard to find due to the chipping. A PSA 8 sells for about $250 on eBay. The prices of higher grades are harder to find.
If purchasing, be extremely careful and buy from a reputable seller. This card is frequently trimmed.
You could even buy a trimmed card if that suits you. For example, Beckett found a card "altered," and it was sold on eBay for $60 because it was still a very nice card. To be clear, the eBay listing posted the altered status.
1987 Fleer Sticker #2 Michael Jordan
This sticker is an honorable mention on this list to represent a few popular Michael Jordan stickers. The stickers are worth more than many notable cards, so they are worth mentioning.
Although there are many copies of this sticker, a Gem Mint version is rare. The price drops from around $8,000 to $300 in the transition from Gem Mint to Mint. Out of 5,000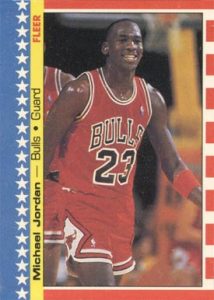 1987 Fleer stickers graded by PSA, 24 are Gem Mint. Many players have hundreds of stickers at lower grades, and only a few graded Gem Mint. This quick dropoff is common for stickers as they were interactive toys for children.
There are similar prices, quantities, and quality for the 1986 and 1988 Fleer stickers. The 1989 sticker is worth about $1,000 in Gem Mint condition.
All of these stickers peaked in price in 2016, and they have not recovered. Gem Mint stickers were selling for between $10,000 to $20,000 for the 1986-1988 stickers. It is unknown what caused this bubble.
1997 Metal Universe Precious Metal Gems Michael Jordan
The 1997 Metal Universe Precious Metal Gems released 100 copies of these parallels. Ten were the green version, and 90 were red. It is an incredibly valuable Michael Jordan card.
PSA has two copies of the green version authenticated. Even though it was ungraded, an authenticated copy sold for $350,000 in 2019. A PSA 6.5 red version sold for $63,100 in 2019.
1996 E-X2000 A Cut Above Michael Jordan
Competitors were really trying to outdo one another in this era, and this card is a great example of a desperate attempt. The card is oddly shaped as a buzz saw.
Conditions are difficult. This card was hard to protect and maintain in a high grade.
There was one in every 288 packs. With the unique design, condition issues, and decent rarity, this card is worth thousands depending on the grade. Also, it is a card that is susceptible to forgery.
1996 SPx Michael Jordan Autograph
The 1996 SPx Michael Jordan has an interesting design with a season ticket format, a nice shot of Jordan poised for a freethrow, and the autograph. The cards were distributed in packs as promotions at Jordan basketball camps.
This card was the first signed Jordan card to be released in packs. It started a craze that has lasted for decades of ripping open packs in the hope of finding a Jordan autograph. Collectors still love the card, and one sold for $19,000 in 2019.
Conclusion
Michael Jordan cards are incredibly important to the basketball card trading hobby. His rookie, autographs, and dramatic 90s cards will always be the key to any great basketball set.