LeBron James had the highest expectations as prospect in any sport ever. His high school basketball games were nationally televised by ESPN, he was signing marketing deals for tens of millions without having played a single NBA minute, and he was on the cover of Sports Illustrated with the title "The Chosen One." LeBron was a junior in high school when the cover came out, and he embraced the title by tattooing it on his back.
LeBron shattered the expectations. Eight straight Finals appearances, three rings, 4 MVPs, 3 Finals MVPs, LeBron has dominated the NBA for a decade. He is known for his ability to carry a team on his back. 
He was a living legend before he reached 30. He has been a leader on and off the court as he has made strides in business and philanthropy.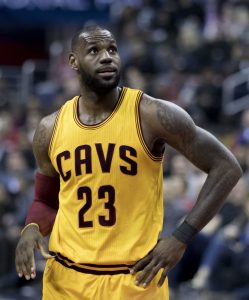 LeBron must be approaching the end of his career or the end of his dominance at the least. However, there seems to be plenty left in the tank, and LeBron James cards hold a similar appeal to Tom Brady cards.
LeBron could play for several more years adding stats, awards, and titles. He continues to climb the ladder or various streaks and rankings, and he is on track to surpass Kareem Abdul-Jabbar's total points record of 38,000 which once seemed insurmountable.
An excellent career, a leader in the national community, and the potential to extend his accolades, LeBron James card are some of the most exciting cards in the trading card hobby. Let us take you through a few highlights.
2003 Exquisite Collection LeBron James
This is one of the most important modern cards in the hobby. It sold for $325,000 in 2019, and only 99 copies were produced. There is a patch and an on card autograph. 
The set itself is hugely significant. It holds rare cards of Dwayne Wade, Carmelo Anthony, and Chris Bosh. The other members of the set have helped increase the value of the LeBron cards and vice versa through every set. The 2003 NBA Draft class is considered one of the best of all time.
Each pack cost $500 at the time of release. This set has inspired the use of other ultra premium sets. People were abhorred at a $500 set, but investors soon grabbed on to great profit.
2003 Topps Chrome LeBron James
The 2003 Topps Chrome set was a major release, and it makes a solid counterpoint to the previous card. There are nearly two thousand cards at both PSA 9 and 10, so they are not rare. There is also no patch or autograph. It is a classic card from the generally well received Topps Chrome brand.
Prices have been fluctuating, but in 2019 a Gem Mint of this card was at or above $2000 for most of the year. Each grade down cuts the price in half, so there are affordable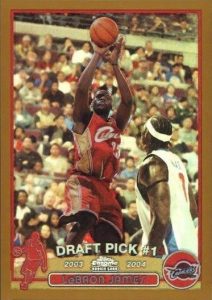 grades of this card.
There are three refractors: Black (#/500), X-Fractors (#220), and Gold (#50).  Naturally, the prices go up dramatically for the refractors. They reach $35,000 for the Gold in Gem Mint condition.
2003 SPX Spectrum Autograph LeBron James
Numbered to 750 cards, this is not the rarest rookie card, but it is a great option for an autograph and jersey. The autograph is not on card; it was put into the card. This creates a problem for some copies where the end of the autograph is hidden. The autograph's position creates a few design issues which essentially means that this card can be called ugly. Still, it sells for $11,000 in high grade.
2003 SP Authentic Autograph LeBron James
There were 500 copies of this card, and it has held up well as a premium LeBron James rookie. The use of the colors of the Cavaliers is praised for its contrast. There is a Gold Refractor that was numbered to 50. This card is worth $18,000 in Mint condition, while the Gold Refractor is worth $28,000.
2003 Ultimate Collection Ultimate Logos Signature
There is only one copy of this card. In 2016 it went up for auction graded as a PSA 9. It sold for $312,000.  There is an autograph, a good photo of a shooting LeBron, and an NBA patch with "1/1" written beneath. Obviously, this card is hard to come by, but it is a good mention.
2003 Fleer Showcase LeBron James
This set was widely distributed with 130 cards in the set. Card 1-90 are veterans, 91-100 were short printed veterans, and 101-130 are rookies. Each Fleer rookie card was limited to 1000 copies. LeBron, Carmelo Anthony, and Dwayne Wade are the keys to the set. It's an interesting set with some great players like Karl Malone, David Robinson, Kevin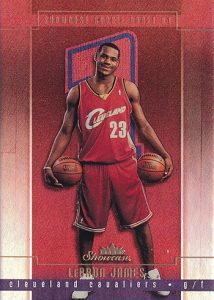 Garnett, and so on.
The only card that is worth significant money is the LeBron James rookie card. It is worth about $1,000 in Gem Mint, but the price quickly falls. A mid-grade version of this card would be a very affordable LeBron rookie.
2003 Finest LeBron James
The base card was limited to 999 cards, the Refractor to 250, and the Gold Refractor to 25. At a PSA 10, the cards cost $2,000, $7,500, and $22,500 respectively. It's worth noting that out there somewhere is a X-Fractor that was limited to one copy. It is impossible to accurately guess the price, but the prices in this article are a reference point.
Finest was one of the more popular brands in its time, and the design of this card represents their style.
2003 Topps Pristine
The last two in this article are the cheapest. For this card, $65 for a PSA 8 is a reasonable price. North of $300 would be expensive in 2019's market.
There is no limited distribution, autograph, or jersey, and it has an awkward design from the time period. It is a solid LeBron rookie from the Topps brand at a cheap price for mid grade for a legitimate LeBron rookie.
2003 Bowman Chrome Rookie and Stars
One of the more interesting aspects to this card is that many other players have autographs on their cards while LeBron's card does not. This includes Dwayne Wade and Chris Bosh.
The base card is another affordable option. A PSA 8 will sell for $60. The Refractors are out 300 ($3,500 at Gem Mint), X-Fractors out of 150 ($7,500 at Gem Mint), and the Gold Refractors out of 50 ($17,000 at Gem Mint).
Conclusion
LeBron has lived under the burden of enormous expectations. Many basketball card investors have that expectation. If the past is any indication, LeBron has the potential to dominate and shatter any and all expectations.