"The Big O" aka Oscar Robertson (born 1938) played professional basketball for the Cincinnati Royals and Milwaukee Bucks. 12 time All Star, 11 time All NBA, one time MVP, and one time NBA Champion, Oscar Robertson is best remembered for his 1962 season where he averaged a triple double along with 30 points per game, which was a feat that took decades to replicate.
Robertson grew up in Indianapolis, Indiana. As a teenager, he led his high school team to two state championships. After receiving a scholarship to the University of Cincinnati, Robertson set 14 NCAA records, while averaging 33.8 points per game. Though Cincinnati never won the NCAA Tournament, they did reach the Final Four twice.
His college career has continued to be hailed. The United States Basketball Writers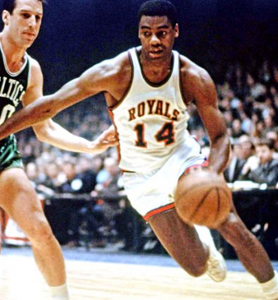 Association renamed their college Player of the Year Award to the Oscar Robertson Trophy. Also, Robertson was one of five people selected to represent the original inductees to the College Basketball Hall of Fame.
In 1960 Robertson went to Rome to help the United States Olympic team to win the gold medal. He would later receive an induction into the Hall of Fame for his time spent with these Olympic gold medalists.
Robertson was selected #1 in the 1960 draft by the Cincinnati Royals with a territorial pick. He was an unusual and dominant point guard because he was large for the position at the time. Robertson measured 6 feet 5 inches and over 200 pounds. With superior passing and ball handling skills, Robertson was too much for many competitors.
Nearing the end of his career, Robertson was traded to the Milwaukee Bucks in 1970. There, he teamed up with Kareem Abdul Jabbar to create a legendary duo. The two led the Bucks to their only NBA Championship to date.
After winning two more division titles, Robertson helped to lead the Bucks to another NBA Finals in 1974, which the Bucks lost. Robertson retired that year. The Bucks did not even make the playoffs the next year despite having Kareem Abdul Jabbar, which many attributed to Robertson's significance.
Perhaps most significantly, Robertson was the President of the National Basketball Players Association. His most notable contribution was the anti trust lawsuit filed in 1970. The case was a landmark in the NBA into opening up the league to the modern free agency which has only grown towards the player's favor since the suit.
Twice inducted into the Hall of Fame for his individual career, Olympic performances, and presidency of the NBPA, as well as a few other notable inductions, statue dedications, and jersey retirements, Robertson has mostly stayed out of the spotlight since retirement. His name is often brought up in great player lists, especially over nominations for the greatest collegiate player ever. His cards are limited, but there are still editions that do him justice.
1961 Fleer Oscar Robertson
This is one of the most important basketball sets because it has a number of rookies, the most important of which are Elgin Baylor, Wilt Chamberlain, Jerry West, and Oscar Robertson. It also has the rare nationally distributed cards of players like Bill Russell. Basically, there are few major basketball sets released during this era, so the 1961 Fleer is big for basketball.
There are 66 cards of standard size. There are no major defects, rarities, short prints,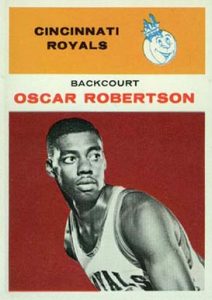 etc.
Given the popularity and importance of the set, there are a number of cards registered, and Robertson alone has nearly 1000 cards registered by PSA with one Gem Mint and 14 Mint cards.
Robertson's cards (and this set as a whole) have been doing well in 2020. While the last PSA 9 sold for $18,133 in February of 2020, PSA 8's have been storming up since the rise of the coronavirus. While PSA 8's were selling for $4,000-$5,000 in 2019, the price in 2020 has been erratic. In August of 2020, a PSA 8 sold for $21,000! However, the cards have been settling to $10,000-$15,000 since then.
This card is definitely worth watching; the whole set is worth watching.
Lastly, it is worth mentioning that many cards in this set have an "In Action" double. The Robertson "In Action" card has a similar population report, and the prices are substantially lower. A PSA 8 goes for around $1,000. If you want a much more affordable though secondary rookie in a high grade, this is a great option.
1960-1965 Kahn's Wieners
Kahn's Wieners basketball cards were distributed from 1957 to 1966 with Oscar Robertson available from 1960 to 1965. The cards are second rate because they come from a less important distributor which released the cards on a local level, and they are mostly in bad conditions because they were released with hot dogs. Almost every card has a stain.
The card had the players of the Cincinnati Royals with Jerry West as the one exception. West's card is extremely popular, and some consider his 1960 card his true rookie over the 1961 Fleer. Additionally, a few people say the same about Robertson.
The sets had 4-13 base cards per year. They were black and white except for the final two years.
The most valuable card is the 1960 Kahn's Wieners. The Oscar Robertson card is valued at about $8,000 at a PSA 8. Prices quickly fall, a PSA 8 from 1961 is valued at $1,250; a PSA 8 from 1962 is valued at 500; a PSA 8 from 1963 is valued at 700; a PSA 8 at 1964 is valued at 900; and the price is too scarce to determine for 1965 but it would be around $1,000 or less for a PSA 8.
Lastly, as mentioned above, the cards for Kahn's Wieners are scarce. For example, PSA only has about a dozen or so of each card registered.
1969 Topps Oscar Robertson
After the small set of the 1968 Topps Test, Topps returned to the basketball market in 1969 for the first time since 1957. The 1969 Topps has 99 cards of 2 ½" x 4 11/16". There were several rookies and Topps debut, such as the Topps debut of Robertson. It is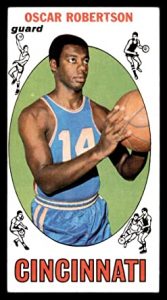 considered a good looking card with the oval photo, graphics, and placement of the name, team, and position.
Plenty of these cards got saved. Almost 900 of Robertson alone are recorded by PSA. Mint condition cards were selling for around $1,500 in 2019. By the time you drop to a PSA 7, the price is very affordable, but given the coronavirus market, prices spiked for PSA 7's in 2020 from about $75 in January to $300-$400 in November. As PSA 9's lacked registered sales in 2020, expect a similar jump.
Conclusion
There are a few more Oscar Robertson trading cards available in a 1968 Test, 1970, 1971, 1972, and 1973. However, this article covered some of the major ones, particularly the more important early cards. Robertson cards do become generally more accessible as they get older.
Oscar Robertson was a fantastic basketball player in college and the NBA. He will always be remembered as such. Additionally, his activism with the NBPA has far reaching effects on the game. Overall, Robertson is a legend of the early NBA.