Every sport has different complications of what is the "true" rookie. Then, between multiple brands, there is the question of what is the best rookie. Hockey's dilemma is can be straightforward: O-Pee-Chee or Topps? That choice covers some of the best vintage cards. However, there were several brands prior to and after the duopoly which created complications.
Today, although the NHL has strict regulations over what constitutes a rookie (the second the rookie's skates touch the ice), there is some confusion over licensed and unlicensed draft cards.
PSA has a good working definition of rookie cards: "A players first year of cards, whether or not it is his rookie season. Players may have one or dozens of rookie cards, depending on how highly touted he was as a youngster and in which year his rookie card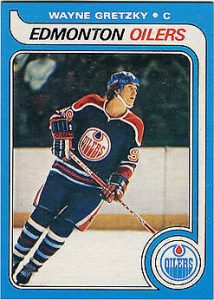 was issued."
We hope to alleviate any misgivings with a straightforward article on some of the best rookie cards in the hockey card hobby.
1979 O-Pee Chee Wayne Gretzky
Known as "The Great One," Wayne Gretzky has the resume to back up the title. Few players of any game have dominated their sport like Gretzky did. A great stat is that Gretzky is the only player to reach 200 points in one season, and he did that four times. He has the most recognizable rookie card in the hobby.
The card comes with a slew of centering and cutting issues. Every grade has some value for this card, but higher grades are precious. O-Pee-Chee cards are more difficult to find in high grade in general. There are hardly any Gem Mints out there. PSA estimates that a Gem Mint of this rookie is valued at $465,000. The price quickly drops to $30,000 at a PSA 9.
The card is so popular that counterfeits are everywhere. Be careful when buying this card.
1979 Topps Wayne Gretzky
Wayne Gretzky's second most important rookie deserves to be second on this list. While O-Pee-Chee takes the cake on this one, the 1979 Topps Wayne Gretzky is still one of the best cards.
Like the O-Pee-Chee, this card is hard to find in Gem Mint condition. A card of Gem Mint quality sold for $200,000 in August of 2016, so it comes close to its rival. The price also drops off quickly for this card at $15,000 for a PSA 9. A respectable PSA 7 can be bought for five hundred.
Either way, both of these cards are great finds.
1966 Topps USA Test Bobby Orr
The 1966 Topps USA Test 66 card set was released as a test of the United States market. Topps was intrigued by hockey cards because the NHL expanded from six to twelve teams in that year. Bobby Orr's rookie card is the key to the set.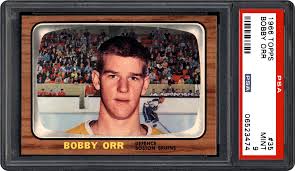 While the card has almost the exact same design as the 1966 Topps, the USA Test is valued at a much higher rate today. The only differences are that the borders are somewhat lighter and the backs of the cards have only English instead of French as well.
The card is superb, and it is rare today because it was a limited distribution. Conditions of this card are extremely sensitive, so a PSA 9 sold for $240,020.40 in February of 2019.
1966 Topps Bobby Orr
Even though this is the lesser of the two rookies of Bobby Orr, this card is still one of the more valuable cards in hockey cards. As mentioned before, the borders are darker, and this card has French on the back along with English because it was released in Canada.
The design is enjoyed today. The card has a television set layout with wood grain borders. A PSA Mint 9 is estimated to be valued at $115,000 as conditions are also sensitive for this card.
1958 Topps Bobby Hull
Known for his speed on the ice and great shooting, Bobby Hull was nicknamed "The Golden Jet." His blonde hair was a part of that too. Over 23 seasons, he earned the designation of an all time great.
Bobby Hull is the key to the 1958 Topps. A major reason for this is that he is the last card on the set having been placed in a corner, so his card is rare and condition sensitive. This card has absolutely horrible centering. A PSA 9 or 10 would reach six figures in auction.
1951 Parkhurst Gordie Howe
The 1951 Parkhurst Gordie Howe is an iconic card and the key to set. Howe is known for superb play over 26 NHL seasons (32 total; 6 with the WHA). He was the top record holder until Wayne Gretzky. It is fitting that Howe be dubbed "Mr. Hockey."
The set itself is impressive with players like Terry Sawchuck and Maurice Richard. However, the set was produced with terrible card stock which were stacked into piles and cut at the same time. Then, cards were randomized in a cement mixer before being packaged. A Gordie Howe in Mint or Gem Mint is rare. A Mint condition card will sell for over $50,000.
1923 V145-1 Bert Corbeau
This is a legendary vintage set, and Bert Corbeau is an important member. The set consisted for forty cards which also included King Clancy, Aurele Joliat, and Howie Morenz.
Bert Corbeau is not as great as any of those other mentioned players, but his card is the most valuable because the producing company severely limited his card.
The company had offered a promotion that if you could complete the forty-card set, you would get a pair of skates. Children clamored for the free skates, but the producing company had secretly short printed the Bert Corbeau to avoid having to give away too many.
Thus, this is a very important set, and a lesser known player is the toughest to find. There are only three copies graded under PSA's population report for Bert Corbeau. The three are lower grade, but that is not too much of a concern as a PSA 1 sold for $39,122 in 2015!
1953 Parkhurst Jean Beliveau
Jean Beliveau has ten Stanley Cups under his belt as a player with another seven as an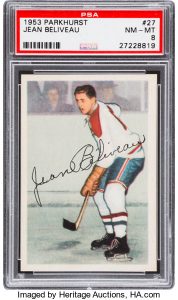 executive. Add on two Hart Trophies and one Art Ross Trophies, and Believeau is rightfully considered one of the most important men to the game.
The set itself is praised as beautiful, and Beliveau is a key to the set. The conditions are sensitive. The edges are jeopardized by chipping and toning along the edges. Gem Mints are extremely rare, and the last time a certified PSA 9 was sold  was in 2014 for $16,730.
2005 The Cup Sidney Crosby
Sidney Crosby could have his own article on his top rookie cards because of their strength as modern cards. The best of the best is the 2005 The Cup Sidney Crosby. It is often called the Holy Grail of Sidney Crosby cards. 
Limited to 99 copies, this card has an on card autograph and a jersey patch. The card is rarely up at auction. Pricing is incredibly hard to track down, but a hobby box with the *potential* for a Sidney Crosby was up for sale for $1800.
1923 V145-1 Howie Morenz
Howie Morenz was an original star of the NHL, which included an original Hall of Fame Inductee. Unfortunately, he broke a leg in a game at 34, and he died due to blood clots.
He was a more lauded player than Bert Corbeau who is in this set and mentioned above, but the Morenz card is less valuable because the Corbeau was deliberately short printed.
The highest grade on PSA's population report is a PSA 6. A PSA 5 sold for $22,000 in 2017. There is no telling how high an excellent grade could sell for.
1910 C56 Art Ross
Art Ross has tremendous significance to hockey as a player and coach who helped to develop the game into the modern rendition. An original Hall of Fame Inductee, the namesake trophy honors the top goal scorer.
The set measures at 1 ½" x 2 ⅝" in a traditional tobacco card size. As old as it is, the card rarely comes in high grade. The corners and edges are susceptible to abuse. The highest grade record of a sale is a PSA 6 for $8,638.88 in 2018.
1971 O-Pee-Chee Guy Lafleur
The 1971 O-Pee-Chee is known for its rookies and Hall of Famers. This includes Bobby Orr, Bobby Clarke, and Darryl Sittler as Hall of Famers, and the rookie crop includes Ken Dryden, Marcel Dionne, and Guy Lafleur. Lafleur is a major key to set.
Lafleur has a slew of accomplishments and trophies which includes five Stanley Cups. He was the first NHL player with over 100 points in six consecutive seasons. A random fact that should not be mentioned is that his brand was strong enough for him to have an album of hockey instructions backed up by disco music.
There are two superficial aspects of note. First, Lafleur is misspelled as "La Fleur" on every card. Secondly, the design is controversial. It is clearly cartoonish, almost straight out of Looney Tunes. Some like it, others don't, but it does not seem to strongly affect the value.
There are many high grade copies of this card. Well preserved, Gem Mint cards sell for around $10,000, and the price has been fluctuating over the last few years.
1910 C56 Cyclone Taylor
This is the second card from this awesome vintage set, and there are beautiful colors of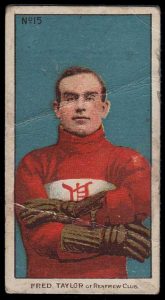 the bust of each player, and the back gives basic info. There are eight rookie cards of major players. Each of them could have their own description on this list. The set is unattributed, but it is believed that this historically vital set was produced by Imperial Tobacco.
Fred "Cyclone" Taylor lives on as a legendarily fast skater. The nickname of Cyclone was so well deserved that the card identifies him as Cyclone instead of Fred. He is known for scoring over one goal per game.
Cyclone's rookie is a key to the most historically important set. The cheapest cards in the set sell for $1500 at a PSA 9. At the same grade, the rookie cards of Hall of Fame players including Cyclone sell for $15,000.
1951 Parkhurst Maurice Richard
14 time All Star, inducted into the Hall of Fame in 1961, eight Stanley Cups, one Hart Trophy, and an offensive powerhouse with 17 NHL records at retirement, Maurice Richard has a great rookie card on an awesome set.
There are major quality concerns for this card from poor centering, terrible paper stock, and ink bleeding. Still, there are a few PSA 9's around, and they are valued at almost $20,000.
Conclusion
Hockey has some great rookie cards. The C56 and the V145-1 cards offer excellent vintage cards that are key for high quality collections. Through the post war era, there are great sets from every decade. Into the modern day, modern cards hold up hope because the NHL is doing quite well.