Outside of the numerous statistics, awards, and victories throughout sixteen seasons in the NHL and seven in the WHA, Bobby Hull might best be remembered for his combination of speed, physique, and legendary slapshot. The sources on his slapshot are varied, but many agree that it clocked in at 120 mph!
Known as the Golden Jet, he was scouted from a young age. He quickly moved through the Ontario junior leagues, until his debut at 18 years old for the Chicago Black Hawks in the NHL as a highly rated prospect. Hull put in a solid rookie (though he did not win the Calder Trophy) and sophomore seasons before he broke out with 39 goals in his third year.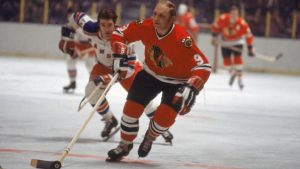 In the 1960-1961 regular season, Hull performed worse as his point total dropped from 81 to 56. However, as great players do, he flipped the postseason switch to accumulate 14 points in 12 games as Chicago won the Stanley Cup.
Though the Hawks did not win another Stanley Cup with Bobby Hull, they made deep playoff runs, and Chicago won their first regular season championship for the 1966-1967 season. It was their first since 1938 when Pete Muldoon cursed the team after being fired.
Bobby Hull had four consecutive seasons leading the NHL in goals scored, culminating in 58 goals in the 1968-1969 season. At the time, that record of 58 goals in a single season was considered almost unbreakable, but it was shattered a mere two years later.
Other notable accomplishments include two additional Art Ross Trophies, two Hart Trophies, 12 All Star appearances, and a Hall of Fame induction. He ended his career in the NHL second in total goals to Gordie Howe.
Hull was selected by the Winnipeg Jets in 1972 for the WHA General Player Draft. Hull shocked the NHL by leaving for the WHA at the age of 34 for an unheard of $1 million contract. It was a monumental moment for the competition between the two leagues because it sharply strengthened the viability of the WHA.
Hull played seven seasons for the Winnipeg Jets. He had an excellent career in that league, highlighted by three championships, an MVP award, and 77 goal season. At the age of 41, he played his final season when he was traded to the Hartford Whalers during the NHL and WHA merger.
He is remembered as a great player to Hawks and NHL fans alike. His cards have several worth going through. This article will help summarize a few of them.
1958 Topps Bobby Hull Rookie Card
Bobby Hull's rookie card is one of the most expensive hockey cards available. PSA estimates that a Mint 9 is worth $150,000, but it might sell for more because a PSA Near Mint 8 sold for $102,000 in 2017. Cards from players who defined an era typically increase in value. Decent grades are expensive but more affordable as a PSA 5 would sell on eBay for around $3,000 or $4,000 in 2019. Hull anchors the set, and he has by far the most expensive card.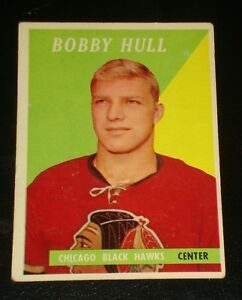 On the card, Hull is shown with his strong jawline in a Blackhawks uniform. The background is divided in yellow and bright green. The bottom has the team name, city, and position while Bobby Hull's name is shown in white.
Hull's card has some conditioning issues. It was positioned on the bottom corner of the 1958 Topps sheet before it was cut, and this led to poor centering. Since it is the last card in the set, the card often deals with extra handling and rubber band wear.
1960 Topps Bobby Hull
The drawing aspect to this card is that it is from the year of Bobby Hull's sole Stanley Cup victory. Also, it is a valuable card. One sold for $3,107 in 2016 in Mint condition. The card design has a posed picture of the player with a differently colored background depending on the team. The backs have stats and trivia.
1966 Topps USA Test
Bobby Orr is the gold of this set with a card worth upwards of $200,000. If that can be acquired, there are a few much lesser obstacles in price from Henri Richard, Gordie Howe, Jean Beliveau, Stan Mikita, and Bobby Hull.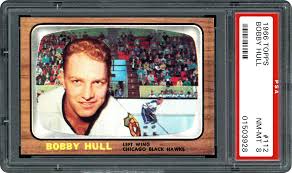 Bobby Hull has the third most expensive card on the set, behind Orr and Howe. A PSA 8 sold for $2,901 in 2010. More recent prices are difficult to gauge. PSA 7's were selling for about $400 on eBay in late 2019, and $150 or less was a common price for a PSA 6. Prices may have dropped significantly.
1968 O-Pee-Chee Bobby Hull
O-Pee-Chee did a nice job on their first set, and Bobby Hull's card is no exception. This was the first hockey set since 1938 with O-Pee-Chee's name logo, and it was distributed for Canada by the Canadian company.
The card has a posed shot of Hull, ready for action in his hockey gear. The yellow background shows a black and white photograph of players in action. The Blackhawks logo is in the top corner, and Hull's name, position, and the city of his team are on the bottom.
Hull's card is difficult to find in high grade. It jumps from a couple hundred on eBay at a PSA 8 to having sold for $1,613 in 2019 for a PSA 9.
1979 O-Pee-Chee Bobby Hull
The 1979 O-Pee-Chee is a special set. The main reason is that it has Wayne Gretzky's rookie card which is the most expensive card in the hockey card industry.
Secondly, it has the final cards for Gordie Howe and Bobby Hull. Both old timers had spent several years in the WHA, and they were brought back to the NHL due to the WHA/NHL merger for one final season. Gordie Howe was 51, and Bobby Hull was 41. It is a fitting set to represent the transition of eras and the passing of the torch.
While Gretzky's card is astronomically high, nearing half a million dollars in Gem Mint condition, Hull and Howe's cards are worth about $1,000 in Gem Mint condition.
Many of Bobby Hull's cards are sold with autographs. A Near Mint condition card with a certified autograph can be bought for only a few hundred.
Conclusion
Bobby Hull had a long and productive career in professional hockey. He deserves the recognition of best NHL player of the 1960s, which was named by the Associated Press in 1970. Having helped to define an era of hockey, Bobby Hull's cards are correspondingly some of the best and most reliable cards available.