Bobby Orr is the only NHL player to win two scoring titles as a defenseman. His career season highs were 46 goal and 102 assists in two separate seasons. He won the Norris Trophy as best defenseman eight consecutive seasons, and he added on three Hart Trophies as the league's most valuable player. He made waves for his five year 1 million dollar contract in 1971 as the first player to sign for a million dollars.
Born in 1948 to a former NHL player father, Orr was scouted early by the Boston Bruins who invited him to play with the Oshawa Generals at 14. Orr flourished on the junior team, and Bruins fans were reading about their prospect before he reached high school. Growing quickly, Orr was over 200 pounds at six feet tall by the time he was 17, making him ready to enter the pros at a young age in 1966.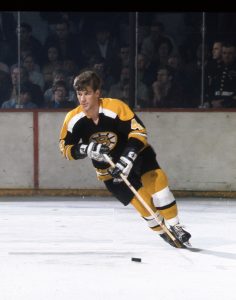 All Stars and other awards came in his rookie season, and the accolades continued. He led the Bruins to a Stanley Cup in 1970 and 1972. The only criticism of Orr was over his daring. He was seen as too risky to some, and this risk led directly to some injury problems.
His career began to wind down after he only played ten games in the 1975-1976 season. He left the Boston Bruins for the Chicago Black Hawks. There was a brief renaissance of hope during the Canada Cup of 1976 where Orr was MVP of the tournament.
However, twenty games and a sixth knee surgery during his first season with the Blackhawks, Orr spent the 1977-1978 season recuperating and functioning as an assistant coach. The man just wanted to play the game he loved, and he only managed six games for his final season. After being on the ice for four Detroit goals, Orr called his play "terrible."
Bobby Orr's career has an element of "what if" and "could have been." His career was effectively cut short by injuries at 27 and ended at 30. That is when many players are in their prime. Though the hockey world had nine fantastic seasons of Bobby Orr, fans and Orr himself were somewhat robbed of the several more seasons that many players have.
Still, the injuries make his lasting legacy more impressive that he was able to do so much in a short time. In one poll, Bobby Orr ranked as the second greatest player of all time and the greatest defenseman. Had he been given a vote, Gretzky said he would have voted for Orr.
This article will go over some of the best cards for the greatest defenseman of all time. O-Pee-Chee and Topps dominated his era, and they produced some great cards.
1966 Topps Bobby Orr
Topps is the sole distributor of a Bobby Orr rookie card. The 18 year old won the rookie of the year Calder Trophy. He had one of the greatest rookie seasons ever.
The front of the cards has a brown border to represent the wood of a television set. It is the same design as the popular 1966 Topps football set. The portrait of Orr takes up most of the space with his name, position, and team on the bottom. The backs have English and French translations with fittingly blank stats.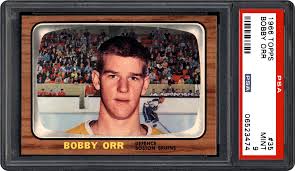 The brown border set is extremely likely to chip. Centering issues are also a problem. The place to check is the space between the name and the bottom of the card. This is a commonly counterfeited card, and ungraded copies require strong caution.
Bobby Orr's rookie card is one of the most expensive cards in the hockey card hobby. Even lower grades will sell for thousands. Due to condition issues price drop from $115,000 at a PSA 9 to $47,500 at a PSA 8.5. There is no record of a Gem Mint card, but the price would be exceptional.
1966 Topps USA Test Bobby Orr
Topps sent out feelers for a United States based market with this 1966 test set. It is identical to the 1966 base set, except for three minor details: there are no French translations on the back, the brown border is lighter, and there is an unintentional white strip on the right edge.
The test cards share counterfeiting and condition issues with the base set. The print run is not known today, and some estimate that there were fewer than 100 runs. This Bobby Orr card is not considered a rookie card in general by the community due to the limited and testing nature of the release.
Due to the rarity, the 1966 Topps USA Test cards are more valuable than the base. A PSA Mint 9 Bobby Orr card, population of 1 through PSA's registry, sold for $204,020 in 2019. Even a PSA 2 can sell for a couple grand.
The sale, coupled with a massive Gretzky rookie sold for nearly a half a million a few years earlier, has helped to speak to the viability of the hockey card market. Bobby Orr's cards are considered blue chip cards according to Forbes. Like Gretzky, Howe, and the greats of other sports, Bobby Orr's cards are considered near guarantees by investors, aka blue chip.
1967 Topps Bobby Orr
Bobby Orr's cards are somewhat top heavy, and they quickly fall in price. His sophomore season helped to solidify his greatness, and the cards become more affordable.
The card has a cutout of Orr holding his stick with a smile. The background is a pink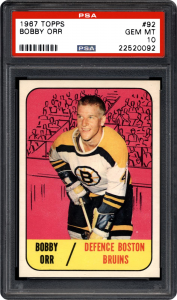 sketch of a rink and stands. The bottom in yellow has the position, team, and name. The rounded corner of the picture is surrounded by a beige border. The backs have a short bio.
A PSA Mint 9 of Bobby Orr sold for $6,600 in 2017. Versions of this card are available in the hundreds at a decent grade.
1968 O-Pee-Chee Bobby Orr
For Orr's first time on an O-Pee-Chee card, it is a somewhat ugly card, but it trades well. Bobby Orr is jutted to the right with the same picture from the 1967 Topps. Strange colors mark the background of these horizontal sets, and Orr's card is a lime green shade with darkened pictures of players in a hockey in the background. A PSA Mint 9 Bobby Orr sold for $13,546 in 2013.
1971 O-Pee-Chee Bobby Orr
Bobby Orr was on top of his game in 1971. He was in between two Stanley Cup victories, and he had signed a record breaking contract.
The design is strange. It comes off as a Looney Tunes homage. The cards are also known for having been poorly cut.
A PSA Mint 9 sold for $2,886 in 2013. Lower than a Near Mint condition card, a version can sell for well below $100. It is an excellent more affordable Bobby Orr card from a great year.
1978 O-Pee-Chee Bobby Orr
Many of his later cards have a steep drop off in value. Many cards can be purchased in Mint condition for a few hundred or less.
For the 1977-1978 season, Orr only played a few games. With his official retirement, O-Pee-Chee produced a card to honor his career and retirement. It is one of the more valuable later cards of Orr.
He is shown on the bench at the Canada Cup. It is fitting retirement card because the Canada Cup in 1976 was Orr's last flash of greatness and Orr is shown on the bench, symbolizing his new role in hockey. A Mint condition card will sell for around $1,000.
Conclusion
Orr would and does continue to be influential on hockey. He runs the Orr Hockey Group agency which represents more than 20 NHL players.
Although his career was effectively over at 27, Bobby Orr is the greatest defenseman to play in the NHL. His cards reflect that as great investments. Lower and higher grades of his cards have steadily risen over the last 20 years. He made an impact on the game that lives on through his cards.