Gordie Howe played in the NHL for a record 32 seasons for a total of 1,767 games after entering the league in the 1946-1947 seasons. 25 of those seasons were with the Detroit Red Wings, where Howe led the team to seven consecutive seasons at first place between 1949 and 1955. Howe and the Red Wings won four Stanley Cup championships in 1950, 1952, 1954, 1955.
In addition to longevity, Howe is remembered for his all around play, from wrist shots to handling, which garnished the nickname "Mr. Hockey." He is remembered in part for his grit. The "Howe Hat Trick," which consists of a goal, an assist, and a fight in one game, immortalizes his toughness.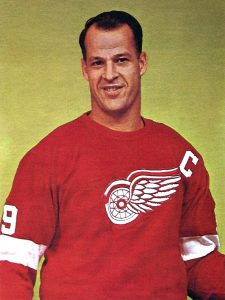 Six Art Ross Trophies as league scoring leader and six Hart Memorial Trophies between 1951 to 1963, Howe dominated the game. He briefly retired in 1971 for a front office position, but he returned to professional hockey with the WHA in the 1973-1974 season to compete alongside his two sons.
After two WHA titles across four seasons,  Howe played two more seasons for the WHA's New England Whalers until the team was absorbed into the NHL where Howe played one final season in 1979-1980. In his final season Howe was 51 years old. He played 80 games, started 15, scored 15 goals, and completed 26 assists.
At the time of his retirement, Howe led the NHL records with 1,850 points and 801 goals. Both records were later broken by Wayne Gretzky in 1989 and 1994 respectively. Howe had an additional 508 points and 174 goals in the WHA.
A testament to his grit came in 1997 when Howe was signed to a one game contract to the IHL's Detroit Vipers. He skated one shift at the age of 69, making him the only player to compete at the professional level in six decades.
Howe has several valuable cards across a long career. This article will take you through a few interesting cards.
1951 Parkhurst Gordie Howe RC
Parkhurst's debut set is anchored by Gordie Howe. Howe had entered the NHL at 18 in the 1946-1947 season, but there were no widely produced sets until Parkhurst began making hockey cards in 1951 when Howe was in his fifth season.
It's a scratchy looking card with a small, postage sized picture. Featured on the front are the name, team, position, a few stats, birthplace and date, and the card number with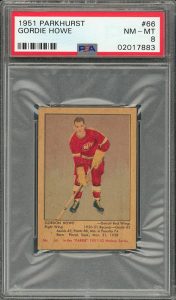 Parkhurst's name in red on the bottom. The back is blank which is uncharacteristic for sport's cards.
Conditions are sensitive for the card. They are rarely found in high grade. Counterfeiting is also an issue.
As a result, trusted copies are highly valued even at low grades. While a PSA 8 sold for $39,000 in 2019, a PSA 3 sold for $3,900 in the same year.
1979 O-Pee-Chee Gordie Howe
In his final NHL season at 51, Gordie Howe's card is not the most valuable on the set by a long shot. That honor belongs to Wayne Gretzky's rookie card. It is somewhat fitting that Howe's last card is on the same sets as Gretzky's first. The timing of Howe's official retirement is somewhat symbolic of the beginning of a new hockey era.
Howe's card on the O-Pee-Chee set will sell for a few hundred in Mint condition, and it quickly climbs into the thousands in Gem Mint condition. The Topps version is worth about a third of the O-Pee-Chee version
1952 Parkhurst Gordie Howe
Sophomore releases are typically a worthy find for a collector on a more reasonable budget. However, a legend like Howe will cost over $10,000 in Mint condition, and much lower grades are found in the hundreds.
The picture shows Howe poised on a rink with his stick. The picture and card are bigger than the previous release, and the picture is brighter while also coming with a facsimile autograph.
1952 Royal Desserts Gordie Howe
This whole set is rare, and it is absurdly hard to come by in good condition. They measure 5" x 7". The front has a black and white photo of the player, a facsimile autograph, some brief information, and the message "To a Royal Fan". The backs are blank.
The cards were produced in one year by the Royal Desserts Company. They were found in boxes of desserts which explains the issues with conditions. They released sets for multiple sports.
There were eight players in the hockey set. They were all from the Detroit Red Wings or the New York Rangers. The players in the set are Tony Leswick, Chuck Rayner, Edgar Laprade, Sid Abel, Ted Lindsay, Leo Reise, Red Kelly, and Gordie Howe.
Howe has the most expensive card. A beat up Authenticated card sold for $1,800 in 2017. Even a PSA 4 is estimated to sell for $8,000.
1954 Topps Gordie Howe
The major distinction of this card is that 1954 was Topps first set. The design and picture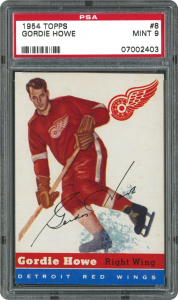 is a cut above Parkhurst. It is on the expensive side for a Howe card, and it costs upwards of ten grand in Mint condition.
1959 Topps Gordie Howe
Topps released a nice set this year. It features a posed picture of the player, his name and position on the bottom, the team name on the top, the logo off to the side, and a blue background with a white border. Howe has a nice photo for his card in which he looks off to the side. The card costs about $1,400 in Mint condition.
1960 Parkhurst Gordie Howe
Parkhurst had the rights to the two Canadian based teams and the Detroit Red Wings from 1960-1963. Having the only Howe cards for those years is a major claim to fame for the Parkhurst brand. Gordie Howe's cards sell for around $1,000 in Mint condition.
1966 Topps USA Test Gordie Howe
This set has a card from Bobby Orr's first year. Although it is not considered his rookie card (the base 1966 Topps is), it is one of the most valuable cards in the hobby at $200,000 in Mint condition in 2019.
Howe's card gets a bump from association, and the USA Test set is rare which raises values as well. A PSA 8 sold for $3,115 in 2010, and a grade higher would most likely sell far higher today.
Conclusion
Howe's cards continue on for more than a decade. Three seasons of cards of Howe were produced by O-Pee-Chee when he played in the WHA. He is the most expensive card on each of those sets, and they sell for $100 or less at a PSA Mint 9. As mentioned above, his final card came in 1979 at the age of 51.
Howe's career is unbelievable in regards to longevity. He showed incredible grit and determination in his pursuit of hockey. His cards are interesting to track down because they cover such a long career. It is more fascinating in considering that his first several seasons were never recorded by a hockey card.
Not only did Howe leave one of the best careers, but he paved the way for other players in a career spanning six decades.