Bob Gibson (1935-2020) is best remembered as one of the greatest pitchers in baseball history. He played 17 seasons for the St. Louis Cardinals, through which he earned 251 wins, 3,117 strikeouts, and a career ERA of 2.91.
During his time in MLB, Gibson was a nine time All Star, two time World Series Champion, two time World Series MVP, two time NL Cy Young winner, nine time Gold Glove winner, and in 1968 he was the NL MVP, NL strikeout leader, and NL ERA leader. Last but not least, Gibson pitched a no hitter on August 14, 1971.
Gibson was born in 1935 in Omaha, Nebraska. His father died a few months before his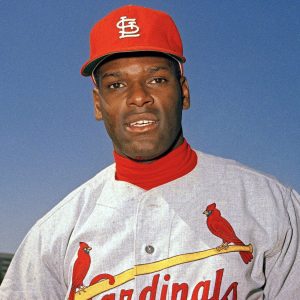 birth, and Gibson's childhood was further troubled by a series of crippling illnesses such as rickets, pneumonia, and asthma.
He was able to overcome these setbacks, and he became a star athlete in baseball, basketball, and track. Creighton University accepted him on a full athletic scholarship for basketball.
Remaining a multi-talented athlete, Gibson played basketball for the prestigious (especially at that time) Harlem Globetrotters for a season before signing with the St. Louis Cardinals in 1957. After a few years in the minor leagues, Gibson cracked the Cardinal's starting pitching rotation in 1961.
1964 was the big year for Bob Gibson when he pitched two complete game victories in Game Five and Game Seven. Naturally, he was awarded the MVP. Gibson joined the stage as one of the league's great pitchers.
He returned in 1967 with another World Series MVP where he won three starts, including Game Seven.
Yet, as referenced above, his 1968 season may be even better. The 1968 MLB season is often referred to as the "Year of the Pitcher," and Gibson led the year. Gibson's season is considered one of the top pitching seasons in MLB history.
Gibson completed 28 of his 34 starts, had 13 shutouts and 268 strikeouts which both led the league, and had a 1.12 ERA which is the lowest since 1914.
Perhaps most impressive, Gibson set the record for most strikeouts in a World Series game with 17 in Game 1 of the 1968 World Series.
Gibson's dominance, as well as the performances of Denny McLain, is cited as the major reason for rule changes in MLB. The "Gibson rules" led MLB officials to lower the pitcher's mound in 1969 from 15 inches to 10 inches, as well as reducing the height of the strike zone.
Gibson retired in 1975, and he became a pitching coach for the New York Mets and Atlanta Braves. In 1996, he returned to the Cardinals as a special instructor.
In terms of lifetime achievements, Gibson's no. 45 was retired by the Cardinals, he was inducted into the St. Louis Hall of Fame, he was named to the MLB All-Century Team, and he was inducted into the Hall of Fame in 1981.
Gibson passed away on October 2, 2020 from pancreatic cancer. It was 52 years to the day since he struck out 17 players in the 1968 World Series Game 1. Below are some details on some of the best cardboard representations of Bob Gibson.
1959 Topps Bob Gibson Rookie Card
There are 572 cards in this set, and they measure 2 ½" x 3 ½". Bob Gibson's rookie card is a key, along with Ernie Banks, Willie Mays, Mickey Mantle, Duke Snider, and Hank Aaron.
Gibson's card features a circular close up photograph of the player with a pink background. "Robert Gibson" is scrawled across the front. The caption has his team and position. His card is no. 514.
Given the era, there are plenty of copies available. PSA alone has 3,880 copies graded. There are a few Gem Mint cards floating around, and the most recent sale was for $53,759 in 2012. More recently, in 2020, PSA Mint 9's were selling for over $30,000. If you only had $1,000, you would have to drop to a PSA 6 or lower.
1960 Topps Bob Gibson
Bob Gibson was still a promising prospect when this card came out. He was yet to crack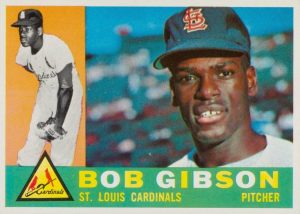 the starting lineup.
There are 572 cards in this set which measure 2 ½" x 3 ½".
For Gibson's sophomore card, supply follows demand, and there are fewer cards available. PSA has about 2,156 cards graded.
There are plenty of sales of this card to analyze. A Mint copy of this card will go for around $2,000. $1,000 should nab you a PSA 8.
1961 Topps Bob Gibson
There are 587 cards in this set, and they measure 2 ½" x 3 ½". This year marks the return to a vertical format. The major rookies include Ron Santo, Billy Williams, and Juan Marichal.
Gibson's card is at #211. There are 2,031 copies graded by PSA.
Mint condition cards soared during 2020. In the few years prior, Mint copies were selling between $400-$800. Prices began to rise, and in early 2021, a Mint card sold for $2500. Thus, $1,000 will not guarantee you a Mint condition card, and you might have to drop to a PSA 8.
1962 Topps Bob Gibson
There are 598 cards in this set, and they are standard sizing. The cards have a photograph of each player set against a wood-grain backdrop. The bottom corner is given the artificial appearance of peeling, which reveals the name, team, and position of each player. The background is heavily susceptible to chipping.
Bob Gibson's card is a short print. Other notable players with scarce cards include Willie McCovey and Hoyt Wilhelm. Gibson's card is at #530.
There are over 800 cards registered by PSA. The short print nature of this card makes it in higher demand, so the price gets pushed up for a mid career card. For the last several years, a Mint copy has sold for between $2,000 – $4,000.
1964 Topps Bob Gibson
The last card to be covered commemorates one of the best seasons of Gibson's storied career. His Games Five and Seven in the 1964 World Series were textbook.
There are 587 cards in the set of standard size. The set is famous for the following line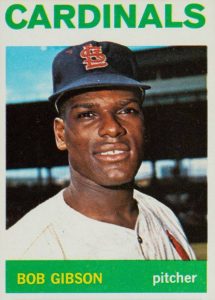 on a Dave Bennett RC, "The 19 year old right handed curve baller is just 18 years old."
There are 1,120 cards registered by PSA. For a thousand dollars, you should be able to get a PSA Mint 9.
Conclusion
Gibson is on every Topps set until his retirement, as well as a few smaller and regional brands, but the earlier Topps cards are typically the most valuable. There are plenty of Gibson cards to choose from, which can be good for a certain type of collector.
Bob Gibson's long and productive career is one of the best that MLB has seen. Hopefully a few of his cards do his career justice.