Doug Harvey is among the ranks of Eddie Shore and Bobby Orr as one of the most impactful defenseman ever. He was the best defenseman during his peak.
Harvey was born in 1924 in Montreal. He engaged in many sports growing up, while also causing trouble and getting into many schoolyard fights. Though he showed promise towards professional hockey, Harvey enlisted one month before his 18th birthday into the Royal Canadian Navy.
He was assigned to a morale boosting hockey team despite his formal requests for active service. In 1944 he was assigned to a merchant ship designed to protect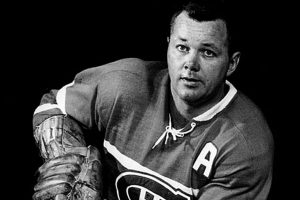 commercial ships. During his time in the Navy, he reportedly began developing an addiction to alcohol.
Upon exiting the service, Harvey played hockey for minor league teams, and he was promoted to the Montreal Canadiens in 1947, where he would stay until 1961. During his time with the Canadiens, he was named to 11 All-Star teams, he won several James Norris Memorial Trophies as best defenseman, and he helped the Canadiens win six Stanley Cups.
Harvey worked to establish a much needed players association while with the Canadiens. That infuriated ownership, and he was traded to the bottom of the league New York Rangers in 1961. Including one year as a player-coach, Harvey played with the Rangers until 1963. He played in the minor leagues for a few years until he was called up to the Detroit Red Wings for a disappointing series in 1967. He had his final NHL appearance with the St. Louis Blue in 1969.
Harvey had little education and no other skills, so he continued to play in the minor leagues as he approached 50. His alcoholism continued to advance, and he was dual diagnosed with bipolar disorder. One week after his 65th birthday, Harvey died of cirrhosis of the liver.
Ranked in the top ten on some All Time NHL Players lists, Harvey is fondly remembered as a fantastic defenseman. His defensive style is often credited with developing the dynamic offense of the Canadien teams, and his style developed hockey further as a whole. He was honored with unanimous selection to the Hall of Fame in 1973. This article will summarize facts about a few of his commemorating cards.
1951 Parkhurst Doug Harvey Rookie Card
There are 105 cards in this set with each card measuring 1 ¾" x 2 ½". It was the first hockey set in several years as a result of WWII paper shortages with O-Pee-Chee. Thus, there are tons of rookie cards on this set. Despite the company, Harvey functions as a key to the set.
Harvey is shown on the ice in a colorized illustration. The caption has his name, team,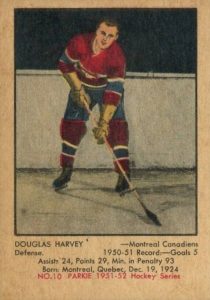 position, the previous year's statistics, and manufacturer information.
There are 229 cards registered by PSA with five of them being Mint and a couple dozen at every other grade. Mint cards sell infrequently. There was one public auction for $5,880 in 2019. PSA 8's have sold for between $1,000 and $2,000 since 2016, and the average seems to be about $1,500.
1952 Parkhurst Doug Harvey
Parkhurst released another 105 card set with different measurements of 1 15/16" x 2 15/16". There are 144 cards registered by PSA of this card. The highest graded cards are 19 PSA 8's. Those PSA 8's sell for about $500, but they are sold infrequently. PSA 7's are more affordable at about $150.
1953 Parkhurst Doug Harvey
The cards measure 2 ½" x 3 ⅝" in this 100 piece set. The color image continued to improve for Parkhurst. Harvey is shown on the ice, and a facsimile autograph scrawls across the card.
There are 106 copies of this card registered by PSA. 3 of them are Mint.  22 of them are NM-MT. Since 2017, PSA 8's have sold for between $200 to $450, and prices have trended upwards. PSA estimated that Mint copies are worth over $1,000.
1954 Parkhurst Doug Harvey
Harvey's card shows him on the ice with a star in the background. A facsimile autograph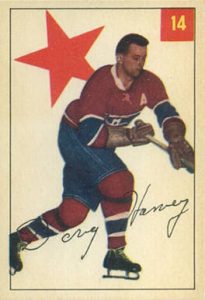 is printed near the bottom, and his card #14 is in the top right corner. For the set, Parkhurst released 100 cards with the size of 2 ½" x 3 ⅝".
PSA has 132 copies registered, and 22 NM-MT copies are the highest grade which have sold for a few hundred a piece since 2016.
1955 Parkhurst Doug Harvey
There are 79 cards in this set, and they measure 2 ½" x 3 9/16". The front of Harvey's card shows him on the ice with the Canadiens logo in the upper left corner, and his name and card #45 caption the bottom. There are two versions of the back. One has a Quaker Oats advertisement, and the other is more traditional with a brief bio, stats, and a promotion. The Quaker Oats is scarcer.
Harvey has 129 cards registered by PSA, and the highest graded cards are 21 PSA 8's. There are two public sales for PSA 8's: $889 in 2011 and $356 in 2013.
1957 Parkhurst Doug Harvey
Harvey retired in 1956 after causing a costly error that led to an ill-timed goal by an opponent. He was so torn up by the mistake that he spent an entire year away from the NHL.
The design on the front is classic Parkhurst. He is on the ice, the Canadiens logo is shown, and the caption has his name and card number. Featured at the #1 spot, Harvey has 114 cards registered by PSA for this card. There is one Gem Mint but no Mint cards. A PSA 8 sold for $2,034 in 2019, and the price drops to a few hundred by the time a collector drops to a PSA 6.
Conclusion
Parkhurst did well in producing cards of Doug Harvey, and Topps/O-Pee-Chee cover some of his later cards. His best cards were covered here.
Harvey is remembered as one of the greatest defenseman of all time. Though he had troubled aspects of his life, his legacy remains as a crucial member of the early days of professional hockey. The continuation of his legacy is helped by his trading cards.