Carl Braun (1927-2010) was an important basketball player in the early days of the sport as it transitioned into a professional league. He played for the New York Knicks from 1947-1950 and 1952-1961, and he finished his career in 1962 with a final season with the Celtics.
With over 10,000 points, 2,100 rebounds, and 2,800 assists, Braun was a strong producer in early professional basketball. He was also a five time NBA All Star in five consecutive years from 1953-1957, an All BAA Second Team in 1948 and All NBA Second Team in 1954.
Braun was born in Brooklyn, New York. He played for the Colgate University Raiders in college. Braun also excelled at baseball, and he was in the minor league system for the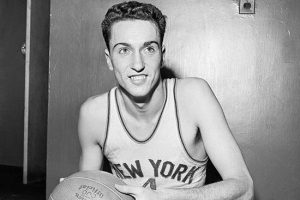 New York Yankees until a shoulder injury derailed his pitching career.
So, he joined the Knicks the next season, which was in the BAA, the Basketball Association of America. In 1949 the BAA merged with the NBL, the National Basketball League, to form the modern day NBA.
At 6ft 5in and 180 pounds, Braun was a top shooting guard and point guard in professional basketball. In his first seven seasons, he led the Knicks in scoring. He held the single game scoring record after scoring 47 points on December 6, 1947.
Braun briefly exited the NBA for two seasons from 1950 to 1952 to serve in the United States military during the Korean War.
After over a decade as a player, Braun was named player-coach of the Knicks. He was not successful as the team had a 40-87 record under his tenure.
Braun was elected to the NBA Hall of Fame in 2019. The recent selection has brought him from obscurity to modern day interest, and the popularity of his cards have followed.
Though he was not a superstar like the Celtics or Lakers players, Braun was impactful on the beginnings of professional basketball.
One enduring anecdote is the origin of the word "swish" to describe a smoothly made basket. The word is attributed to Marty Glickman, the announcer for the New York Knicks, Giants, and Jets, who is widely considered the great sports announcer of his day and strongly influential on the craft. However, Glickman later told reporters that he took the word from Braun, who uttered "swish" during practice.
During many other eras, a player like Braun would largely be forgotten by the card collecting community. Yet, his importance on the start of the NBA as a member of a major team like the Knicks has led him to be a crucial player to collect for vintage basketball cards.
Lastly, Braun makes an appearance on major vintage basketball sets like the 1948 Bowman, 1957 Topps, and 1961 Fleer. Until the 1980s, basketball sets were uncommon, and Braun is on three of the most important sets in the hobby. This article will take you through his cards.
1948 Bowman Carl Braun Rookie Card
The 1948 Bowman Basketball set had 72 cards that measure 2 1/16" x 2 ½". There are some major players on this vintage set, including George Mikan, Bob Davies, Arnie Risen, and Red Holzman. Professional basketball was just starting, and this set covers some of the most important early players.
This is the first set from a major brand that was nationally distributed, so nearly every card is a rookie card.
The set is fairly scarce, where even a popular card like Carl Braun is less than common.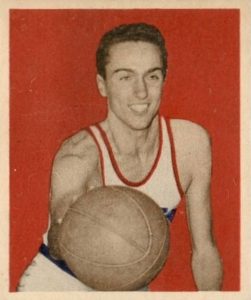 PSA has about 130 cards registered, and a couple of those cards are in high grade. Braun's card is also the last in the set at #72, so it is more subject to handling issues like rubber band wear.
While Braun's card is not nearly as expensive as the famous Mikan card, the Braun card would probably fetch more than $10,000 if it ever went up for auction in Mint condition. PSA NM-MT 8's are somewhat common, and they have sold for over $2,000. Overall, he is one of the most expensive players on this set.
1957 Topps Carl Braun
The 1957 Topps Basketball was the company's entry into the basketball card market. They would quickly exit, and Topps would not return until the late 1960s.
The set has 80 cards of standard size. Since this is the first major basketball set since the 1948 Bowman, many cards are rookie cards. This includes Bill Russell, Bob Cousy, Bob Pettit, and Tom Heinsohn, to only name a few. Carl Braun sits at card #4.
Many of the cards are scarcer, and a great number of cards have issues with conditions from substandard printing.
There are a decent number of these cards around on the secondary market, and PSA has at least 200 copies of almost every card graded. Braun's card is numbered at just under 200, but none of the cards are Mint.
Mint copies would sell for thousands, while PSA 8's will sell for a few hundred.
1961 Fleer Carl Braun
The 1961 Fleer Basketball is the last epic set that Braun appears on. There are 66 cards in the set, and each card measures 2 ½" x 3 ½".
Once again, there are plenty of rookie cards due to the infrequency of production in that era. Major rookies include Wilt Chamberlain, Jerry West, and Oscar Robertson. The last 20 cards are "In Action" cards, where major stars were featured twice.
Carl Braun is at card #7, and he is not featured on an "In Action" card.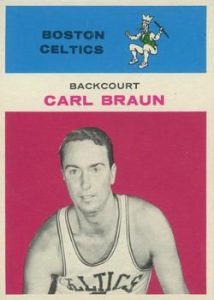 Braun's card is not the most treasured on the set, but he still has over 350 cards preserved by PSA, where twenty of them are Mint and three of them are Gem Mint.
While a Gem Mint copy sold for $3,717 in 2019, prices drop fast to PSA 9's and 8's, which sell for about $600 and $200, respectively.
Conclusion
An important member of the early New York Knicks, a member of three of the greatest vintage sets, and an excellent basketball player of the time, Carl Braun is well worth remembering via basketball cards.