The early years of the NBA were dominated by big men. George Mikan, aka "Mr. Basketball," was the first dominant big man. In his career of nine years, he turned the center position from an afterthought to the most important position of the 50s, 60, and 70s. He was the NBA's first superstar.
Born in 1924, Mikan grew quickly, reaching six feet by eleven years old. He eventually reached 6 feet 10 inches tall. At this stage of basketball's development, Mikan was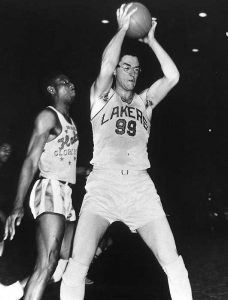 considered too tall, ungainly, and clumsy for basketball.
Mikan was considered a long shot to ever play after an awful tryout with Notre Dame. Mikan entered at DePaul University, and newly hired head coach Ray Meyer took Mikan under special consideration. Meyer spent six weeks of daily practices with Mikan alone in activities ranging from dancing to shadow boxing.
Mikan began to develop, was named All-American in his last three seasons, and the NCAA instituted goaltending to counteract Mikan's shot blocking. The shot clock was also instituted as a result of Mikan during his professional years because delay tactics were used to try to defeat Mikan's prowess.
After a tremendous tournament in his senior year, Mikan signed the highest contract in American basketball. The contract was $60,000 over five years for the Chicago Gears.
After two championships, the Gears folded, and Mikan joined the Minneapolis Lakers (who moved to Los Angeles in 1960). The Lakers won the NBL title in 1948, the BAA title 1949, and the championship of the first year of the NBA in 1950. With one loss in 1951, the Lakers won the next three NBA titles from 1952-1954.
Mikan was busy during and after his career. In his third professional season, Mikan passed the bar exam. He went on to run for Congress, coach the Lakers for 39 games, part owned a roller hockey team, and was Commissioner of the ABA for a few years.
Despite his lanky look with thick protective glasses, Mikan is remembered for his bruising style and dominating the physical game of the paint. Mikan paved the way for the likes of Wilt Chamberlain and Bill Russell to annihilate competition down low.
Mikan's cards are severely limited because major brands were not producing basketball cards at the time. His rookie card is from the 1948 Bowman which is one of the few most important sets in basketball trading cards. Furthermore, Mikan's card is the true anchor of the set. Outside of the 1948 Bowman, there are two lesser brands to mention.
1948 Bowman George Mikan Rookie Card
Mikan's picture on this card iconic. He is bent, driving forward, and he has a competitive look on his face. The set had 72 cards, and they measure at 2 1/16" x 2 ½". Mikan was later in the set at card #69, and later cards were produced in fewer quantities. There are a few variations as well, including a grey background or inconsistencies with the ink.
The prices of this card have risen. A Population 1 PSA Gem Mint 10 card sold for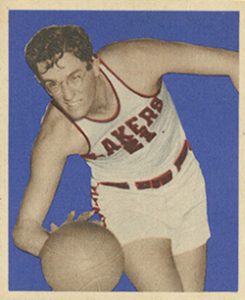 $218,550 in 2009, and by 2015 the price had doubled to $403,664. The increase in price can be similarly tracked through lower grades. For example, a PSA 8 sold for $16,800 in 2015, and the same grade sold for $30,000 two years later.
Part of the value of a high grade card like Mikan's rookie is that the population is unlikely to rise much. There is one PSA 10, four PSA 9's, and 23 PSA 8's. While lower grade cards will surface from time to time, there is most likely little chance that 8-10 increases by much.
1950 Bread For Health George Mikan
Released with bread loaves, there are 32 cards in this set, and they cover multiple sports including football, basketball, hockey, boxing, and a couple others. These rare cards are uniquely shaped with convex corners. They are extremely condition sensitive. High graded copies would be very valuable.
Prices are competitive for this set. One auction company sold a completed set for $15,275 in 2010. A mere four years later in August of 2014, another company auctioned a set missing one card for $30,000. Fourteen of the cards were graded as Poor, and seven were just authenticated.
Prices for Mikan's cards are difficult to track down because of rarity and condition sensitivity. A card graded as a PSA Poor 1 would sell for about $1,000. There's no telling what a Mint card would sell for, but likely none exist.
1950 Scott's Potato Chips George Mikan
Produced by Scott's Potato Chips, this 13 card set measured 2" x 4 ½". It featured players from the Minneapolis Lakers. While conditions are sensitive from being released with potato chips and cheese potato boxes, the card was produced with heavy card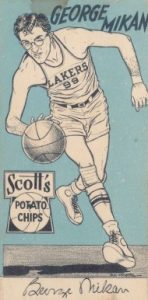 stock, so there are a few better quality cards than the 1950 Bread for Health.
The fronts of the cards show a black and white cartoonish picture of each player poised in action with a light blue background. Mikan's picture is the same outline as the 1948 Bowman card. There is a facsimile autograph below each card. The potato chip company's logo is on the left.
The backs featured the redemption offer. If a collector completed the set, they could redeem them for player photos and tickets to Lakers games.
Due to the redemption offer, local release, and nature of distributing through potato chips, this set and Mikan's card are ultra rare. There are only 76 cards registered by PSA. A PSA EX + 5.5 Mikan sold for $6,226 in 2017. During the same auction, one of the highest, if not the highest at the time, graded completed sets sold for $16,568. The highest registered Mikan card is graded at a PSA 7. It has an estimated value of $12,500.
Conclusion
There are a few other Mikan cards that are valuable. They had limited distribution from minor distributors. Kellogg's, Exhibit Supply, Wheaties, and Royal Desserts jumped at the chance to profit off the image of the NBA's first superstar by including him in multi sport sets.
Information on distribution, details, and prices are difficult to find, but many of these cards can sell for hundreds of dollars depending on the grade. However, the three cards described are the major draws in Mikan cards.
Mikan defined the role of the center for decades to come. His cards are the most important to be produced during the NBA's beginnings.