Brooks Robinson (born 1937) had a 23 year career with Baltimore Orioles spanning 1955 to 1977. He is considered one of the best third baseman ever.
Over his career, Robinson batted .267, had 2,848 hits, 268 home runs, and 1,357 runs batted in. He had many awards, which include 18 All-Star games and the 1964 AL MVP. Robinson helped the Orioles win the World Series in 1966 and 1970, and he was the World Series MVP in 1970.
His defensive abilities were specifically acknowledged during and after his career. He is often considered the best defensive third baseman ever. This was shown by his 16 Gold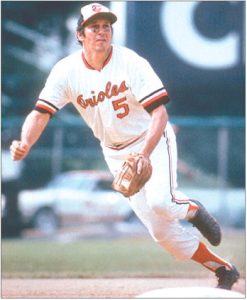 Glove Awards and his nicknames "The Human Vacuum Cleaner" or "Mr. Hoover."
His third base defense skills was best depicted by teammate and fellow Hall of Famer Frank Robinson who once commented regarding Brooks, "He was the best defensive player at any position. I used to stand in the outfield like a fan and watch him make play after play. I used to think, 'Wow! I can't believe this.'"
Robinson was born in Little Rock, Arkansas, and he grew up as a local star who was signed with the Orioles upon high school graduation in 1955 after he declined full scholarships to college and interest from 12 other MLB teams.
In that same year of 1955, Robinson was called up to the majors, but he was sent back down. Robinson would have been in MLB soon, but he had to compete with future Hall of Famer George Kell. He spent the next few years going up and down.
After a six month stint in the Arkansas National Guard further complicated matters, Robinson would not be indisputable third basemen until 1960. He would become a star soon enough.
Despite his on field success, Robinson maintained humility and grace off the field. One reporter from Detroit said, "How many interviews, how many questions — how many times you approached him and got only courtesy and decency in return. A true gentleman who never took himself seriously. I always had the idea he didn't know he was Brook Robinson."
His best performance probably came in the 1970 World Series where he was named MVP. He batted .429 and had two home runs with six runs batted in. On the defensive end, he was phenomenal.
Considering his career and that 23 years with the Orioles is a record for the longest time spent with one MLB team, Robinson's No. 5 was naturally retired by the Orioles, and he was inducted into the Orioles' Hall of Fame.
Furthermore, Robinson was named to the MLB All-Century Team, and he was inducted into the Hall of Fame in 1983 with 91.98% of the vote on the first ballot.
There are many excellent Robinson cards available due to his era of playing and long career, and this article will cover a few of the best.
1957 Topps Brooks Robinson Rookie Card
The 1957 Topps has 407 unique cards of standard size. Topps standardized the size to 2 ½" x 3 ½" during this year, and they began offering full color images.
Brooks Robinson is a key to the set, but he is one of many. Major rookies include Jim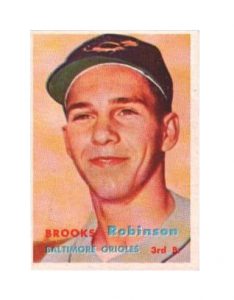 Buning, Tony Kubek, Bobby Richardson, Frank Robinson, and Don Drysdale. Ted Williams, Roberto Clemente, and Mickey Mantle also grace this star studded set.
The Robinson card is well preserved. PSA alone has over 3000 cards registered. His rookie card is bought and sold frequently, but higher grades will be hard to track down.
The most recent sale of a PSA Gem Mint 10 is from May 2012 for $47,251. Meanwhile, Mint condition cards were sold many times in 2020 for between $10,000 and $15,000. If you have a budget of $1,000, you will most likely have to drop to at least a PSA 6 or maybe lower.
1958 Topps Brooks Robinson
The 1958 Topps has 494 unique cards of standard size. Many of the keys are the same, while adding the rookie cards of Roger Maris and Orlando Cepeda. The set is most famous for its inclusion of subsets.
There are over 1600 Brooks Robinson cards registered by PSA, but few of them are in top grades.
While Mint condition cards have sold for between $2,000 and $3,000 since 2005, PSA 8's will cost a collector around $500.
Overall, it is a good option for a cheaper sophomore release.
1959 Topps Brooks Robinson
The 1959 Topps set has 572 unique cards of standard size. There are around 2400 PSA cards graded. Mint condition cards cost several hundred dollars, but prices drop fast, and the lower grades are very affordable.
1960 Topps Brooks Robinson
The 1960 Topps set has 572 cards of standard size. PSA has about 1800 cards graded. Mint copies will cost about $1,000.
Conclusion
Robinson cards remain valuable over his long career. Deep into his playing years (into the 1970s), his base card can still go for thousands in Mint condition.
Even though cards will become more affordable and more common later in a career, especially one nearing the 80s, Robinson stays as a key to over a dozen Topps sets.
Outside of the 1960 Leaf and 1963 Fleer, in which Robinson cards only cost a couple hundred in Mint condition, Topps dominated the market in Robinson's era. That's not a bad thing! They produced a plethora of Robinson cards, many of which remain valuable today.
Brooks Robinson is remembered as a phenomenal third baseman on the field and an admirable person off the field. The good news for collectors is that he played during an era of some great Topps sets, which are also not the most expensive like the early 1950s.
This is a fun player to collect because of the cards available, the long career, the Hall of Fame caliber, and as Baltimore sportswriter Gordon Beard said, "Brooks never asked anyone to name a candy bar after him. In Baltimore, people named their children after him."