Before his tragic death in a plane crash, Roberto Clemente was the first Latin American player to reach the milestone of 3,000 hits in MLB, as well as achieving several other awards.
He was born in Carolina, Puerto Rico in 1934. His family struggled, and Clemente was expected to work with his father from a young age. He quickly showed significant proclivity to multiple sports. He was a track and field standout with a chance at the Olympics, but he focused on baseball instead.
After time with amateur leagues, Clemente signed at 18 years old with the Cangrejeros de Santurce of the Puerto Rican Professional Baseball League. In only two years, he was discovered by the Brooklyn Dodgers who signed him to the minors.
Clemente debuted in MLB in 1955 for the Pittsburgh Pirates. Though he played well, a new culture and varied climate, as well as injuries, stunted his early career. During the 1960 season Clemente began to take off. Not only did he earn his first All-Star nomination, but he also helped the Pirates win the World Series. He would be named All-Star eleven more times. Clemente won his first Gold Glove the next year, and he would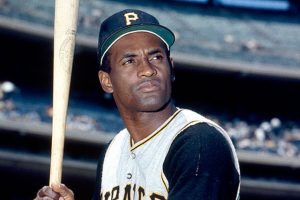 be awarded a Golden Glove for twelve straight years.
Clemente was showered with accolades for the remainder of his career. As a result of a .317 batting average, exactly 3,000 hits, 240 home runs, and 1,305 runs batted in over his career, Clemente was the NL MVP in 1966, four time NL batting leader, World Series MVP, and a first ballot Hall of Famer.
In addition to his baseball skills, Clemente was known and is remembered for his extensive charity work in Latin America and the Caribbean. After the massive earthquake in Managua, Nicaragua in 1972, Clemente gathered resources for the survivors. The first three shipments were stolen, so Clemente decided to accompany the fourth shipment. The engine on the plane failed, and Clemente and the other passengers died in a crash in the ocean near Puerto Rico.
It is a tragic moment in history where Clemente overcomes adversity yet dies soon after his 3,000 hits. In documentaries and biographies today, Clemente is remembered in equal parts for his service work as his exceptional baseball abilities. Luckily for collectors, there are several great cards from a long career that help to immortalize Clemente's talent and heart.
1955 Topps Roberto Clemente Rookie Card
Roberto Clemente's rookie card has a busy design. It shows a picture of Clemente's face, Clemente in batting position, a facsimile autograph, a Pittsburgh Pirates logo, and the captions of his name, position, and team.
There are 206 cards in this set, and Clemente is at #164. The cards measure 2 ⅝" x 3 ¾".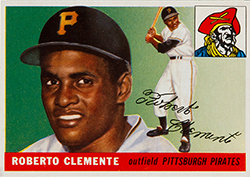 Many people treasured and preserved the Clemente rookie, so there are over 4,000 registered by PSA. This includes one Gem Mint copy, eleven Mint copies, and hundreds more at each of the other grades.
The Gem Mint copy sold for $432,690 in 2012, and Mint copies have sold for between $264,000 to $478,000 since 2015. Even a PSA 8 sold for around $40,000 in 2019. To buy a Clemente rookie card for less than $1,000, collectors would have to drop to a PSA 3.
1956 Topps Roberto Clemente
On the front of this card, Topps used the same portrait shot as the 1955 Topps. Next to Clemente's smile is Clemente making a leaping catch.
Clemente's card is located at #33 in the 340 card set. The cards measure 2 ⅝" x 3 ¾". Cards for the set either come in Gray Backs or White Backs.
Between both the Grey and White Backs, Clemente has about 5,000 cards registered by PSA. There's one Gem Mint card, 25 Mint cards, and hundreds at every other grade.
Mint condition Grey Backs have sold for $22,000 to $28,000 since 2018, while White Backs have sold for $18,000 to $21,000. While the Grey Backs tend to be more expensive, the difference in price at lower grades becomes less pronounced and seemingly negligible with each drop down in quality. PSA 8's sold for around $2,500, and PSA 7's can be purchased for about $700.
1957 Topps Roberto Clemente
Clemente has an attractive sophomore card. His portrait is pictured with his name, team, and position captioning the card in blue and red letters. The card is attractive because Clemente's portrait is well taken. His name is written as "Bob Clemente."
There are 407 cards in the set, and Clemente is at #76. The cards are standard sized.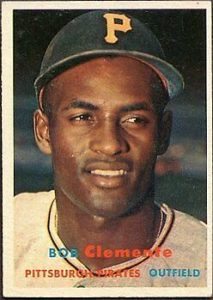 There are over 4,000 cards registered by PSA, 45 of them are Mint, and one is Gem Mint. Prices begin to fall later in Clemente's career. Mint condition cards have sold for around $4,000 to $6,000 since 2018. PSA 8's sell for below $1,000.
1958 Topps Roberto Clemente
There is a bright yellow background on this card with Clemente in his batting stance. His name is again show as "Bob Clemente." Clemente is at card #52 in this 494 set. The cards are standard size.
There is a variation with yellow letters. There are over 2,000 regular cards registered by PSA, two of those are Gem Mint, and 15 are Mint. There are 800 variation cards, and eight of those are in Mint condition.
There are no registered sales of the Gem Mint regular cards. Mint condition cards sell for around $9,000. A PSA 7 can be purchased for a few hundred dollars.
The variation cards are more expensive. A Mint card sold for $18,261 in 2007, and prices fell to $13,145 in 2015. A PSA 7 costs closer to $600.
Conclusion
With a long career, Clemente has several more valuable cards, mostly produced by Topps. Though this article is not exhaustive, it does cover the major cards.
Clemente is an all-time great player. He helps to represent the history of players from Latin America and the Caribbean because Clemente was so talented. Additionally, Clemente helped to pave the way for the many players from Latin America and the Caribbean that are in MLB today. His cards work to represent the legacy of a historically significant baseball player.