Billy Williams (born 1938) was a left fielder in Major League Baseball for 18 seasons. He is best remembered for his time with the Chicago Cubs for 16 seasons, as well as his time with the Oakland Athletics for his last two seasons. In total, he played from 1959-1976.
At his retirement, Williams had a .290 batting average, 2,711 hits, 426 home runs, and 1,475 runs batted in. These stats led to six All Star games, and the 1972 NL batting title.
In 1987, his sixth year of eligibility, Williams was inducted into the Baseball Hall of Fame on 85.71% of the vote. Additionally, the Chicago Cubs retired his No. 26 jersey.
Born in Whistler, Alabama, Williams grew up around baseball because his father, Frank, had played on a semipro team.
Williams began his professional career in 1956 in the Sooner State League, and he was soon moving up in baseball.
However, Williams hit a roadblock in 1959. According to his autobiography, Williams said that he never faced rampant discrimination until his promotion to the Class AA San Antonio Missions in Texas. He became so discouraged that he went home, intending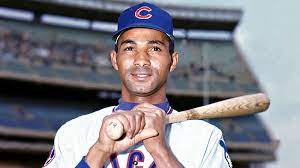 to at least take a break from baseball.
A Chicago Cubs scout, Buck O'Neil, tracked him down, and he encouraged Williams to continue. Williams hit his way out the situation, and he was soon on the Class AAA Fort Worth Cats, as well as appearing in 18 Cubs games that very season.
Williams finished the jump to the Majors in 1961 where he appeared in 146 games as the NL Rookie of the Year with 25 home runs and 86 runs.
His offense was off to a great start. By 1964 he won the May NL Player of the Month with a .455 batting average, 22 RBIs, and 8 home runs. While his offense took some time to come around, most analysts said that by around 1965 his defense was more neutral and no longer a weakness.
Williams' peak was from 1961 to 1973. During that time, he appeared in his six All Star games, hit at least 20 home runs a season, and drove in at least 84 runs.
It should have been seven All Star games, but he somehow missed the 1970 All Star game, despite hitting .319 with 26 HR and 80 RBI at the break. He even finished second in the NL MVP voting that year. It was one of his best seasons, and an undeniable All Star snub.
In the tradition of many baseball players, Williams was praised for his fortitude. From 1963 to 1970, he had a streak of 1,117 games consecutively played which stood as a NL record for over a decade. Williams was called "Iron Man".
In 1972, though he made the All Star Game this time, Williams finished second in NL MVP. He won the batting title with a .333 batting average, which paired well with 37 HR and 122 RBIs.
From there, he started his decline, and he was soon traded to the Oakland Athletics where he eventually petered out.
Williams is an underrated Hall of Famer for a few reasons: his MVP snubs, he did not standout in any categories but was solid in several, and his lack of postseason success. Williams never played in a postseason with the Cubs, and only a few with the A's. As a result, he is a bit of a hidden gem.
Williams may be best remembered as a great Chicago Cub. He was on their All Century Team, his jersey is retired, and the Cubs unveiled a statue of him in 2010.
In that vein, Williams played during a good time of baseball card collecting. He is on some great sets in Cubs uniform, and he is a crucial piece to different sets and Cubs collections. Below are a few of the best Billy Williams cards.
1961 Topps Billy Williams Rookie Card
In the 1961 Topps, there are 587 cards of standard size (2 ½" x 3 ½"), and the Billy Williams rookie card sits at #141. Other keys to the set include Ron Santo, Juan Marichal, Roger Maris, Mickey Mantle, and Stan Musial.
As is true with all of his Topps cards, the Billy Williams card is well preserved. For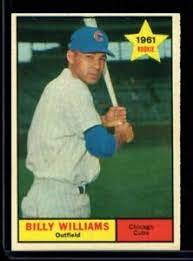 reference, there are over 300,000 cards registered with PSA from the set, and over 3,000 cards are Williams copies.
Gem Mint copies are rarely sold, but they would most likely surpass $10,000.
In Mint condition, Williams' rookies sold for around $1,000 to $2,000 since 2012, but prices seemed to have jumped during Covid-19. As of writing, the most recent sale was from March of 2021 for $3,750.
On a budget of $1,000, a PSA 8 should be a sure thing for the time being.
1962 Topps Billy Williams
There are 598 cards in the 1962 Topps, and Williams is found at #288. The cards have standard measurements.
There are over 200,000 cards from the set registered with PSA, and over 700 of those cards are Williams cards.
A Mint copy sold for $7,900 in October of 2020, but that price is most likely high due to the infrequency of sale. On a budget of $1,000, a PSA 8 is likely, but prices may be on the rise due to Covid-19.
1963 Topps Billy Williams
There are 576 cards from the 1963 Topps set. They are of standard size, and Williams' card sits at #353. Major rookies include Pete Rose and Willie Stargell.
There are over 200,000 cards registered from the set, and over 600 cards are Williams copies.
A rare Mint copy sold for $7,375 in March of 2021. That is most likely an outlier sale because PSA 8's have sold for around $100 for the last few years.
1964 Topps Billy Williams
The 1964 Topps set has 587 cards, and each card is of standard measurements. Billy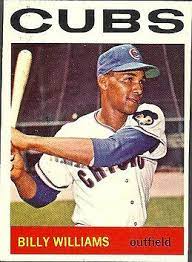 Williams sits at #175 on the set. A few key rookies for the set include Tony Conigliaor, Lou Piniella, Tommy John, Richie Allen, and Phil Niekro.
There are over 200,000 cards registered with PSA from this set, and over 600 cards are Williams cards.
Mint cards will go for over $1,000, but PSA 8's are affordable.
Conclusion
There are several more quality cards of Billy Williams. Nearly all of them are the yearly editions from Topps. The best cards are typically found early in the player's career, so those are covered. However, the frugal collector can grab a good looking card at low cost if you move further down Billy's career path.
Williams is an all time great Chicago Cub, and this article went over several amazing cards with Williams in a Cubs uniform. Despite his lack of success with the Cubs in the postseason, as well as a couple near MVP misses, Williams is fondly remembered as one of the best.