Pete Rose is best remembered for surpassing Ty Cobb's hit record with 4,256 career hits as well as several other records, but he is also recalled for a betting scandal in the late 1980s.
Rose was born in Cincinnati, Ohio in 1941. He started playing baseball as a young age, and he developed his switch hitting ability at eight years old. He spent three seasons in the minor leagues after signing with the Cincinnati Reds at 18.
He was soon recognized as an excellent hitter, and he joined the Reds. After winning the Rookie of the Year for the National League, Rose went on to lead the NL in 1968 and 1969 in hitting.
The Cincinnati Reds found their stride in 1970, and they became known as the "Big Red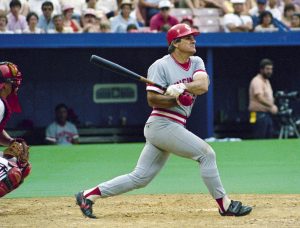 Machine." Rose was a leader of this run, and he won the NL MVP in 1973. The Reds won four NL pennants and two World Series championships (1975 and 1976) in a six year span.
At 37 years old, Rose left for the Philadelphia Phillies, where he won a third World Series. After five years in Philadelphia and one in Montreal, Rose finished with the Reds for two final seasons. He retired at 45. He ended his career with a .303 batting average and the records for hits (4,256), games played (3,562), and at bats (14,053).
When Rose returned to the Reds, he was named player-manager. He continued to manage the Reds until 1989 after his retirement in 1986. His managerial record stands at 426-388.
Scandal struck in 1989 when Rose was accused of gambling on baseball. Rose and many associates were interviewed by the Commissioner of Major League Baseball. The Dowd Report alleged that Rose bet on 52 Reds games in 1987. The report held that Rose most likely never bet against his own team. Rose vehemently denied all allegations.
Eventually, as Rose's case looked bleaker, the two sides came to an agreement. Rose voluntarily agreed to a permanent ban, while MLB would then make no formal inquiry. Rose appealed the ban with three different commissioners in 1992, 1998, and 2015, and he was rejected each time. Additionally, Rose was deemed ineligible for the Hall of Fame.
Rose finally admitted to betting on baseball games in 2004 in his autobiography My Prison Without Bars and on an ABC news interview. He insisted that he only ever bet on his team to win. The admission was an attempt to gain reinstatement because his window for Hall of Fame induction was closing, but the strategy failed.
However, Rose is considered by consensus to be one of the greatest players of all time. He was named to the MLB All-Century Team. Though his legacy his marred by the 1989 scandal, he remains fondly remembered, and his cards help to highlight the best playing days of his career.
1963 Topps Pete Rose Rookie Card
Pete Rose is pictured under the title "1963 Rookie Stars" on the same card with Pedro Gonzalez of the Yankees, Ken McMullen of the Dodgers, and Al Weis of the White Sox. Their individual pictures feature just their heads in a circular frame with a red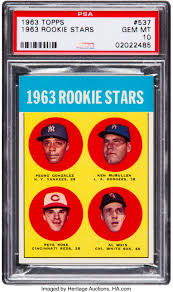 background. Rose is at card #537. There are 576 cards in the set.
The set has condition issues because of the sensitive corners. On PSA's registry, there is only one Gem Mint card, 30 Mint cards, and hundreds of cards at other grades, which totals to over 4,000 registered cards.
The Gem Mint card was sold for $157,366 in 2012, and it was soon turned around for $717,000 in 2016. As a result of the Population 1 status of the Gem Mint, the price falls dramatically for Mint cards. They sold for between $31,000 and $42,000. PSA 6's were sold frequently in 2019 for between $850 and $1400.
1964 Topps Pete Rose
Pete Rose is featured in Reds uniform on the front of this card. The top shows "REDS" in bold lettering, and the bottom has his name and "2nd base" as his position. There is a little trophy in the corner that designates his Rookie of the Year status. There are 587 cards in the set, and Pete Rose is at #127.
There are over 4,000 1964 Topps Pete Rose cards, and 35 of them are Mint. The Mint condition cards sold for about $6,000-$7,000 since 2017, although there is one outlier where a card sold for $11,211.88 in 2019. Since 2018, PSA 8's sold for around $1,000 to $1,400.
1965 Topps Pete Rose
Pete Rose is pictured in his batting stance with his uniform on and the stadium and field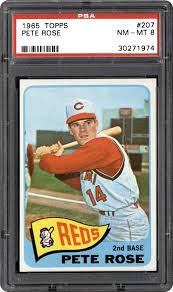 in the background. There are 598 cards in the set, and Rose is at #207.
There are over 3,000 cards registered by PSA. Two of them are Gem Mint cards, and 64 of them are Mint. There was no available data about the prices of Gem Mint cards, but Mint condition cards sold for around $3,000 in 2019.
1966 Topps Pete Rose
Pete Rose is again shown in batting stance in his Reds uniform. There are 598 cards in the set, and Rose is at #30. There are over 3,400 registered by PSA, and 65 of those are Mint cards. Prices of Mint condition card varied from $2,200 and $3,700 in 2019.
1977 Topps Pete Rose
The most popular nickname for Pete Rose was "Charlie Hustle" which was inspired by his hustle in rounding the bases. This card was chosen because it shows Rose sprinting around the diamond.
There are 660 cards in the set, and Rose is at #450. There are over 2,000 of these cards registered. 37 of them are Gem Mint, and 488 are Mint. While Gem Mint cards are worth around $1,000, Mint cards sold for around $50 to $100. Given the population and auction prices, this is a highly accessible in high grade Pete Rose card.
Conclusion
There are over a dozen more quality Pete Rose cards that are valuable in Mint condition because of Rose's extended career, and, except for the 1977 Topps, the ones described here are some of the best available.
Rose was undoubtedly one of the best players in MLB history. He may be remembered for his scandal by many, but other fans will fondly think of him, his records and awards, and his time with the Big Red Machine. His cards harken back to the glory days of his career before he fell into infamy, and they commemorate one of two members of the ultimate club: The 4,000 Hit Club.