Bill Terry (1898-1989) played first base in MLB from 1923 to 1936. He spent his entire MLB career with the New York Giants.
Finishing his career with a .341 batting average, 2,193 hits, 154 home runs, and 1,078 runs batted in, Terry was a three time All Star from 1933 to 1935 (the All Star Game started in 1933), a World Series champion, and the 1930 NL batting champion, where his .401 batting average makes him the last NL player to hit .400.
Terry was inducted into the Hall of Fame in 1954 on the fourteenth ballot with 77.4% of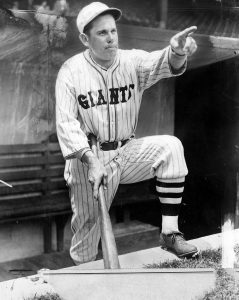 the vote. Also, the Giants retired his No. 3 jersey.
Born in Atlanta, Terry was off playing baseball from early on. By the time he was 16, he was already pitching for two minor league teams. He put up good numbers as a young pitcher, and he always had a baseball job lined up.
By 1922 he had been playing minor league baseball for seven years, and he was brought up to double-A, which was the top minor league at the time.
While he seemed to hit his ceiling with pitching in double-A, Terry's hitting began to make waves. While he had a 9-9 record in pitching 26 games, Terry hit .336 in 88 games of double-A ball.
The next year, 1923, Terry was made into a full time first baseman, and this never changed. Terry's hitting stayed strong, and he was soon scouted by MLB teams.
Terry debuted for the Giants on September 24, 1923. He was 24 years old which is rather old for a future Hall of Famer.
By 1925 he was backing up George Kelly (a future Hall of Famer) for the Giants who won the pennant that year. Terry got more playing time due to injuries within the Giants in 1926.
So, by the start of the 1927 season, Terry was 28 years old, had spent years deep in the minor leagues, had a couple years in double-A, and then two years fighting for time on an MLB team. Clearly, this does not seem like the career of a Hall of Famer.
However, Terry broke out in 1927. The Giants made a number of trades and transitions which opened up a spot for Terry. In his first season as a starter, Terry batted .326 with 121 runs and 20 home runs.
Terry followed up with similar seasons, including .326 in 1928 and .372 in 1929. He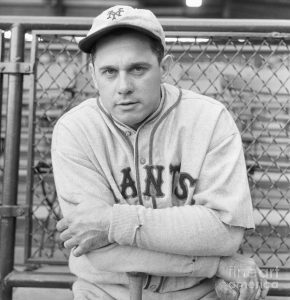 made the top ten in MVP voting both years.
1930 was his best year with the .401 batting average. Ted Williams would later hit .400 for the AL, but nobody has hit .400 in the NL since Terry. Terry was named the Sporting News MVP, which may not seem like much today, but was an honor at the time.
Terry had peaked, but he stayed powerful at the plate. It may not be .400, but Terry hit .349 in 1931 and .350 in 1932.
Terry was getting older, and he started to slow down. As was a common practice of the time, Terry was named player-manager. In his first year as player-manager, the Giants won the World Series in five games.
1933, 1934, and 1935 remained competitive seasons for Terry and his batting average, and he was selected to the first three All Star Games.
In 1936, Terry, as manager, agreed to the Giants' acquisition of Sam Leslie, and he willingly split time. The Giants lost in six in the World Series that year.
Terry stayed busy in retirement as a manager, an owner of a double-A team, and he ran a Buick dealership. There are a few great cards that commemorate his fascinating career, and this article will go over some of the best.
1932 US Caramel Bill Terry
There are 32 cards in this set, and each card measures 2 ½" x 3". Most of the cards feature baseball players, while a few cards are boxers and golfer. Bill Terry sits at #4 on the set.
Major baseball keys, in addition to Bill Terry, include Rogers Hornsby, Paul Waner, Ty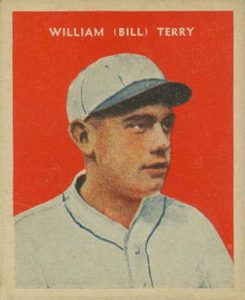 Cobb, Al Simmons, Babe Ruth, Jack Dempsey, Lou Gehrig, Lefty Grove, and a few others.
For reference, PSA has 2,100 cards registered from the set, and about fifty cards are Terry copies. This suggests that there are not many of these cards on the secondary market, but they are discoverable.
A rare Mint copy sold for $12,000 in April of 2019. On a budget of $1,000, you may have to drop to a PSA 7 or lower.
1933 Goudey Bill Terry
The 1933 Goudey is one of the great sets prior to World War II. The cards are big, the selection is broad, and the cardstock is thick, which has allowed thousands of cards to survive today.
This set has one of the best Bill Terry cards out there. His card sits at #20. Of course, there is a great selection of Hall of Famers as well. This includes almost every major name of the day from Babe Ruth to Lou Gehrig and many more in a set that numbers 240 entries.
PSA has over 91,000 cards registered from the set, and over 500 copies are Bill Terry copies.
PSA 8's have sold for around $2,000 to $5,000 for the last decade, but there was an outlier for $11,400 in January of 2019. Meanwhile, a PSA 7 should sell for substantially less, but the most recent sale found was from 2016.
1934 Goudey Bill Terry
The 1934 Goudey is known for its dropoff in set size, player selection (Babe Ruth is missing), and overall quality. However, it remains a quality set from the era. There are 96 cards in the set, and Terry sits at #21. Each card measures at 2 ⅜" x 2 ⅞".
PSA has 24,000 cards from this set registered, and close to 400 of those are Terry copies.
PSA Mint 9's are rare, but a PSA 8 is most likely possible on a budget of $1,000.
1934-1936 Diamond Stars Bill Terry
This set was distributed between 1934 and 1936, and each of the 108 cards measure 2 ⅜" x 2 ⅞". In addition to Bill Terry, a few of the keys include Jimmie Foxx, Carl Hubbell,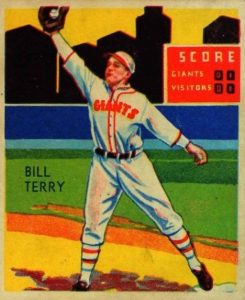 Rogers Hornsby, and Mel Ott.
PSA has over 22,000 cards from the set registered, and Terry copies number over 125.
PSA 8's have sold for around $1500 to $2000 for the last decade.
Conclusion
Terry is immortalized by his .400 batting average, his Hall of Fame induction, and, of course, a few colorful pieces of cardboard. Hopefully this article can help you find the right card for you, as well let you know about how the late blooming Bill Terry was quite the player.