Wayne Gretzky is the most important figure in hockey cards. The accolades are endless, and he has one of the strongest consensus as the greatest player of his respective sport. His rookie cards are more valuable than any player in hockey history. There is good reason, after all, for why he is commonly referred to as the "The Great One."
From 1979 to 1999, Wayne Gretzky played 20 seasons for four different teams. He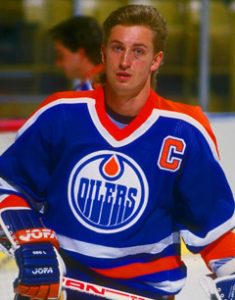 shattered records regarding assists and goals, and he is the only player to have surpassed the 200 point mark in a season, which he did four separate seasons. He holds dozens of official NHL records and awards, and he won the Stanley Cup four times.
After he retired, the NHL Hall of Fame waived the waiting period to induct him, and the NHL retired his number, 99, across the league. Gretzky is known for revolutionizing the game into a more team based dynamic with a focus on activity without the puck. His influence can be summarized by this Gretzky quote, "That's all hockey is: open ice. That's my whole strategy: Find Open Ice."
His cards have a similar influence on the hockey trading card industry. Though a few of his cards are extremely expensive, there are significant cards at lower grades at affordable prices. Gretzky had many great seasons which are commemorated by a plethora of cards.
1979 O-Pee-Chee Wayne Gretzky RC
The O-Pee-Chee rookie card is the most valuable rookie card of Wayne Gretzky. A population of one, a PSA Gem Mint 10 version has steadily increased in value. It was purchased for $62,374 in 2005, $80,000 in 2006, $94,162 in 2011, and $465,000 in 2016. The price is assumed to have only increased since.
The borders are praised for their coloring and design that allow the card to pop. However, they create issues with card quality, specifically chipping. This has created a pricey market for high grade copies of this card as mentioned above.
Some collector may want to know that the price quickly drops down with each grade. This card goes for less than $2,000 at a PSA Near Mint 7.
1979 Topps Wayne Gretzky RC
This card is nearly identical to the O-Pee-Chee version, as most cards between these two brands are of that era. The three major differences are that the Topps version does not have French on the back, the cardstock of the Topps card is of higher quality, and the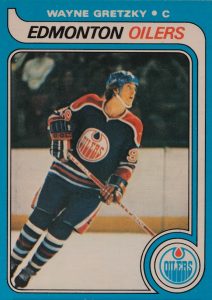 border on the Topps card is a shade lighter and less aesthetically appealing to collectors.
There are fewer issues with the cards' conditions for Topps because the print quality was better. That is a major reason why a PSA Gem Mint 10 card sold for less than half of its O-Pee-Chee counter at a price of $200,976 in 2016. The Topps rookie card also has a steep drop in price with every lower grade, and a PSA Near Mint 7 sells for around $500 to $1,000.
1977-1979 Sportscaster Wayne Gretzky
Though this card is not considered a rookie card, it is valuable as an early Wayne Gretzky. The card shows the future star on the Indianapolis Racers of the World Hockey Association in Gretzky's beginnings. He was soon traded to the Edmonton Oilers where his career took off, and the team soon joined the NHL in expansion. Since the set was produced by a lesser brand, the Italian company Sportscaster, it is not viewed as a true rookie.
This card is part of a 2,000 card set that spanned two years. The cards were 4 ¾" x 6 ¼" and distributed by mail internationally. Collectors received 24 cards per month for $1.89. The cards covered individual athletes, multiple sports, teams, locations, and different themes.
Since the set itself is not highly regarded despite its rarity, the Wayne Gretzky card is less expensive in lower grades, and one at the highest grade sold for $2,729 in 2017.
1980 Topps Wayne Gretzky
The key difference between Topps and O-Pee-Chee for this year was the black coating across the players' names on the Topps cards. On the Topps card, the coating could be scratched off to reveal the name. Though an unscratched Topps card will increase its value, the Topps version is still less expensive than the O-Pee-Chee.
There are a few versions of Wayne Gretzky on this set. This includes Wayne Gretzky RB, Wayne Gretzky AS, Wayne Gretzky TL, and the base card. In Mint condition, the four alternates sell for around $50, while the unscratched base card sells for $200. The O-Pee-Chee versions sell for 50% to 100% more.
Upper Deck Influences
Upper Deck made a name for itself for inserting autographs and memorabilia into cards. Some notable examples include their 1994 cards that featured Wayne Gretzky's first verified signature. In 1997, Upper Deck was the first to have a piece of a Gretzky jersey in a card. Finally, in 1998, Upper Deck put pieces of game used hockey sticks into cards. As the first to have certified autographs, jerseys, and sticks for Gretzky, Upper Deck deserves a shout out for their influence on Gretzky card.
1981 O-Pee-Chee Wayne Gretzky
Gretzky had an amazing season before this card was printed. He broke the records for points and assists in a season. The 1981 O-Pee-Chee set has card commemorating scoring, breaking records, and a couple others. The base card is the most valuable, and it is worth $2,500 in Gem Mint condition.
1982 O-Pee-Chee
It's important to remember why Gretzky is frequently referred to as "The Great One," and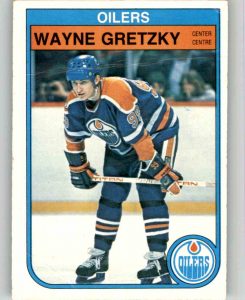 it relates to the value of each card. Gretzky continued to excel in his third season. He destroyed records over points and goals. Cards from "Scoring leader" to "Assists Leader" commemorated his exemplary season. However, as the years move on from his rookie season, his cards become less expensive. The most expensive card on the set is Gretzky's base card which sells for $700 in Gem Mint condition.
Alternate Cards
The rest of this article could be describing Gretzky cards from the 80s from O-Pee-Chee and Topps. They are the best hockey brands from the era, and cards become overproduced into the 90s.
Meanwhile, there are a few oddities of Wayne Gretzky cards out there. This includes the 1981 Oilers Red Rooster. Gretzky is shown in one version rocking the long hair. After 1,000 cards were released, the company halted production at Gretzky's request for a cleaner cut look. 6,000 more cards were released. These cards are rare, and the long hair version is a rare and sought after oddity for collectors today.
The 1981 West Edmonton Mall card is another example. Gretzky again has the unruly mop, and collectors love it today. These cards can sell in the thousands, even though they are very plain with a black and white photo, Gretzky's name and number, and a West Edmonton Mall logo.
Conclusion
Gretzky is the greatest hockey player of all time, and his cards do justice in representing that legacy. There are a few strange cards, some interesting inserts available, and classic cards from the classic brands of O-Pee-Chee and Topps. Whatever your taste and budget, there are great Wayne Gretzky cards available for every hockey fan.