Ronald José Acuña Blanco Jr., commonly referred to as Ronald Acuña, was already featured in around 100 unique cards by the time he had played 200 MLB games at the age of 21.
Acuña's cards are selling hot for good reason. He was a major prospect since signing with the Atlanta Braves in 2014. Eventually, he made it to the Arizona Fall League, where he was named MVP. He was promoted to the majors on April 25, 2018 where he was the youngest player in the league. His rookie season was astounding.
After winning the NL Rookie of the Year in 2018, Acuña has a .296 batting average with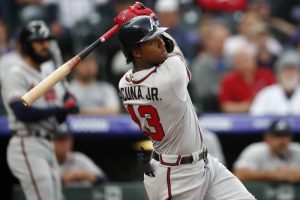 60 home runs and 145 runs batted in by his 231st game. In April of 2019, he signed a $100 million dollar deal over eight years which makes him the youngest player to sign a $100 million dollar deal.
2017 alone featured dozens of Bowman cards. The Bowman's Best and Bowman Chrome Draft each with their own refractors from orange to red, and many of those cards came with autographs, a shimmer, or both.
Throw in Leaf, Donruss, and Topps Heritage, and there are 70 cards until Topps produced his Topps Update in 2018, after which Topps and Panini started producing a score of cards in 2019.
Hopefully, this article can help sift through these sets. We will look at some of the best, most popular, and underrated cards.
2017 Bowman Chrome Prospects
In its base form, this card is affordable, especially in lower grades. The refractors are where the priciness comes in. By my count, there are thirteen types of refractors, and each of them vary in rarity from /1 to /500.
The card shows Acuña sprinting in his Atlanta Braves spring training uniform with his necklace in midair. For the basic card, a PSA 9 can go for 15 dollars, which is very affordable.
The refractors begin to push the price up quickly. The refractors will increase the price into the hundreds, and the Blue Refractor at Mint will go for four hundred ungraded. The blue refractor at a BGS 10 has reportedly sold for $5,300 on eBay. Also, a signed Orange Refractor sold for $18,100.
2017 Leaf Valiant Red Superfractor Auto
This is an incredibly expensive card. As of August of 2019, there is a BGS 9.5 on eBay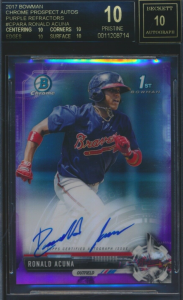 that is being sold for $120,000. The super rare red superfractor and the on-card autograph lead to this valuable card.
2018 Topps Chrome Update
The 2018 Topps Chrome Update was only found in Target stores. It is a common set with plenty of refractors. With the right refractor and autograph, it can sell for hundreds.
2016 Topps Heritage
The Topps Heritage sets have been popular. The 2016 set was heralded for on-card autographs. However, Acuña did not sign any cards on the set. The 2016 set was also said to be inspired by the 1967 Topps set. It was released for $40 per box in September of 2016.
Acuña signed with the Braves in 2014, but he did not have a card released which was different from some other prospects. His first card was under the 2016 Topps Heritage. He is shown in the Single-A Rome Braves of the South Atlantic League.
Although Acuña does not have signatures on the set and there are only a few parallels with a blue, black, and peach, it is a nice card because it is Acuña's first time on a card. The 2016 Topps Heritage Ronald Acuña is not very pricey (about $100 for high grades), but there will always be significance behind his first card.
2018 Bowman Chrome
Acuña's first Bowman Chrome base, this card is not especially expensive, and it has plenty of parallels (refractor, purple, blue, green, gold, orange, red, and superfractor).
2017 Topps Heritage
Acuña is depicted in the Florida Fire Frogs uniform, but the main sell behind this card is the on-card autograph. This card can go for $300 in a decent grade.
2018 Donruss
Since Donruss does not have licensing, the card lacks many logos, but it remains a nice RC of Acuña. It was noted for its wrapper redemption program. If a buyer sent in 24 wrappers from the set, they received a small pack of three cards. Those were the final cards of the set. Acuña was one of the three cards which helps to add to the card's rarity. Additionally, the cards have a variation with a full name and different photograph.
2018 Topps Chrome
These cards are an engaging hunt for an Acuña rookie. There are number of interesting and valuable refractors, as well as autographs.
2017 Bowman's Best Auto
This card shows a picture of Acuña batting in action. It is best known as an early Acuña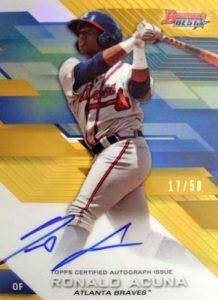 with an autograph on the card. With the autograph, the card is around $100, but without, it can drop to $30.
2018 Topps Heritage
2018 Topps Heritage Ronald Acuña is a solid rookie card. It is a great affordable option and a necessary part of this list.
Since he was called up, the first Acuña rookie card from the Heritage set came in the high number update set. There are several base variations, some less desirable mini cards, and a parallel. A redemption offered a Real One autograph.
2018 Bowman's Best
While there are a number of refractors for this set, it comes with an intricate design of elaborate colors. It comes on chromium stock, and this card is another solid rookie. A decent card ungraded can be bought for less than ten dollars on eBay. Of course, add an auto and a high grade, it can surpass $100.
2019 Topps
Acuña was voted in to the #1 spot for the 2019 Topps by fans before the season began. He joins stunning company across baseball's history at the #1 spot. While this card may not be the most valuable, it represents the soaring success that Acuña has had. Investors hope his career will continue its current trajectory.