Donruss began in 1954 as a confectionery company. The Donruss name comes from a combination of the founders' names: Don, Russ, and Douglas. From 1961 to 1969 Donruss produced cards based off of television shows. After being sold to General Mills, the company continued to produce cards for shows like Saturday Night Fever as well as musicians such as Kiss.
After Fleer broke the Topps monopoly on baseball cards in 1980, Donruss joined the two by producing baseball cards with puzzle pieces. The three companies were the only baseball card producers from 1981-1985.
Following significant production issues, Donruss was merged with Leaf and Beatrice US Confections in 1983. Donruss continued to produce cards under its own name. Donruss eventually followed the demand of collectors for fewer standard cards and more inserts, limited edition, and higher quality cards.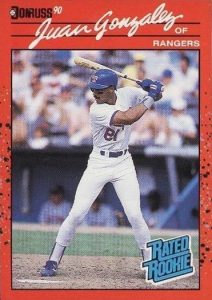 Donruss (and Leaf) were purchased by Pinnacle Brands in 1996 for $41 million. Donruss was used for football, baseball, and hockey. Donruss lost its baseball license in 2005, and it continues to produce products with players outside of the MLB contract, as well as omitting any copyright infringement (logos, team names) with players under contract. In 2009 Donruss was purchased by Panini.
Today, Donruss produces basketball, Nascar, and football cards, and Donruss continues to produce unlicensed baseball cards. Their Rated Rookie and Diamond Kings subsets are still popular.
This article will take you through some of the major Donruss baseball sets. The best sets come from the 1980s. Donruss is notorious for overproduction in an era of cards known for overproducing. Boxes and boxes can be sold for very little. Many cards are simply thrown out.
However, in every set, there are a few keepers. This article hopes to go over some of the best rookie and Hall of Famer cards in the 1980s Donruss.
1981 Donruss
Pete Rose, Nolan Ryan, Tom Seaver and Johnny Bench are a few of the many Hall of Famers featured on the inaugural set of Donruss baseball. It is not a popular set today, and the 1981 Donruss was printed on horrible stock that was cheap and thin, with a plethora of errors, and few cards of longevity.
There were 600 cards in the set of standard measurements. Of note, the 1981 set is the only Donruss set to have been sold with gum.
1982 Donruss
Donruss increased production to 660 cards in 1982. There were 653 numbered cards with seven checklists that were unnumbered. Cal Ripken, Jr., Terry Francona, and Lee Smith are the major rookies in this set. The fronts of the cards have a red and white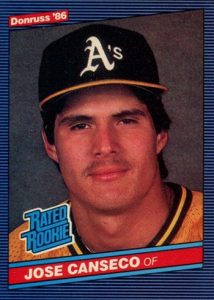 border, the Donruss logo with '82 in the top right, a ball in the bottom left featuring the team name, and a bat with the player's name on it.
1983 Donruss
Moving up again with 670 cards, the 1983 Donruss has the key rookie cards of Tony Gwynn, Ryne Sandberg, and Wade Boggs. Nolan Ryan, Cal Ripken Jr., George Brett, and Pete Rose continue to be important cards in the Donruss sets.
The design is similar to the 1982 with the major difference being that the picture of the player takes up a large portion of the card. A somewhat minor difference is that the ball with the team name inside was changed to a glove.
The set features a puzzle of a painted image of Ty Cobb, and there is a painted picture of a player from each team created by Dick Perez.
1984 Donruss
Most of the cards in this set are not worth much, but it is one of the more popular baseball sets from the 1980s. Though the cards of Hall of Famers such as Reggie Jackson, Harold Baines, and Ozzie Smith do not sell for much, there are a few cards that shine bright.
George Gaine has his rookie card on this set, and that can sell for a few hundred in Gem Mint condition. Other cards such as Joe Carter (RC), Nolan Ryan, and Pete Rose can sell for less than one hundred in top condition.
The key to the set is Don Mattingly. His rookie card can sell for around $1,000 which is high for the era. This is one of the more recognizable cards from the entire decade.
The 660 card set has two subsets: the Diamond King from cards numbered one through twenty six and the Rated Rookies from cards numbered 27 through 46.
1985 Donruss
The 1985 Donruss baseball cards sell decently well in high grade because of a few notable cards and condition issues with the borders which creates rarity. There were 665 standard size cards in the set.
Ryne Sandberg, Robin Yount, Reggie Jackson, Tom Seaver, and Pete Rose are some of the best cards on the set. The key rookies include Dwight Gooden, Roger Clemens, and Kirby Puckett.
1986 Donruss
The rookie cards of Fred McGriff and Jose Canseco are the keys to the set. The 660 card set has the Donruss name in the upper right hand corner with the year designated. The player's name and position have white text surrounded by a red background in a slanted rectangle.
1987 Donruss
There were 660 cards released for this set, and the front of the cards has a nice action photograph with a black and gold border. The Donruss logo and the designating '87 sit in the top left, while a simple red background highlights the yellow print of the player's name and position. The design is generally praised by collectors. The key rookie cards are for Barry Bonds, Barry Larkin, Bo Jackson, Will Clark, and Greg Maddux.
1988 Donruss
This set is notable for being over produced. The cards are very cheap today. While there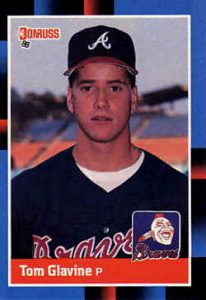 is a solid rookie class and several Hall of Famers, nearly every card can be bought individually for one dollar ungraded. The most expensive cards will sell for 20 dollars in Gem Mint condition. That's for the rookie card of a Hall of Famer such as Tom Glavine.
There were 668 cards in the set. Some of the cards numbered higher than 600 were short printed, and the cards from #648 to #660 are somewhat scarcer. Roberto Alomar, Mark Grace, Ellis Burks, Ken Caminti, and David Wells are the other notable rookies.
1989 Donruss
The key to the set is Ken Griffey Jr.'s rookie card. It is still valuable even though it is not considered the most valuable card of Ken Griffey Jr. Sandy Alomar Jr., Craig Biggio, Randy Johnson, Curt Schilling, Gary Sheffield, and John Smoltz join Griffey as great rookie cards in this set.
The purple and black borders are prone to serious chipping and wear.
Conclusion
Most of the Donruss cards in the 1980s and 1990s are worth very little money. Carrying on into today, each set has been hit or miss. For example, the Donruss rookie card of Albert Pujols from 2001 is a several hundred dollar hit. Most cards worth much, but many sets have a great find or two waiting.
Overall, Donruss cards were never a great investment. However, keep in mind that many of those "worthless" cards have been thrown out over the years, so that in another few decades, you never know what they will be worth.