Pete Maravich, commonly referred to as Pistol Pete, was a trailblazer in basketball.
Part of Maravich's legend was his work ethic. Some referred to his passion for basketball as obsessive. It is said that he never stopped dribbling, even if he was riding a bike or in the passenger seat of a car. He earned a reputation for his long range shooting. His ball control and passes were lauded, and his clever play continued throughout his career.
Maravich's time at LSU is the greatest basketball career in NCAA history. He continues to hold the record for most points scored in NCAA basketball. Maravich averaged 43.8, 44.2, and 44.5 points per game across his three years of eligibility. There are three factors that make this record and these averages extremely impressive.
First, Maravich was not allowed to play varsity as a freshman because of the NCAA rules in 1966. His record stands with only three season played.
Second, there was no shot clock in the NCAA while Maravich played. A shot clock naturally increases pace, field goal attempts, and therefore overall scoring.
And third, there was no three point line in the NCAA or NBA. LSU coach Dale Brown charted Maravich's shots. He reported that Maravich would have averaged 57 points per game with a three point line.
The major aspect holding back Maravich's prowess in college is that LSU hovered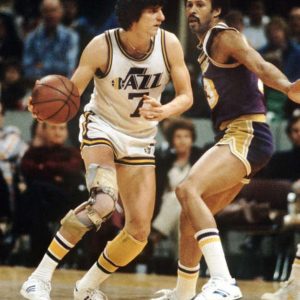 around .500 during his three years, and LSU never made it to the NCAA tournament. However, the LSU program was much worse before Maravich with a 3-20 record the year prior.
Exciting play, exceptional skill, high scoring, but lackluster team results is a theme that followed Maravich into his pro career. The lack of tournament/playoff success and how that relates to his legacy is still debated today.
Maravich had an admirable professional career. He was readily inducted into the Hall of Fame after five All-Star appearances, four times as All NBA, and he averaged 24 points, 4 rebounds, and 5 assists over his ten seasons. While he never reached the scoring heights of college, Maravich won the scoring title once in 1977 with 31.1 points per game.
After four years with the Atlanta Hawks, he was traded to the New Orleans Jazz. Wildly popular in Louisiana, Maravich played in New Orleans for five years until the Jazz moved. Knee injuries began to derail his career in 1977 at the age of 30, and he retired two years later.
While playing a pickup basketball game, Maravich collapsed and died at 40 years old. The cause was a rare and undetected heart defect.
Several factors (from the untimely death to his college career) have created a legend. One result is that he is truly beloved in Louisiana.
A result of secondary importance is that Maravich's memorabilia is coveted. His game used LSU jerseys are some of the most expensive. In 2009, a game ball from his career high 68 point game sold for $131,450.
This value has translated towards his basketball cards. This article will take you through them, starting with his rookie card which has steadily risen in value over the last decade.
1970-1971 Topps Pete Maravich Rookie Card
This set measured at a whopping 2 ½" x 4 11/16". The cards stand out when positioned with others. Maravich's card is the major find out of the 175 cards.
Maravich is pictured against a green background on one knee clasping a basketball. His name, team, and position are set against a basketball background. The backs have a brief description of his college career, college statistics, basic facts, and a cartoon depicting Maravich's father as his coach at LSU.
Maravich's rookie card has been a solid investment over the past decade. A realistic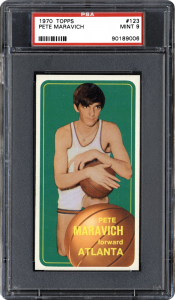 example comes from the fact that PSA 8's were selling for $300 around 2012, $500 in 2015, and $750 in 2019.
A less accessible example is the Population 1 PSA Gem Mint 10 Maravich  rookie. It sold for $18,000 in 2007, and by 2015, it had risen to sell for $130,054.
1971-1972 Topps Pete Maravich
Maravich had an underwhelming sophomore season as he dropped from 23 points per game to 19. Stars such as Wilt Chamberlain, Lew Alcindor, and the rookie cards of Rick Barry and Bob Lanier help to carry the set. Topps reverted back to the standard size for these cards.
The front has an orange background. "Atlanta" is inscribed in almost cartoonish font. Maravich is shown hunched over while looking to the side.
His second card has held respectable value. It is valued at $2,500 for a PSA 10, dropping to 290 one grade lower. Similar to the rookie, this card has held strong and improved in value. One example is that a PSA 10 rose from $1,800 to $2,868 between 2014 and 2015.
1972-1973 Icee Bear Pete Marvich
This set measured 3" x 5" with 20 cards in the set. One card was given with the purchase of an Icee Bear slurpee.
According to a few sources on prices, the set is popular today, although it did not come from a major brand. For one, basketball cards prior to the late 1980s are scarcer than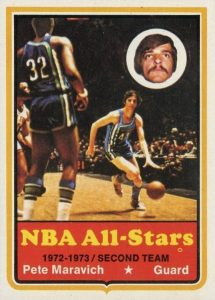 other sports, so this is the only other brand outside of Topps for several major players. Secondly, with only 20 cards on the set, the big names of the day, from Jerry West to Kareem Abdul-Jabbar, were represented.
PSA Gem Mint 10 Pete Maravich cards were available on eBay between $1,275 to $2,000. Maravich's card is the highest valued of the set by PSA at a value of $1,500. Additionally, a Gem Mint card sold for $4,673 at auction in 2011.
1976-1977 Pete Maravich
Maravich was the scoring champ for this season. He averaged 31.1 points per game. Despite the stellar season, it is not his most valuable card. Shipping will be more expensive than the price of the card for a PSA 6 and lower. Gem Mint 10's will sell for $1,250.
Additionally, there is an All Star subset Maravich that has similar though lower value.
1979-1980 Topps Pete Maravich
Maravich played 43 games in his last season. His knees were so weak that he did not practice often. He was traded from the Utah Jazz, which recently relocated from New Orleans, to the Boston Celtics. Maravich provided scoring fire off the bench as the Celtics were at the start of an excellent decade under the then rookie Larry Bird.
Including Kareem, Dr. J, Alex English, Robert Parish, and Bill Walton, Maravich is one of the few cards worth over $30 in Gem Mint condition on the set. Larry Bird would not be featured on a card until his second season.
While a Gem Mint copy is valued at over $1,000, the price quickly falls. A PSA 9 can be bought for around $100, and great copies of PSA 8's will sell for $20 as of late 2019.
Conclusion
Maravich collectibles have been rising steadily for the last decade. His basketball cards are no exception because of Maravich's play style, college career, and other aspects of his life.